Hyannis
---
FTC Disclosure: If you make a purchase via a link on this site, I may receive a small commission on the transaction - at no added cost to you. Thank you!


---
Visiting Hyannis Massachusetts

About the Village, Lodging, Attractions & More 
If you ask Cape Codders about Hyannis Massachusetts, the first thing they'll probably tell you is how busy the town is.
And yes, it's true. Hyannis is a bustling place, especially during the summer months.
But describing Hyannis as "busy" doesn't come close to telling the whole story.

Main Street in Hyannis MA
Main Street is a friendly, welcoming place where you'll find adorable storefronts with window boxes bursting with colorful flowers, hungry folks enjoying a meal at an outdoor bistro or lounging on the Town Green with their picnic lunch, and visitors posing for photos with the full-sized bronze sculpture of President Kennedy in front of the John F. Kennedy Museum.

John F. Kennedy Museum - Hyannis, MA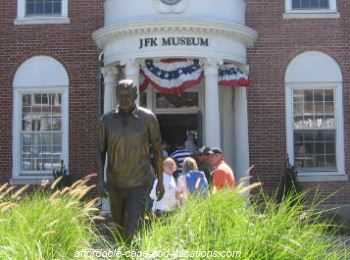 As the sun goes down, the activity on Main Street cranks up with shoppers, pub-hoppers, and families enjoying the in-town arcade and carousel or taking in some Music on the Green.
Yes, Main Street does get a little "traffic-y" at times. But there's plenty of off-street parking, and much of it is free.
And the whole length of Main Street is very walkable, even for moms and dads walking with little kids or pushing a baby stroller.
Please, don't let the nay-sayers put you off. Main Street might be busy - but it's still is a great place to spend a day, an evening, or longer.


Hyannis Harbor and Waterfront
As you walk along Main Street, not too far from the Kennedy Museum you'll notice a brick pathway winding down through the Town Green. This is the "Walkway to the Sea", leading to Hyannis Harbor.


Walkway to the Sea - Hyannis, Massachusetts
Strolling along the Walkway, you'll pass the stately old Town Hall building. Then you'll come to Aselton Park and your first view of the inner harbor.



Glimpse of the Harbor from Aselton Park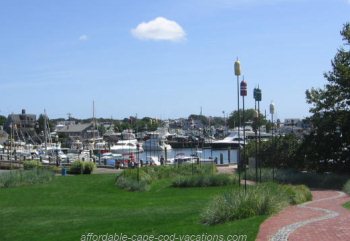 Lots of folks come to Hyannis Harbor every day to catch a ferry to Martha's Vineyard or Nantucket.
But there's much more to see and do on the Hyannis waterfront than just wait for the ferry.

On Land ...
As you reach Asleton Park, look to your left and you'll see the Cape Cod Maritime Museum perched up on the knoll overlooking the Harbor. It's a small museum with some fascinating exhibits about Cape Cod's rich seafaring history. Ther Museum if wonderful for all ages, and it's well worth a half-hour visit!


When it's time for a bite to eat, head down to the dock area and stop by Spanky's Clam Shack. Order up a cool drink and maybe some fresh seafood. Enjoy the breeze on the outdoor patio, and watch the boats come in. Spanky's patio is a great place to rest your weary legs and re-fuel after a busy morning exploring Main Street.


Then wander through the artist shanties, just beyond Spanky's. They're the cutest little buildings where some incredibly talented artisans from the Harbor Your Arts project display their creativity.


Artist Shanty Alongside Hyannis Harbor

And yes, for the shoppers in the family, the items are for sale - and very reasonably priced. This is one of my go-to places for a "just right" gift for someone's birthday or Christmas.


At Sea ...
If you're anxious to venture out onto the water, you'll find lots of way to do that, right there in the harbor:
Step onto a catamaran or an old Maine steamer for a tour past the Lewis Bay lighthouse and out to the Kennedy Compound in Hyannisport.


Sign on for a deep sea fishing charter, or a kid-friendly sea critter exploration cruise.


Go aboard the Eventide for a leisurely sail around Lewis Bay.


Take your little ones on the Pirate Adventure cruise, searching for lost treasure in Pine Island Cove. It's an absolute hoot for both the kids and the adults! (I went on the cruise 5 or 6 years ago with my niece and nephew, and I'd do it again in a heartbeat if I had some little kids to take with me!!)


To The Beach ...
When it's time to dig your toes in the sand and take a dip in the saltwater, you'll find several nice beaches in Hyannis.
Veteran's Park Beach, just a short walk from the inner harbor on Ocean Street, is excellent for families with small children. The water is relatively shallow and normally very calm, and there's a nice grassy area where the little ones can play safely away from the shoreline.
A little father down Ocean Street is Kalmus Beach. Kalmus is known world-wide for its excellent windsurfing. And on a breezy day, it's also a perfect place to bring a kite for some trick flying. 



If you like hustle-bustle, having lots to see and do, and an active nightlife ... then Hyannis could be the perfect Cape Cod vacation spot for you!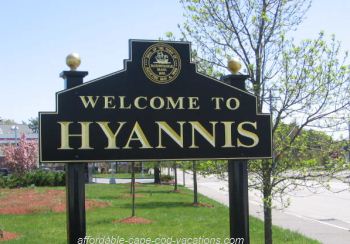 Enjoy your visit to Hyannis!


Related Pages:

Hyannis Lodging Suggestions

Car Rental Companies in Hyannis


---
Hyannis
---
Was this page helpful for you? Please click the "Like" button to let me know. Thank you!