Bourne MA
---
FTC Disclosure: If you make a purchase via a link on this site, I may receive a small commission on the transaction - at no added cost to you. Thank you!


---
Bourne MA

The Best Cape Cod Vacation Town for You?
As the town nearest to the "mainland", Bourne MA has the honor of welcoming thousands of visitors each year to Cape Cod.


Bourne Massachusetts on the Map

The town of Bourne spans both sides of the Cape Cod Canal.

The Canal is that long waterway you see running diagonally across this map, from top right to bottom left.
Click the map to go to live view
On the north side of the Canal (the "mainland" side") are the more commercialized villages of Buzzards Bay and Bournedale, along with the lovely seaside village of Sagamore Beach.


On the south side (the "Cape" side), the vibe is more laid-back in the villages of Gray Gables, Monument Beach, Pocasset and Cataumet.

How to Get to Bourne
Driving:

Bourne is about 235 miles from New York City (I-95 north to I-195 east to MA-28 south to the Bourne Bridge).
Bourne is approximately 60 miles from Boston MA (I-93 south to MA-3 south, to the Sagamore Bridge).
Bourne is also about 60 miles from Providence, RI (I-195 east to MA-28 south to the Bourne Bridge).
Flying:

The nearest airport is Cape Cod Gateway Airport in Hyannis, about 17 miles from Bourne.
>> See:
Choosing the best airport to fly to for visiting Cape Cod
Buses:

There's regular bus service to Bourne, year round, from Boston, Providence and other major northeastern cities.

Trains:

From Memorial Day to Labor Day, CapeFlyer passenger trains make the run between Boston and Bourne with other stops along its route.
*Note: CapeFlyer is weekends-only service, and the schedule is limited. 

How Far Is Bourne From ...

If you're planning to explore around the Cape, you're probably wondering how far is Bourne from other Cape Cod towns?
Here are the (approximate) driving distances: 
To Upper Cape Towns

Sandwich - 6 miles (adjacent town)

Falmouth - 14 miles (adjacent town)

Mashpee - 16 miles
To Mid-Cape Towns

Hyannis - 20 miles

Barnstable Village - 20 miles
Yarmouth - 23 miles
Dennis - 27 miles
To Lower Cape Towns

Harwich - 32 miles

Brewster - 32 miles

Chatham - 36 miles
Orleans - 38 miles
To Outer Cape Towns & the National Seashore

Eastham - 42 miles

Wellfleet - 50 miles

Truro - 55 miles

Provincetown - 64 miles
What is There to Do in Bourne?
These are some of our favorites ...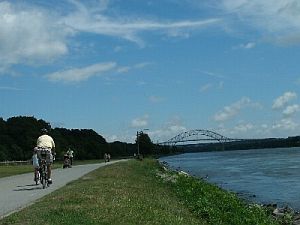 The Cape Cod Canal, the town's "centerpiece", is also the hub of activity in Bourne all year round.
It's the perfect place for walking, biking, and in-line skating. The Canal offers great boating and fishing, too. Plus birdwatching, picnicing, and breathtaking photo opps. 
For less active folks, bring your folding chairs and spend an hour or two watching tankers, tugs, cruise ships and pleasure yachts motoring by.

There are access spots and viewing areas along the entire 7+ mile length of the waterway. And rest facilities, too. (Although the restrooms are only open seasonally. During the off season, you're on your own when Mom Nature calls ;-)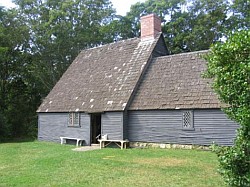 Aptucxet Trading Post (24 Aptucxet Road in Bourne) is the site of the first-known business dealings between the native Wampanoags and the Dutch settlers, dating back to the 1600s. 
Tours of the Trading Post (a replica of the original), its nature gardens and saltworks, are guided by knowledgable docents who engage children and adults alike in the history of the town and its first European settlers.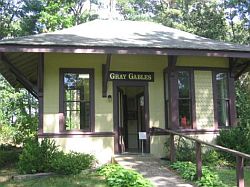 Adjacent to the Trading Post is Gray Gables, the private railroad station of  U.S. President Grover Cleveland, who had his "summer White House" in Bourne in the late 1800s.

The station houses a nice array of photos and memorabilia of President Cleveland, and the tour guides do an excellent job of bringing the President's days on Cape Cod to life.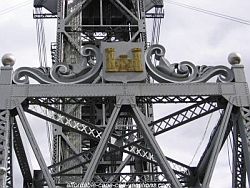 Spanning the entire width of the Cape Cod Canal, the Railroad Bridge is the second-longest vertical lift bridge in the world. This engineering marvel is quite a sight to see, and it's especially fun to be there when the bridge lowers for a train to cross.

From late May to early September, you can watch the bridge in operation whenever the CapeFlyer is approaching. A handy parking/viewing spot is at Buzzard's Bay Park on Main Street.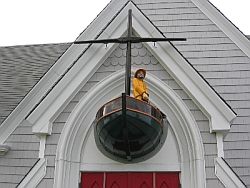 In Bourne, as in every other town on Cape Cod, some of the most interesting sites are the ones you stumble on while you're walking, biking, or driving around town.

For me, finding this tribute to the patron saint of fishermen was one of those "Wow!" moments.

See if you can find it, too, as you explore the town's little nooks and crannies :-)


Click here to see more activities in Bourne and nearby towns


Places to Stay in Bourne MA
Hampton Inns & Suites Cape Cod Canal
Hampton Inns & Suites Cape Cod Canal is the new kid in town!

Opened in late 2019, this 100-room hotel sits alongside the Cape Cod Canal on the "mainland" side of the bridges in the village of Buzzards Bay.

I haven't had a chance to visit in person (yet). But the Hampton Inns brand - and the reviews from people who've stayed there - assure me it's a solid choice!
More Hotels & Motels in Bourne
Sorry to say, I can't think of any other hotels or motels in the town of Bourne that I'd feel comfortable recommending.

If you'd like to peruse more Bourne hotel and motel offerings for yourself, here you go.
 
Bourne Vacation Rentals
Okay, now we're getting to the good stuff!

There's a nice selection of vacation rental properties to choose from in the various villages of Bourne. Whether you're looking for a charming and affordable, newly renovated cottage like this ...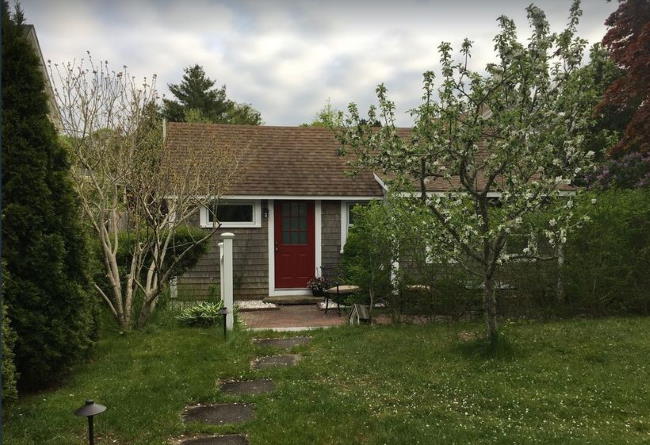 Click photo for details about this walk-to-the-beach cottage.

... or your entire extended family is coming with you, and you need a home with lots of room and plenty of amenities, like this ...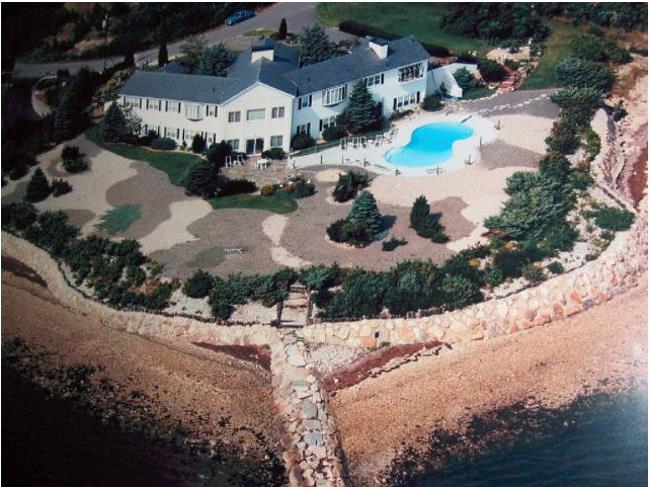 Click the photo for details about this luxury home.

... you won't be disappointed with the vacation rental options in the town of Bourne, I'm sure!


Camping in Bourne
Do you love camping? Bourne has you covered for that, too!

When you make Bourne Scenic Park your camping "home away from home" on the Cape, you'll be just a few steps away from the Cape Cod Canal's scenic views and fun things to do.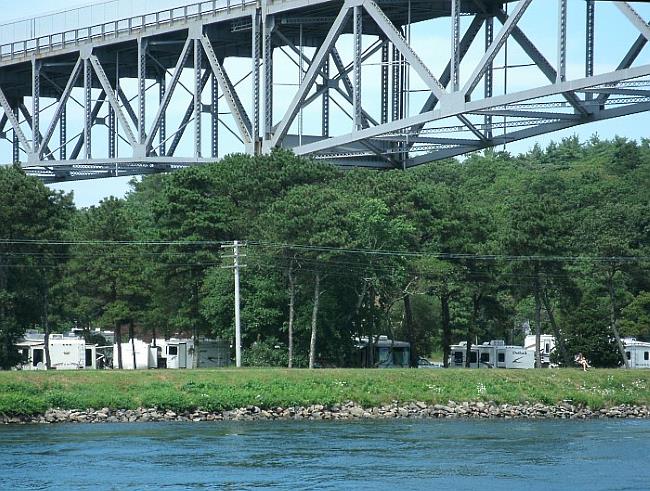 View of Bourne Scenic Park Camping Area from the Cape Cod Canal
Click here for Bourne Scenic Park's website

If your tastes lean more toward a "camp resort", Bay View Campground could be right up your alley.

With multiple pools, on-site food and refreshments, fun stuff for the young 'uns, and a dog park for 4-legged campers, Bay View Campground offers it all.

Click here for Bay View Campground's website
Find More Accommodations in Bourne
Bourne Beaches
What's the best beach in Bourne for vacationers? Well, that question's not as easy to answer as you might think - thanks to the town's "stingy" parking rules.

If you can walk or bike to the beach, then you're welcome to enjoy any public beach in town. But if you have to drive to the beach ... that's a different story altogether.

The long and short of it is: to park a motor vehicle at the public beaches in town, non-residents must have a special, town-issued parking sticker. And Monument Beach is the only beach in town where those stickers are honored. (Read more about the parking sticker situation here.)

The good news is: Monument Beach is a great beach with pretty views and warm, calm water. Not a bad option at all!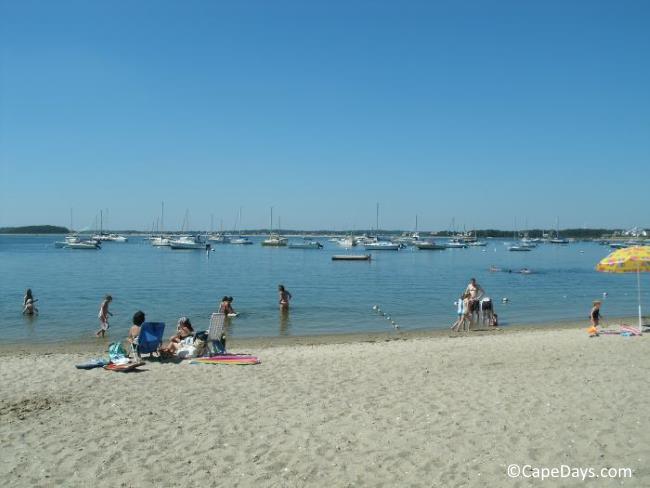 Monument Beach (a/k/a "Mo Beach")
Enjoy your visit to Bourne MA!


SAVE THIS INFO ON PINTEREST!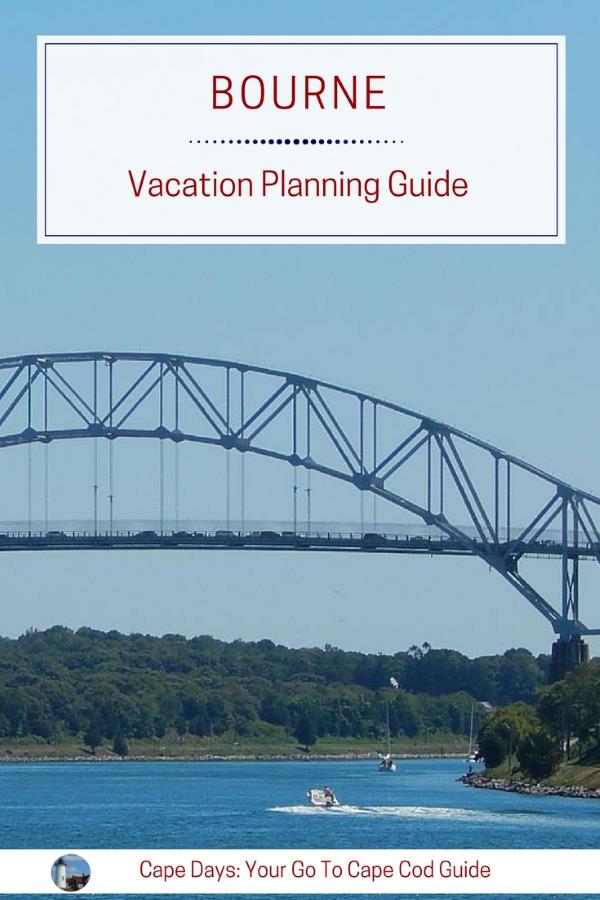 ---
Bourne MA
---


Important:  Lodging owners/management may change their rates, discounts, special offers, promotions, services,  amenities, dates of operation, availability, etc. at any time, without prior notice, and without my knowledge. Be sure to confirm all details directly with the lodging provider before you make any travel plans!