Grocery Stores
---
FTC Disclosure: If you make a purchase via a link on this site, I may receive a small commission on the transaction - at no added cost to you. Thank you!


---
Grocery Stores on Cape Cod

Supermarkets for Your Food Shopping Needs

There are lots of little food marts and small grocery stores on Cape Cod,  neighborhood favorites where we stop in for a quart of milk or a loaf of bread.
But, when it's time to stock the fridge with "real food", a trip to one of our major supermarkets - Market Basket, Stop & Shop, Shaw's, or Trader Joe's - is in order.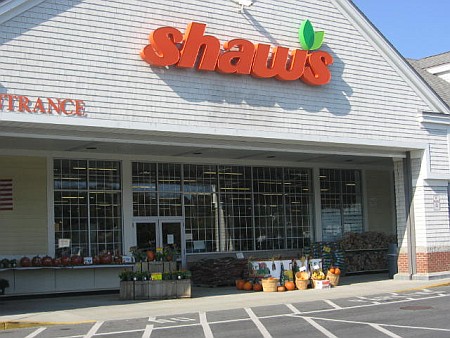 If you're planning to whip up a few easy meals while you're here, (a great way to save on your vacation costs, by the way!), you'll likely need to make a trip to the grocery store sometime during your stay.



Here's where you'll find grocery stores and supermarkets on Cape Cod:

Market Basket Supermarket
When I heard that a MarketBasket was coming to Cape Cod, I thought, "Eh. Another grocery store. So what?".
Oh, silly me! Little did I know that food shopping was about to turn into a pleasant, reasonably affordable, experience.
From the day the sparkling clean new store opened in mid-2012, Market Basket has been the locals' go-to spot ... even if we have to drive a half-hour or more to get there.
It's an all around nice place to shop. Great prices, super-fresh produce, great prices, a wide selection of brand name and generic stuff, great prices, and some of the friendliest employees in the world! (Did I mention great prices?)


Where to Find Market Basket:

1 Factory Outlet Road
Sagamore, MA

Take Route 6 to Exit 1C in Sagamore (Bourne). Market Basket is in the plaza by the Sagamore Bridge, on the south side of the Cape Cod Canal.



Stop & Shop Supermarkets
Stop & Shop Supermarkets has more locations on Cape Cod than any other major grocery store chain.
If there's one near where you're staying, and you don't feel like driving to the Market Basket in Bourne, then Stop & Shop is a perfectly fine place to do your shopping.


Where to Find Stop & Shop:
Sandwich (2 locations)

71 Quaker Meetinghouse Road
65 Rt. 6A

Mashpee

10 Bates Road

Falmouth

Rt. 28 at Jones Road

Marstons Mills

3900 Falmouth Road


Hyannis

425 Attucks Lane

South Yarmouth (2 locations)

55 Long Pond Drive
474 Station Avenue

Dennis

500 Rt. 134 (Patriot Square Mall)

Harwich

Rts. 39 & 137 (Harwich Commons)

Orleans

24 Rt. 6A

Provincetown

56 Shankpainter Road



Shaws Markets
Shaw's grocery stores have been around on Cape Cod forever - at least it seems that way to me. I think it's the first food market I went to as a vacationer way back when. And I still go there on occasion now.
All in all, Shaw's prices aren't bad, and I can usually find everything I need without any hassle. So I'd say "go for it" if there's a Shaws near you.


Where to Find Shaws:
East Falmouth

137 Teaticket Highway


Hyannis (2 locations)

625 West Main Street
1070 Iyannough Road


South Yarmouth

1108 Rt. 28



Harwichport

18 Sisson Road


Orleans

9 West Road

Trader Joe's
If you're looking for the cool vibe and great food Trader Joe's offers, you'll be happy to know there's one in Hyannis.


Where to Find Trader Joe's:
655 Route 132
Hyannis, MA



Whole Foods
Folks have been wishing for a Whole Foods on Cape Cod for some time now.  As of May 2014, it's happened. Whole Foods is finally here!


Where to Find Whole Foods:

990 Route 132
Hyannis, MA


---

Related Pages:

Cooking Fresh-Caught Blue Claw Crabs
The Best New England Fish Chowder Recipe


---
Grocery Stores
---