New England Fish Chowder Recipe
---
FTC Disclosure: If you make a purchase via a link on this site, I may receive a small commission on the transaction - at no added cost to you. Thank you!


---
New England Fish Chowder

Jackie Kennedy's Recipe

This classic New England fish chowder recipe was a favorite of one of Cape Cod's most beloved historic figures, Jacqueline Kennedy.

I found this 50+ year-old magazine clipping tucked into a cookbook I inherited from my mother-in-law, Grace. (I'm so glad she saved it!)


"This recipe, provided Reddy's News by Mrs. Jacqueline Kennedy, new first lady, is a favorite. It's a delightful dish your family might enjoy." (Unknown Publication - ca. 1961)
Traditional New England Fish Chowder
"Cape Cod Style"
Although the Mrs. Kennedy's recipe calls for haddock, any mild-flavored, firm white fish works equally well.
I've used black sea bass, tautog, or striped bass fillets from my days of fishing our Cape Cod waters. Any of those fish make a great chowder, too.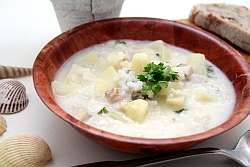 Easy-to-Make Fish Chowder Recipe

Makes 6 servings.
Here's What You'll Need

2 pounds haddock or other firm white fish
2 ounces of salt pork (or thick-cut bacon)
2 small onions
4 large potatoes
2 medium celery stalks

1 bay leaf
1 quart milk
2 tablespoons butter
1 tablespoon salt
ground black pepper, to taste

Get Everything Ready for the Pot
Pull out a sharp knife and dice your salt pork or bacon, slice the onions, peel and dice the potatoes (about 1/4" dice), and rough chop enough celery to make 1 cup chopped.


Step-by-Step Directions:

1. Simmer fish (low heat) in 2 cups water for 10-15 minutes.
2. Remove fish from water, and set aside the cooking broth.
3. Check fish for any lingering bones and remove them.
4. In a dutch over or other large pot, saute salt pork/bacon until crisp.
5. Remove salt pork/bacon from pot, and set aside on paper towel.
6. Saute onions in the salt pork/bacon fat until golden brown.
7. Add fish, diced potatoes, chopped celery, bay leaf, salt and pepper to the pot.
8. Pour the fish broth into the pot, along with enough boiling water to make 3 cups (total) of liquid in the pot.
9. Simmer for 30 minutes on low heat.
10. Add milk and butter, and continue simmering for 5 minutes.
Serving Suggestions:

To make a meal of it, ladle the chowder liberally into 4 portions.
Serve with cornbread or my other favorite "go with" ...
Sweet-tart muffins speckled with ruby-red cranberries harvested from local bogs.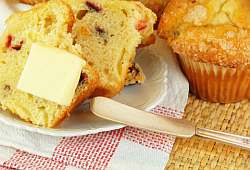 Enjoy!!


More Cape Cod Recipes:
Cooking Blue Crabs
---
New England Fish Chowder Recipe
---