---
FTC Disclosure: If you make a purchase via a link on this site, I may receive a small commission on the transaction - at no added cost to you. Thank you!


---
Cranberry Bogs
Visiting Cape Cod Cranberry Bogs
at Harvesting Season

Updated: September 23, 2023

During Cape Cod cranberry harvesting season, visitors come from far and wide to see our local bogs awash with color!
Acres of floating cranberries. Farmers surrounded in a sea of red, gathering their crop. Truckloads of berries going off to market. It's fascinating to watch!
On this page, I'll show you what the harvest is all about and let you know the best times and places to see it in person.
Want to wade into a bog among the floating cranberries? I'll give you the inside scoop about guided tours and wade-in-the-bog  experiences, too!


What is a Cranberry Bog?
Simply put: a cranberry bog is a large, open field where cranberries are grown.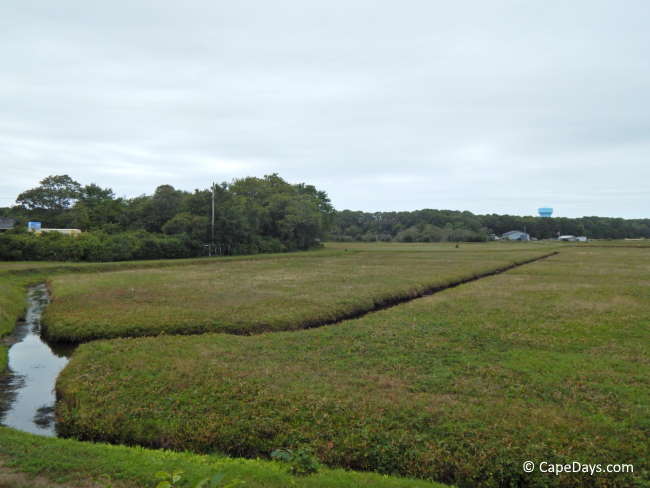 This is a cranberry bog. The irrigation ditches bring water to the bog from a nearby retention pond.
So, where are the berries?

Many harvest-watching newbies are surprised to learn that cranberries don't grow on trees or bushes. They don't grow in water, either.

Instead, they grow on low-to-the-ground vines in a special combination of sand, peat and other organic matter.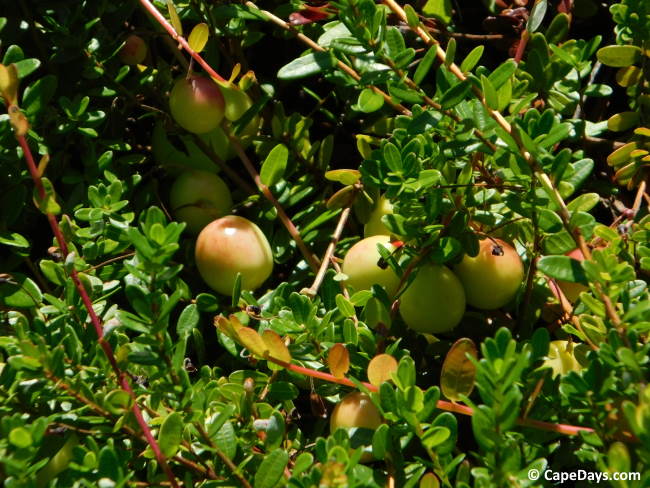 Here's a close-up of cranberries on the vines. These berries will turn deep red and be ready to pick in about 6 weeks.
When is Cape Cod Cranberry Harvest Season?

Harvesting season begins in mid-September and reaches its peak in mid-to late October.

By mid-November, the season has pretty much come to an end. :(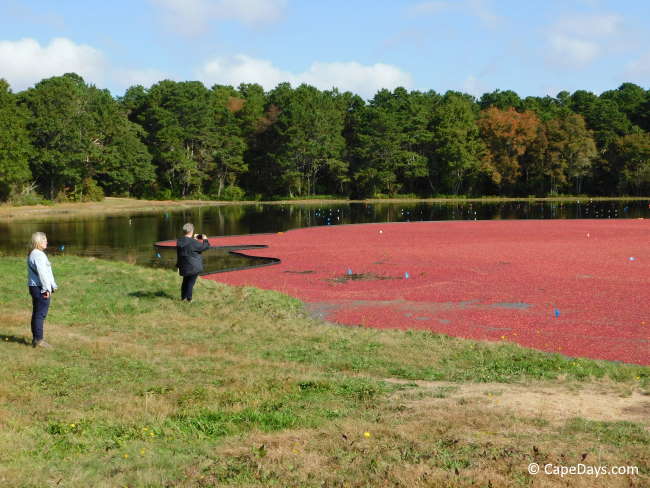 Mid-October is prime time!
Planning a trip to the Cape especially to see the cranberry harvest?

Timing your visit can be a bit tricky because most cranberry farmers don't let us know, in advance, when they plan to gather up their berries. 
In the "Bogs to Visit" section farther down on this page, I'll tell you about one grower who gives us a few days' notice of his harvesting plans.
In that section, I'll also let you know when the harvest usually happens at the other bogs. Not exact dates, of course - but close enough that you should have a good chance of finding a harvest in progress while you're here. ;-)

How Cranberries are Harvested

What will you see on harvest days? 
That depends on which method the farmer is using to pick the berries:
Wet harvesting - Also known as "water harvesting", the berries are gathered from a flooded bog.


Dry harvesting - Picking machines are used to gather the fruit from a dry bog.


Wet Harvesting

The wet harvest is a multi-step process that happens over several days.
To begin, water is flooded into the bog from a nearby water source. 
This is a bog before flooding.
This is the same bog after flooding.
Next, the farmers drive water-reel machines (a/k/a "egg beaters") through the flooded bog.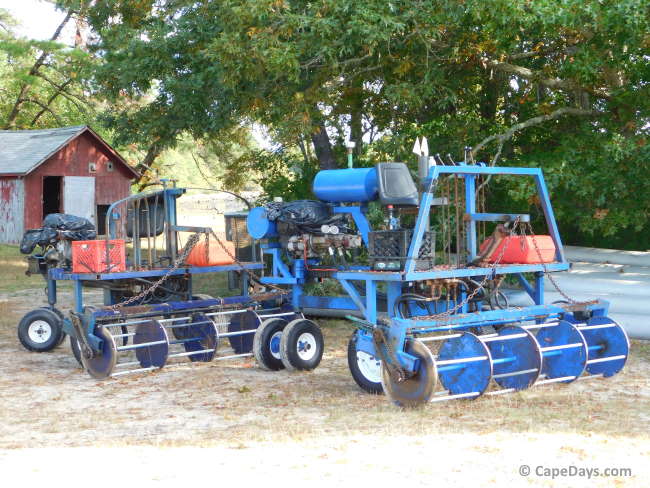 "Egg Beaters"
The reels churn just below the water's surface, knocking the cranberries off the vines.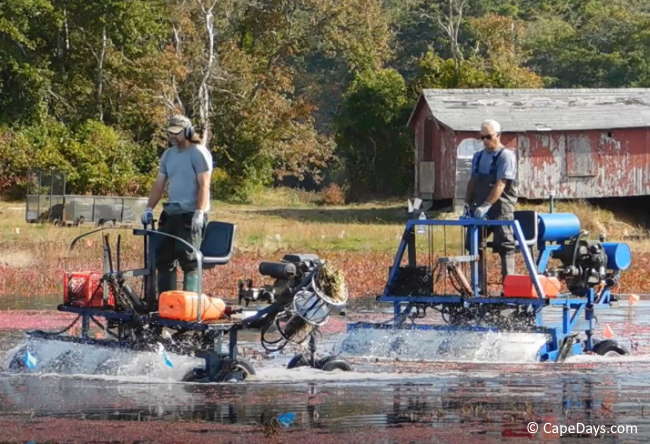 Riding the egg beaters.
Then, more water is released into the bog, raising the berries up so they can float freely.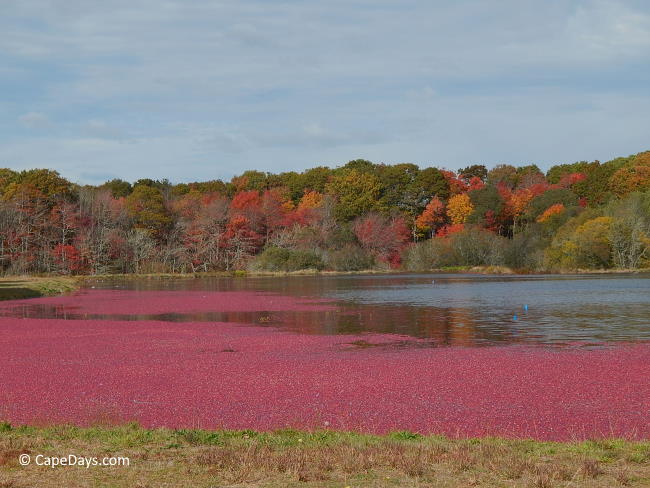 Autumn breezes nudge the cranberries to a corner of the bog.
Why Do Cranberries Float?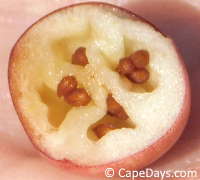 Inside a cranberry, little "air pockets" surround the fruit's tiny seeds.
The air pockets make the berries buoyant, so they float!

How long are the berries left floating?
Not long! 

Once the berries are off their vines, the crop is usually brought in within the next 24 hours or so.  

*Tip: When you see cranberries floating in the afternoon, go back the next morning. You'll likely see the farmers working in the bog.

How are the cranberries removed from the bog? 

First, the farmers lay out a long length of "boom" material to surround the floating berries.

Setting the Boom
"Corralling" the Cranberries
Next, the farmers gradually tighten the boom and push the  corralled berries toward an underwater vacuum system.
The berries are sucked from the water, through a large hose, into a wash plant.

As the berries go through the wash plant, weeds and other debris are separated out and fed into another truck for disposal.

Finally, the rinsed cranberries drop into the bed of a tractor-trailer for transport to a processing facility.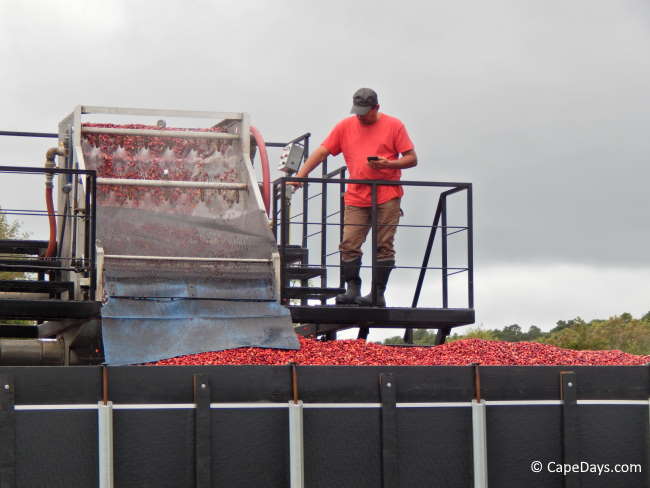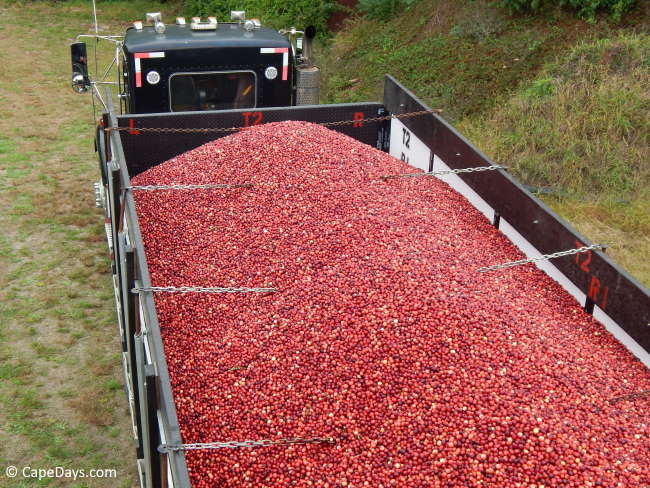 These cranberries were headed for an off-Cape facility
to be made into "Craisins". :-)
Did You Know?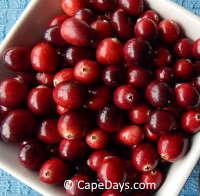 Wet-harvested cranberries are processed for juices, canned sauces and other commercially-made products.  

Dry-harvested berries are sold fresh at bog-side stands, farm markets and grocery stores.

Dry Harvesting

Only a small fraction of Cape Cod's cranberry crop is dry harvested. So having a chance to see this process is an extra-special experience (IMHO)!
No flooding is involved with this method. Just the opposite. For a successful dry harvest, the berries must be free of moisture.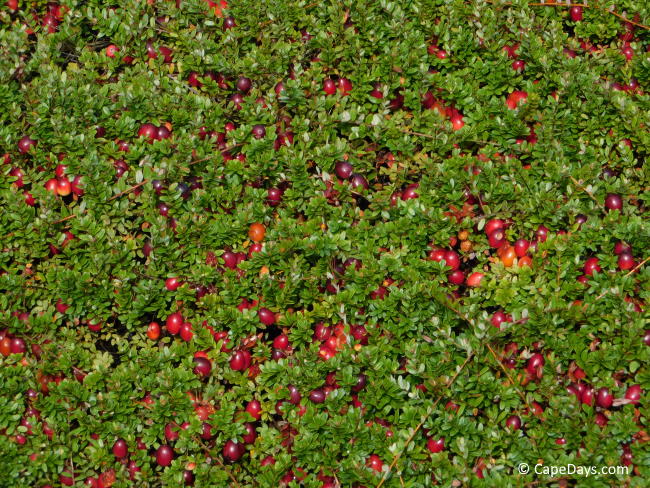 These cranberries are ready for dry picking.
The farmers use a picker machine to "comb" the berries from the vines and deposit them into a container.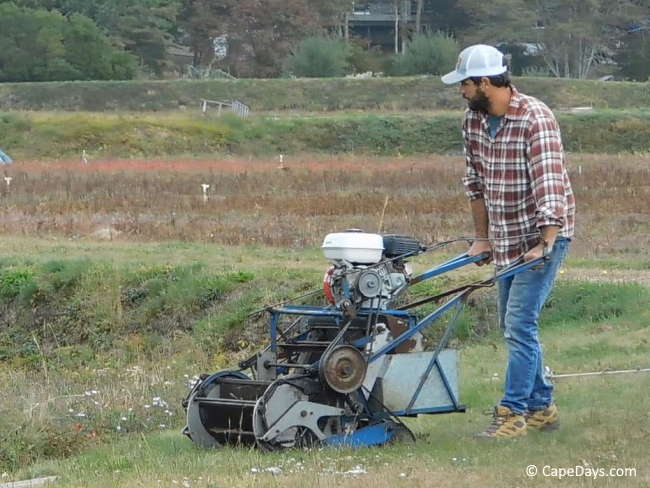 Farm owner, Chris Wilson, with his vintage dry-harvesting machine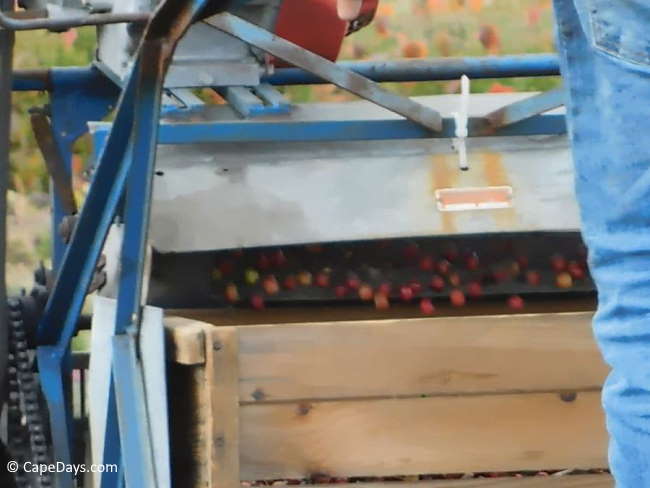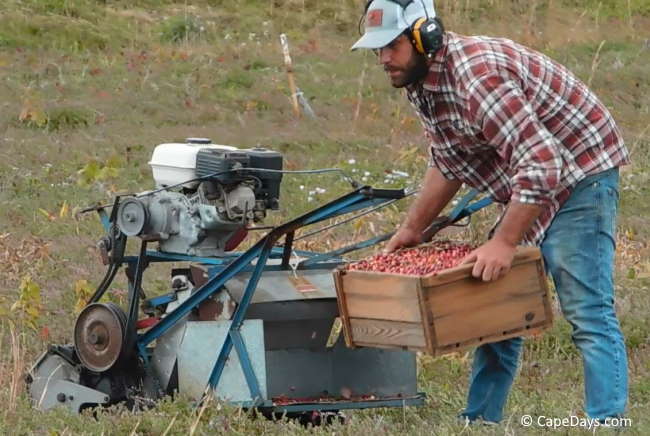 Fresh from the Vine Cranberries
Then the berries are sorted to remove any damaged or over-ripe fruit and bog debris.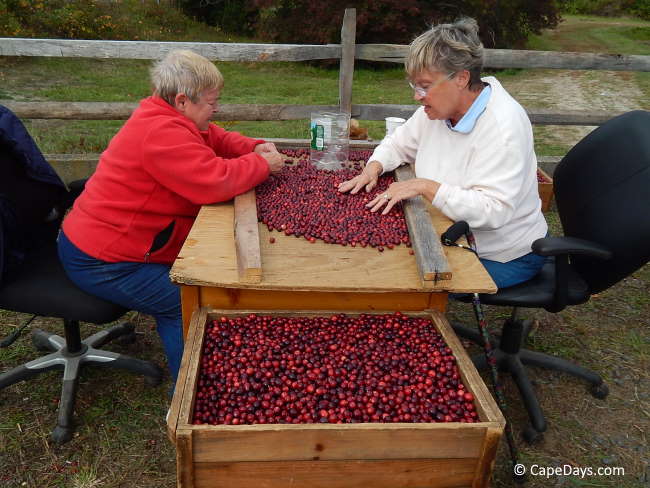 These ladies are sorting the "old fashioned way": by hand.
And finally, the most delicious cranberries you've ever tasted are bagged and ready for sale. :-)

Did You Know?

Kept cool and dry (not rinsed!), fresh cranberries will stay good for a month or more.
They also freeze well for up to a year.

Where to Watch the Cranberry Harvest
Topping my list of the best places on Cape Cod to watch the cranberry harvest is ...   

Fresh From the Vine Cranberry Farm

300 Main Street (Route 28)
West Yarmouth, MA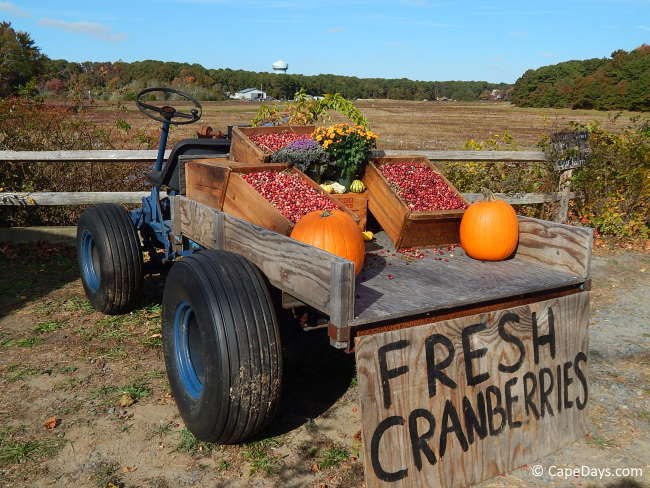 Autumn Display at Fresh From The Vine Cranberry Farm
What makes this bog so special?
Chris and Lindsay Wilson, owners of Fresh From the Vine, are a super-friendly, hard-working team who thoroughly enjoy sharing their love of cranberry farming with all of us.
They welcome the public to watch them at work in the bog ... and they tell us when to come see the harvest! 
* Follow Fresh From the Vine on Facebook to find out when they plan to flood the bog and corral the crop.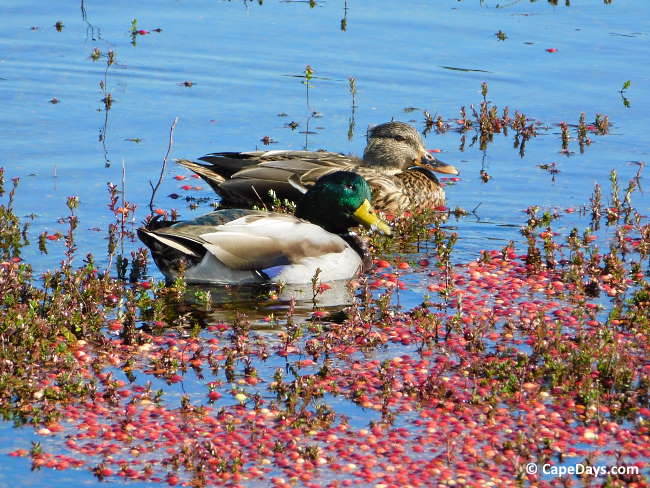 There's plenty of safe, off-street parking here ... a real plus, especially when you have little ones in tow!
Want to buy fresh cranberries? (Hint, hint: Yes, you do!)
The Wilsons sell their dry-harvested berries at their Fresh From the Vine farm stand right there by the bog.

The stand is open nearly every day from mid-October until they sell out their entire crop, usually around mid-November.


Old Colony Bog

Knob Hill Road & Mayflower Terrace
South Yarmouth, MA

This big, beautiful cranberry bog stretches nearly the entire length of Knob Hill Road and Mayflower Terrace. So there's plenty of room to watch and take photos from the roadside when the berries are floating!
You can also reach Old Colony Bogs from the Cape Cod Rail Trail.
Get off the Rail Trail at the North Main Street crossing in South Yarmouth. Then go north on North Main Street. You'll see Knob Hill Road on your right, just after you've crossed the bridge over Rt. 6.   

Look for harvest activity at Old Colony Bogs in mid- to late October.


More Bogs in Yarmouth

With so many acres of active bogs in Yarmouth, there's no shortage of other places to look for harvesting activity around town.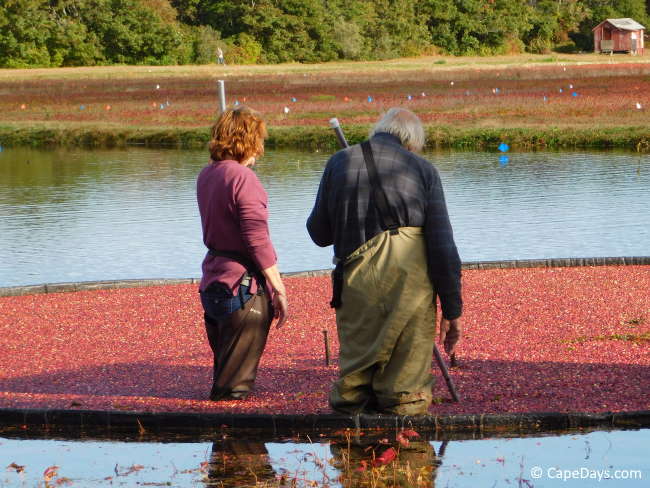 Harvesting Day in South Yarmouth
You'll find a few more in the areas around:

Harvesting usually begins at these bogs shortly before Columbus Day weekend and continues into November.
** Important: The only place to park on West Yarmouth Rd. is along the road shoulder. Park at your own risk! And please be sure not to block the farmers' access to the bogs!!

Beaton's Discovery Hill (Rt. 6A) Bog
295 Route 6A
East Sandwich, MA

Watching the Harvest in East Sandwich
Looking for a harvest in September? This is one of the first places on Cape Cod where we see it happening.
I start watching for farmers driving their egg beaters around this bog the second week in September. 

You'll find limited, off-road parking alongside Rt. 6A.
*Update: They harvested here on September 12, 2023. Darn! I missed it this year. :(


Thacher Cranberries

Great Western Road
Harwich, MA

Cycling enthusiasts: this one's for you!
As you ride along the Cape Cod Rail Trail in Harwich, you'll pass by Thacher Cranberries on Great Western Road.

You can get here by car, too. Head to the area around 201 - 280 Great Western Road. Just be aware that there's very little, if any, safe parking alongside the road.
Look for the harvest to start here in early October.


Hall's Cape Cod Cranberries
Depot Road
Harwich, MA

Mid-Summer Bog View from the Rail Trail
This is another great stop along the Cape Cod Rail Trail in Harwich!
Farmed by generations of the Hall family, this bog is at the Depot Street trailhead on the Rail Trail.
If you're coming by car, you'll find a small parking area across the street from this iconic building ...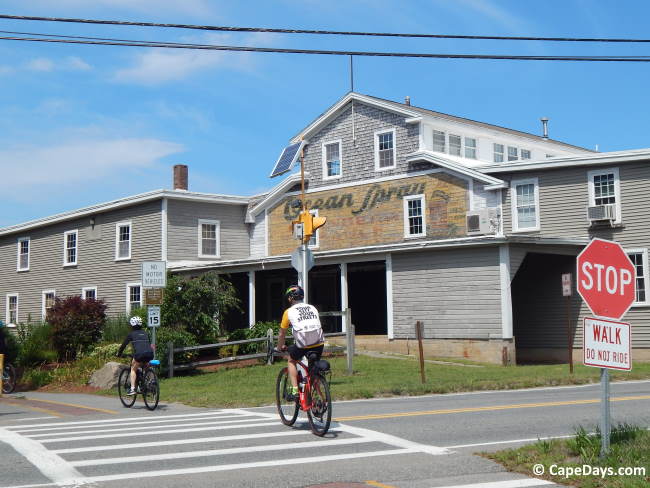 The old Ocean Spray cranberry screenhouse.
Depot Street, North Harwich
When will you see cranberries floating at Halls' bogs?

Follow Halls Cape Cod Cranberries on Facebook for their occasional posts.
*Update: I've just found out that the Halls plan to harvest their Depot Bog the 3rd week in October 2023.
A Bit of Cape Cod Cranberry History

The Ocean Spray screenhouse dates back to the 1920s. It was described back then as a "Community Cranberry Warehouse" where "growers may sell their berries or have them packed on account".
Here's what it looked like nearly a century ago:
See the Ocean Spray Cranberry Sauce ad on the side of building? It's a little faded now, but it's still there!

Cranberry Bogs in Falmouth

There's a lot of cranberry-growing acreage in the town of Falmouth, too!

Old Barnstable Road Bog a few weeks before harvest time.
When the calendar turns to October, here's where my Falmouth-area friends go to watch the harvest.
There's limited off-street parking (mainly on the road shoulder) in each of these locations.
Guided Cranberry Bog Tours

Only two cranberry growers on Cape Cod give guided tours.
And only one offers a special tour where you can wade into the bog. (I've done it. What a mind-blowing experience!)
So let's start there ...


Cranberry Harvest Tours to Walk or Wade

Long-time Cape Cod cranberry farmer, Dave Ross, and his partner, Patty, offer two different types of bog experiences at harvest time:

A walking tour where you'll see the crew at work and learn all about cranberry farming on the Cape ...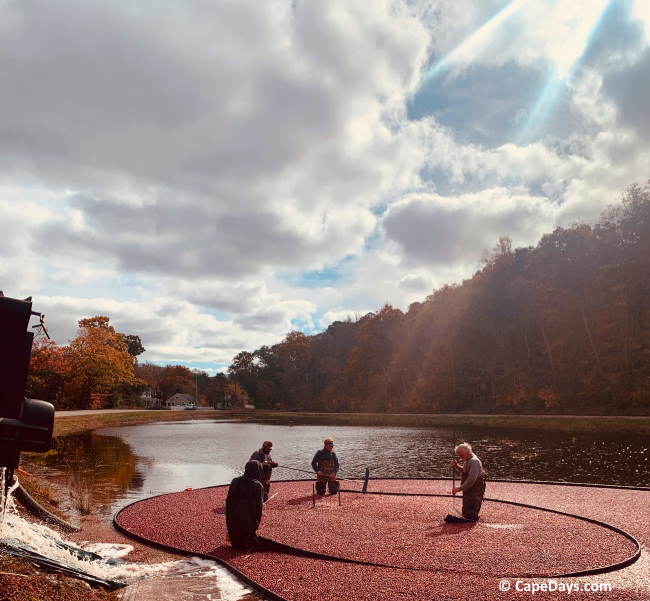 Watching Dave's Crew at Work
And a special wading tour where you can don the waders and climb in among the berries ...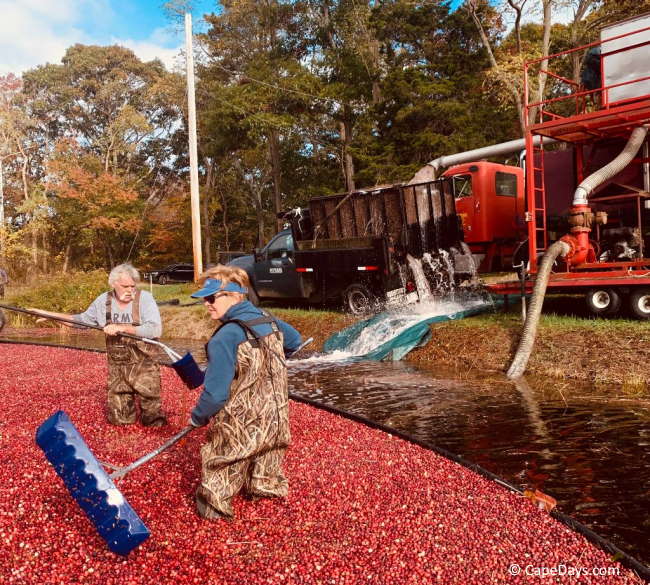 That's me, in the bog with Dave's crew. What a fantastic adventure!
Dave operates cranberry bogs in several different towns on the Cape. So tour locations, dates and times vary from week to week, according to the crew's work schedule.

When you call to make your reservation (required for all tours!), Patty will let you know where and when tours will be available. 
For more information and reservations, see Dave & Patty's Cape Cod Cranberry Bog Tours website.

Organic Cranberry Farm Tours

On a guided tour of Leo and Andrea Cakounes' property in Harwich, you'll learn all about a year in the life of a working organic cranberry farm.
Over the course of about 90 minutes, Andrea shares her wealth of knowledge about how an organic cranberry bog is formed, planted, tended and harvested.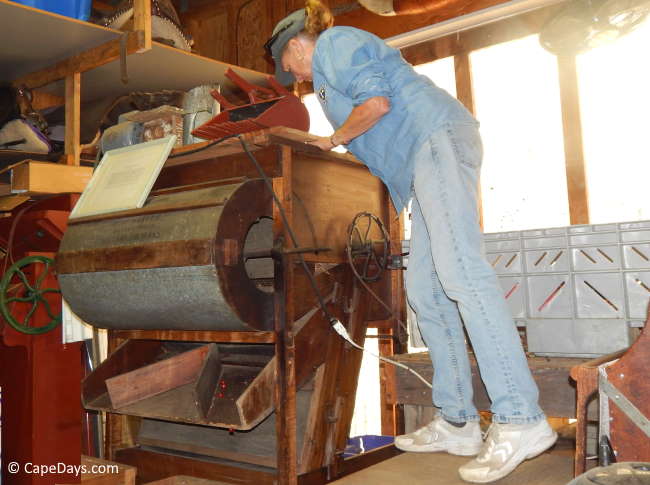 Andrea demonstrates a vintage cranberry separator
You'll also have a chance to meet the resident farm animals and learn how they, together with the native birds and bees, all contribute to the success of this organic cranberry farm.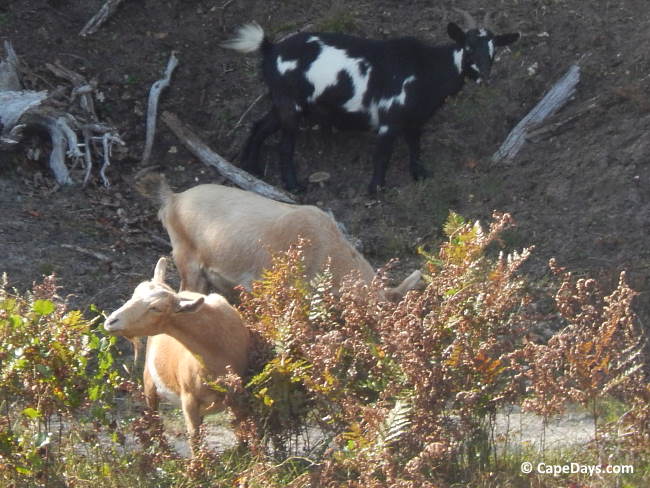 These goats do very important work!
You won't see berries floating on the Cakounes' bogs.
But you'll definitely come away from this tour with new appreciation for the hard work and dedication it takes to bring organic Cape Cod cranberries from the farm to your table!
My hubby and me, goofing in the photo cut-out after our tour at the Cakounes' farm. :-)
Advance reservations are required. No drop in's, please!
For details and reservations, see Leo and Andrea's Cranberry Bog Tours website.
---
Related Pages:

---
Cranberry Bogs
---