Geocaching
---
FTC Disclosure: If you make a purchase via a link on this site, I may receive a small commission on the transaction - at no added cost to you. Thank you!


---
Geocaching on Cape Cod
Year-Round Adventure for the Whole Family

Updated: January 2, 2022

There are hundreds of geocaching sites all over Cape Cod. Places where you can find little hidden treasures and see really cool, unexpected sights like this ...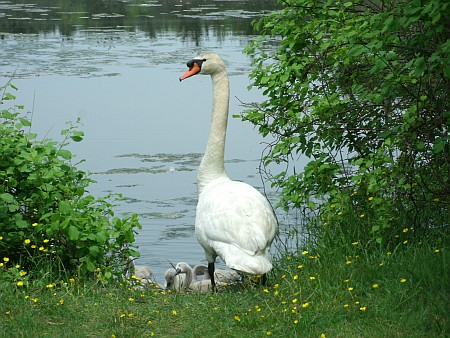 Swans at a Mid-Cape Geocache Location
What is Geocaching?
Geocaching is a 21st century treasure hunting adventure, using global positioning system technology ("GPS") to find treasures hidden all over the world.
Here on Cape Cod you'll find geocaching sites:
In parks
On nature trails
Along our many miles of biking trails
Near kettle ponds and by the seashore
In lots of places where you'll experience local history, truly beautiful scenery, and the "real" Cape Cod.
Geocache treasures have been hidden all over Cape Cod, just waiting to be found.
[Hint: Sometimes you'll see it spelled "geocacheing". It's pronounced: jee-oh-cashing. And the treasures are called "caches", pronounced: cashes.]

What Are Geocaches? 
If you're dreaming of treasure chests brimming with  gold coins and sparkly gems, I'm sorry to burst your bubble. Geocache treasures are more entertaining than valuable.
Geocaching explorations have led my hubby and me to lots of fun caches: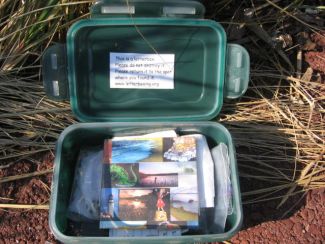 My First Geocache Discovery
Plastic boxes holding small toys, trinkets, and notes from others who've also found the cache.

The rule is: Take a souvenir from the box, if you'd like. But be sure to leave something of equal value in its place.


A bucket filled with lots of baseball-related items.

I didn't take anything from the baseball cache. It was all Red Sox stuff, and I'm a die-hard Yankees fan! ;-)


And lots of "micro-caches" - small metal tubes with a log book rolled up inside where you add your name, the date you found the cache, and a message to other geocachers.

Perhaps best of all, we've discovered some truly amazing places that we might never have seen if our geocaching adventures hadn't led us there.
Just last summer, our GPS guided us down a footpath leading to a small wildlife sanctuary.
I'm not sure which was better: finding the treasure at the end of the path, or being there to see an osprey dive from about 50 feet in the air, catch a fish, then fly it back to the chicks waiting in the nest for their lunch.
Experiences like that will make your day!

Who Can Go Geocaching?
Geocaching is a fantastic, free activity for the whole family. Anyone can do it - at any age, any fitness level, and at any time of year.
Some caches can be found with just a short walk across a parking lot or down a paved pathway.
Other geocaching sites are a little more challenging, and a few might even require some hiking and climbing.
It's just a matter of choosing sites that are as easy or as challenging as you're comfortable with.  (I'll let you in on how to do that, below.)

What You'll Need for Geocacheing
Two things:
Internet access - for a list of active geocaching sites, caches, and clues to help you find them;

and

GPS capability - a basic handheld GPS or a GPS-enabled device such as a smartphone to guide you to the treasure.
Learning How to Geocache
If you're new to geocaching, the best place to learn all about it is at Geocaching.com. It's the "go-to" website for everything you'll ever want to know about caching.
Create your free geocaching account online or through  the official Geocaching® app to get a map showing all the geocaches near you.
You'll see a brief description of the size and type of treasure that's hidden there, and often some clues to help you find it.
You'll also see a rating for each geocache location to let you know how easy or strenuous your search will be. 
Just choose which geocaches you want to search for. Then off you go on a new adventure!

Geocaching Safety Tips
Like any outdoor activity, common sense must rule the day. That's especially true when you're going into an unfamiliar area. 

Don't take on more than you can handle.

If you're a little out of shape, or if you'll be taking children with you, start out with geocaching sites that have a low difficulty rating on Geocaching.com.

If you get into the hunt and find it's even the tiniest bit beyond your capabilities ... stop! It's not worth risking injury. There are easier geocaching sites out there. Go for one of those!


Always mark your starting location on your GPS.

If you do happen to get lost, how will you get back to civilization? Get into the habit of marking your starting location as a waypoint, always. (Even if you think you know where you're going and how to get back.) That way, you'll have a starting point to track back to.


Take some basic safety items with you, just in case.

A fully charged cell phone. Extra batteries for your  handheld GPS. Some drinking water. A small first-aid kit for scrapes and bug bites. You get the idea.


Wear appropriate clothes for your adventure.

Our terrain on Cape Cod is pretty flat; but it's often sandy, pebbly or covered with wet leaves. Plus, we do have scratchy, picky and biting things like briar thorns and bugs here.

In the warm-weather months, ditch the tee shirt, shorts and flip-flops in favor of a long-sleeved cover-up, long pants, and comfortable, sturdy walking shoes.

In cooler weather, wear layers. Depending on where you're searching, inland or near the water, the air temperature can vary quite a bit!


Be aware of Ticks and Tides!

Ticks: Deer Ticks, to be specific. They can carry Lyme disease. And they're active most times of year on Cape Cod.

If your chosen geocaching sites involve any grassy, weedy or boggy areas, it's doubly important to wear cover-up clothes.

Also, be sure to check yourself and the kids at the end of your hunt to be sure none of the tiny little critters has "hitched a ride".

Tides: Some of the most fun geocache hunts on Cape Cod will bring you to the water's edge or even into the water.

If you plan to walk out on a tidal flat - BE AWARE OF THE TIDE!!! The tide comes in very quickly, especially on Cape Cod Bay.

If you're too far out when the tide begins to come in, you could be in exceedingly big trouble.

Check a local tide chart, and pay attention!


Get Others Involved in The Fun.

Are you planning to geocache alone? Let someone else know where you're going and when you expect to return.

Better still, spread the fun around. Invite a friend to go with you!

Explore and Enjoy Geocaching on Cape Cod!


---
Geocaching
---