Restaurants
Cape Cod Restaurants
Eating Your Way Around the Cape ;-)

Where are the best Cape Cod restaurants? That's a tough question to answer because there are soooo many great dining spots in every town on the Cape!
But I know you're here looking for suggestions. So read on to see some of my family's go-to favorites.

FYI: This page is currently under reconstruction. But for now, here are some great spots to check out for breakfast and lunch:

hangar B Eatery
240 George Ryder Road
Chatham, MA
(508) 593-3655

As you might have guessed from the name, "hangar B" (yes, the lower-case "h" is correct!) is at our small, local airport in Chatham.
Who doesn't get a kick out of watching planes take off and land? Kids love it - and I do, too!
Everything is gourmet quality and beautifully presented.
The Brioche Bread Pudding French Toast is rich and luscious. But my favorite has to be the Lemon Ricotta Pancakes. They're beyond delicious.

This isn't your average airport restaurant fare, by any means!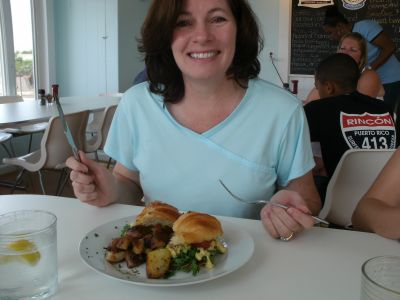 Eggs, Avocado, Tomato, & Cheese on a Fresh Croissant ... Mmmm!!!
The Rail Trail bike path winds past the airport, making Hangar B a perfect breakfast/biking destination. Work up an appetite, then exercise off the resulting calories!

Open for breakfast and lunch daily in July and August. Reduced hours off-season. 

Daily Brew Coffee House & Cafe
1370 Route 28A
Cataumet, MA
(508) 564-4755

This is one of the more "out-of-the-way" Cape Cod restaurants, and a true local favorite. You'll find it in a converted farmhouse on Route 28A, the scenic side-route between Bourne and Falmouth.
Daily Brew's atmosphere is fun and funky indoors. Outdoor seating includes picnic tables and a patio overlooking lush gardens and grounds.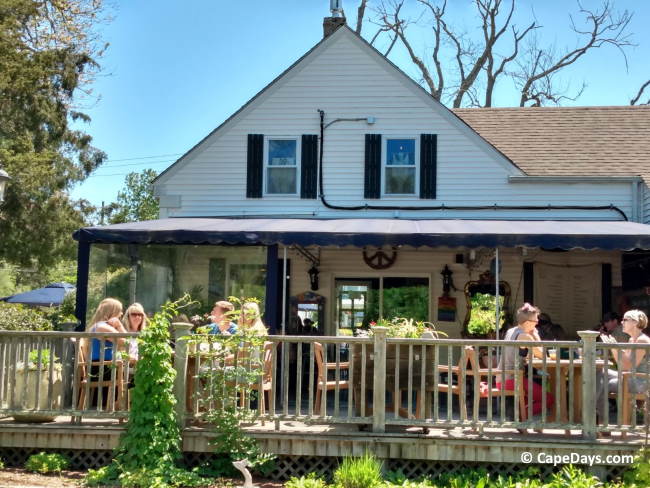 The breakfast burritos and breakfast sandwiches are loaded with fresh local ingredients.
The homebaked muffins and pastries are amazing (try a cranberry orange yogurt muffin - you'll see what I mean).
Or go for a healthy treat with an "Up & At 'Em" oatmeal, banana and raisins smoothie. Sounds odd - tastes fantastic!
The Daily Brew open for breakfast and lunch.

Summer Shanty
Bass River Marina
140 Main Street
West Dennis, MA
(508) 362-6933

Summer Shanty is a great place to stop when you're out and about exploring historic Bass River.
Looking for "boat-up" dining? This is it!
After a morning on Bass River - kayaking, fishing, or just enjoying the view of windmills, waterfront mansions, and all sorts of wildlife - lunch at the Shanty is always in order.

Very few of Cape Cod's waterfront restaurants offer dining dockage for their customers. But the Summer Shanty does.
You can even have your food delivered right to your boat, if you like. (They call it "boat service". Imagine that?!)
We prefer to sit on the deck and look out over the river ...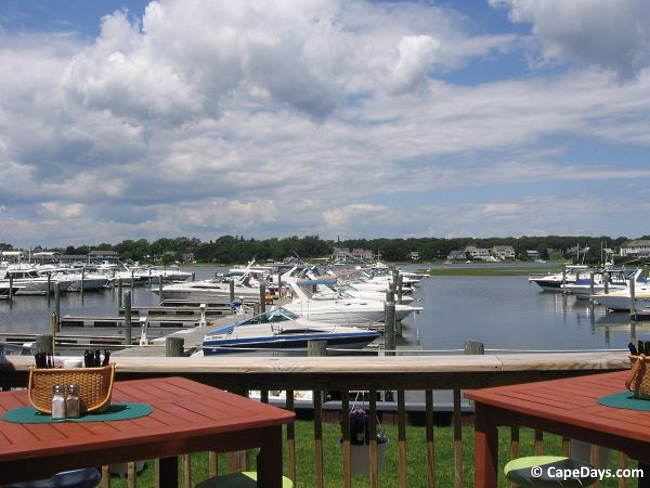 Of course, you can also drive to the Shanty.
Just take Route 28 to West Dennis, and watch for the Windmill Plaza. When you see the plaza's big windmill, look across the street for signs to Bass River Marina and the Summer Shanty.
My favorite Shanty lunch is a crispy fried fish sandwich, served with fresh lettuce and tomato, and a hearty portion of really good french fries. Thick cut fries. Cooked to perfection - not at all greasy.
My hubby loves their burgers, with fish and chips running a close second.
Of all the boat-up Cape Cod restaurants in the mid-Cape area, we prefer the Summer Shanty for its excellent service, good-sized portions, and quite reasonable prices.
The porch and lawn at the Summer Shanty are also great places to relax with a cocktail and watch the sun set.
Open seasonally for lunch and dinner.


Related Pages:

Catch Your  Own Dinner - Blue Crabbing
Catch Your Own Dinner - Clamming


---
Restaurants
---
Important Note: Restaurant menu selections, prices, days/hours of operation, etc. do change from time to time. Please be sure to call or visit the restaurant's website for the most current info before venturing out!