Dig Your Own Clams
---
FTC Disclosure: If you make a purchase via a link on this site, I may receive a small commission on the transaction - at no added cost to you. Thank you!


---
Let's Go Clam Digging!

Complete Guide to Digging Cape Cod Quahogs
Updated: July 12, 2022

There's no better way to dine on the freshest-ever clams than by digging your own!

Whether you're craving cherrystones on the half-shell or a homemade batch of chowder loaded with your own freshly-dug quahogs ... they all taste sweeter when you dig 'em yourself!

What Kind of Clams Do We Dig in Cape Cod Waters?

Most commonly, we go for "quahogs" and "steamers".

What is a Quahog?
Simply put, quahogs (pronounced: ko-hogs) are hard-shelled clams.
There are three sizes of quahogs:

Littlenecks are the smallest of the three, averaging two inches or less in diameter.


Cherrystones are the next larger size. They're anywhere from two to a little over three inches across.


Chowder clams are the big guys. They measure four inches or larger in diameter.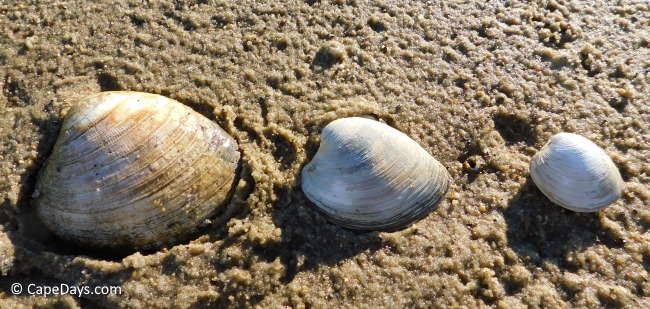 From left to right: chowder clam (a/k/a "quahog"), cherrystone, and littleneck
Littlenecks and cherrystones are often served raw "on the half shell". They're also delicious when steamed or cooked on the grill and served with drawn butter. Their meat is tender, juicy and sweet!

The larger the quahog, the tougher the meat. So we lightly steam the big guys, then chop the meat into smaller pieces for chowder or baked stuffed clams.

What is a Steamer Clam?

Steamers are an entirely different variety of clam. They're soft-shelled and oval in shape.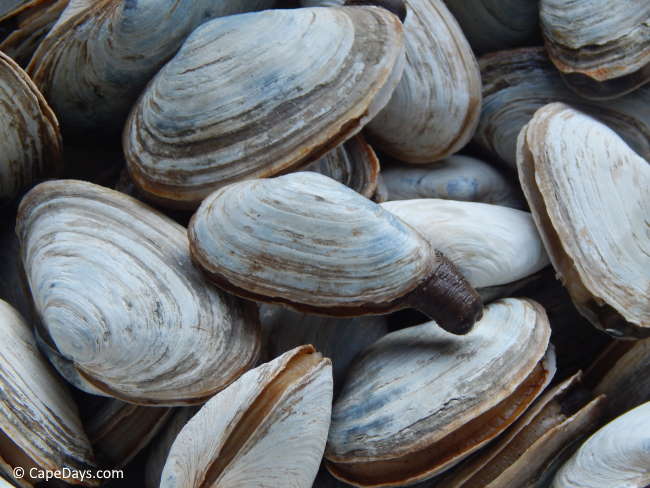 A Pail of Fresh Steamers
When you see "steamers" on the menu at a Cape Cod seafood joint, they're soft-shell clams ... gently steamed until they're warm and tender, and served with a side of clam broth and drawn butter. Deeeelish!

Good to Know ...

Steamers are more challenging to dig than quahogs.
The live farther down in the sand - anywhere from 6 inches to a foot down.


Their shells are thin, brittle and easily damaged. If you use the wrong digging tools or technique, you'll risk killing the steamer. And a dead clam is not an edible clam!
So I always recommend that newbie clammers go for quahogs instead of steamers!
 Want to learn how to dig for steamers?
Now, on to digging quahogs ...

What You'll Need for Digging Quahogs

You'll need:

A special, town-issued shellfishing permit


A tide chart for the waters where you'll dig


Some basic clam digging tools

How to Get Your Clamming Permit on Cape Cod

Each Cape Cod town issues its own permits for shellfishing in the town's waters.
What that means is: if, for example, you want to dig in Brewster one day and Yarmouth another day, you'll need two different permits - one from Brewster and one from Yarmouth. 
Each town sets its own permit fees, too. And the fees vary widely from town to town.

Click a link to learn about the town's shellfishing permits, fees and regulations:

* IMPORTANT *

Natural Resources officers routinely check clammers to be sure they have the required permit.
If you're caught taking shellfish without one, the consequences can be pretty nasty. It's definitely not worth the risk!
Tide Charts: Why You Need One & Where to Get It

It's much easier to dig for quahogs in shallow water than in chest-deep water. 
When is the water most shallow? At low tide.
When is low tide? That's what a tide chart will tell you!
Clam Digging Gear: What You'll Need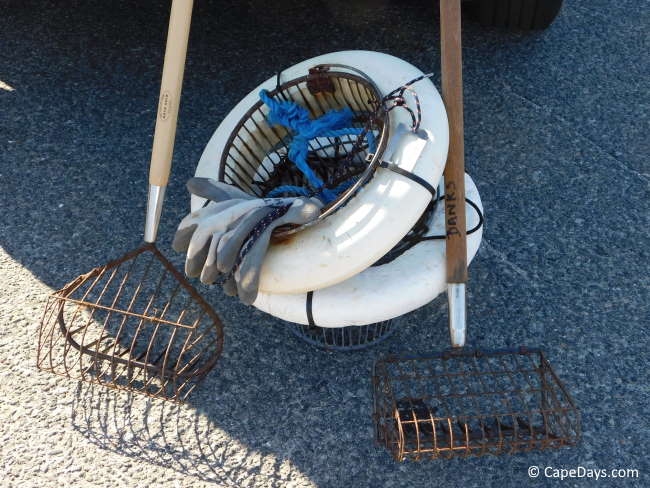 Got the Gear ~ Ready to Go Quahogging!
Clam Rakes

What kind of clam rake is best for digging quahogs?
I prefer the type that my friends, Richard and Kate, are using in this photo ...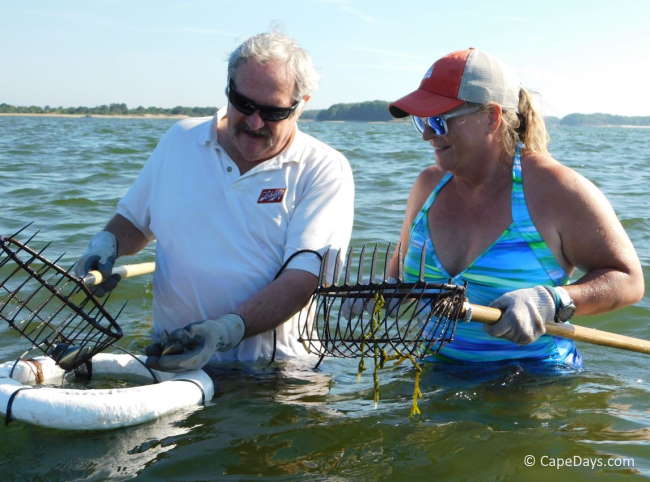 Long-Handle, Long-Tine Basket Rakes
The long handle makes it easy to dig in different depths of water.


The long tines reach 3-4 inches down into the sand.


And the rake's built-in basket captures and holds your catch as you bring it up to the surface.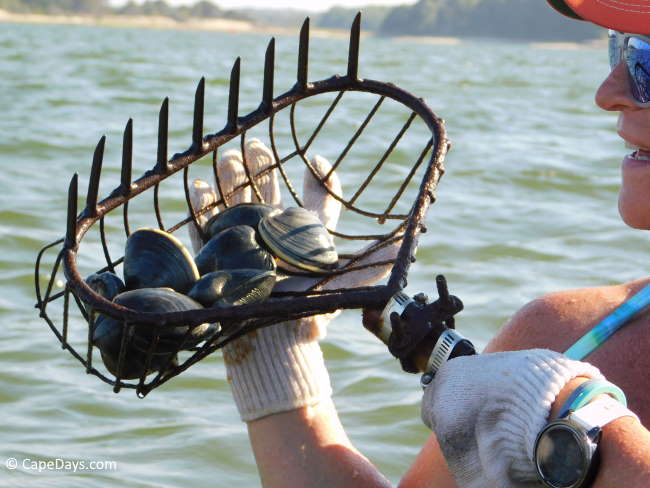 Nice Catch of Quahogs!
What about other types of digging tools?
A hand-held "claw" works well in shallow water, anywhere you can comfortably reach down and dig a few inches into the sand.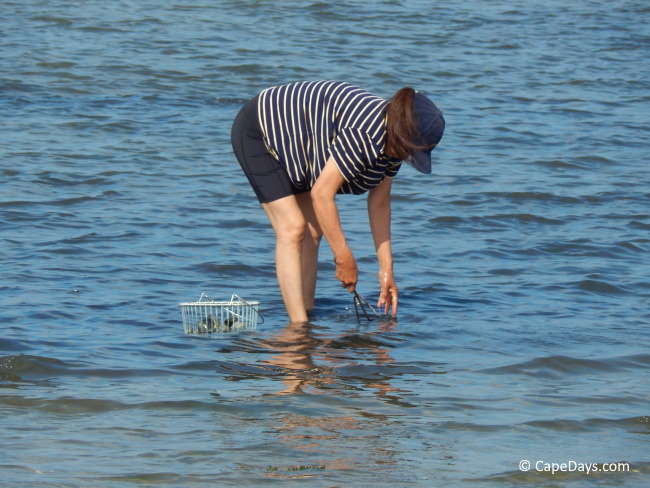 Digging in Shallow Water
MUST Know! ...

Digging for quahogs with a shovel, spade, trowel or other edged tool is not allowed.

Shellfish Gauge

You'll need a gauge for measuring your quahogs.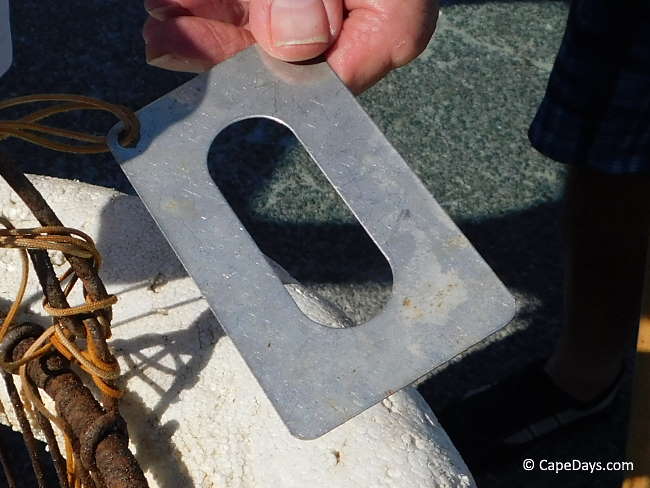 Does your quahog fit through the opening?
It's too small to keep!
It's against the law to keep a quahog that's less than 1 inch thick, measured at the fattest part of the shell. 

Be sure to carry a shellfish gauge with you when you're digging for clams ... and use it!
Water Shoes

Thinking of wearing your flip-flops for clamming?
Take it from me ... it's nearly impossible to walk in ankle-deep or deeper water wearing flip-flops.
Water shoes will give your feet the best protection from sharp shells and pointy rocks. If you don't already have them, get a pair!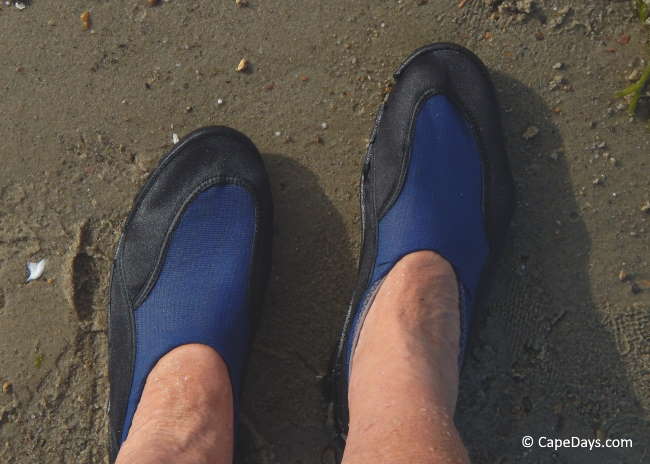 Water Shoes
(Optional, But Highly Recommended!)
How to Dig for Quahogs

Using Your Clam Rake
Here's a short video clip demonstrating how to scratch and dig with a long-handled basket rake:
*TIP: Brace the rake's handle against your shoulder for extra leverage and easier digging!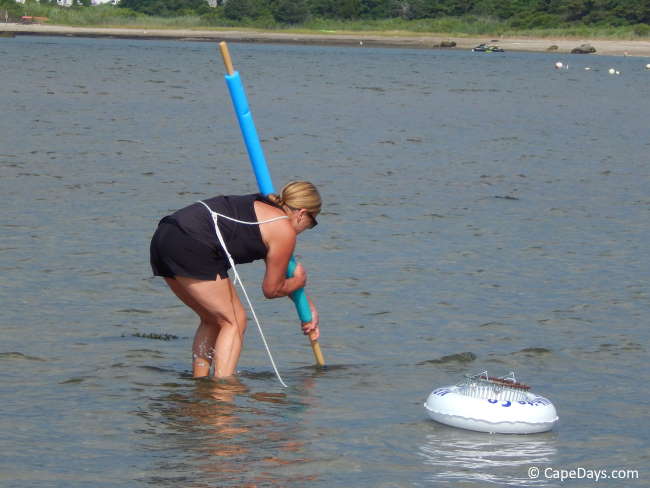 Notice the blue part of the rake handle?
That's padding to keep the rake from digging into her shoulder. :-)
Good to Know ...

Rakes don't come with padding. But it's super-simple to make your own!
All you need is a foam "pool noodle", a knife, and some packing tape.
Cut the pool noodle lengthwise, from top to bottom. Don't cut all the way through - just to the hollow center.


Slide the noodle onto the handle.


Secure the noodle around the handle with packing tape.

Finding the Quahogs
Now that you know how to use a clam rake, you're probably wondering how to find the quahogs.
Yes, they're buried in the sand. But where?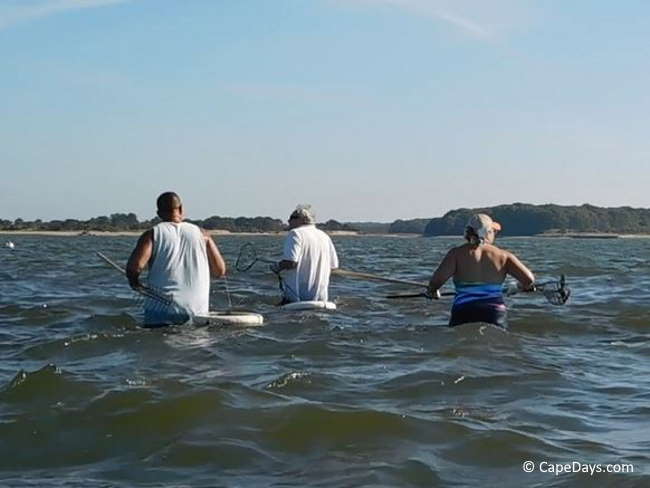 On the Hunt for Quahogs
Walk slowly through the water. Feel for lumps in the sand under your feet.
Those lumps might be rocks. Or maybe they're quahogs.
There's only one way to find out: Dig!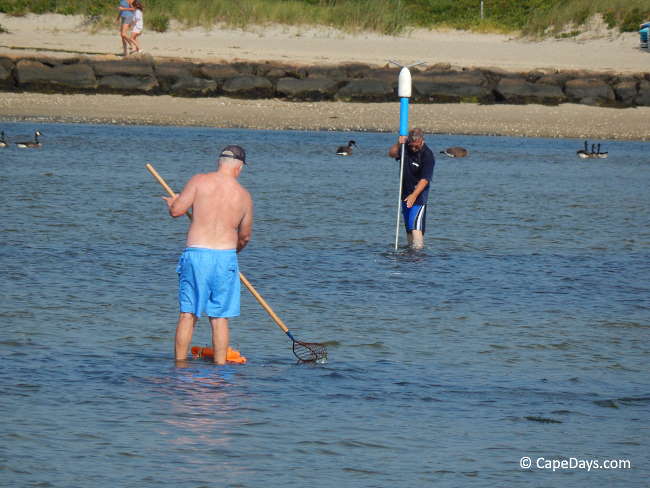 If you dig a few holes and come up empty, move several steps in a different direction and try again.
They're there. It's just a matter of finding the right spot!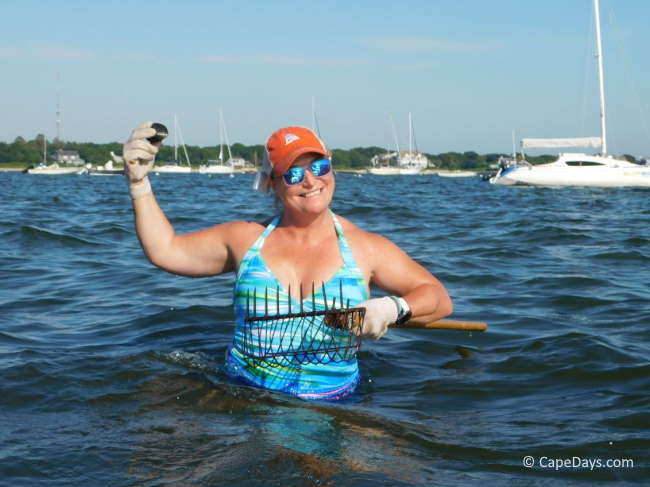 Kate Shows Off Her First Cherrystone :-)
Quahog Harvest Limits
How many quahogs can you take?
In most towns, the rule is: no more than one level 10-quart basket of quahogs per week.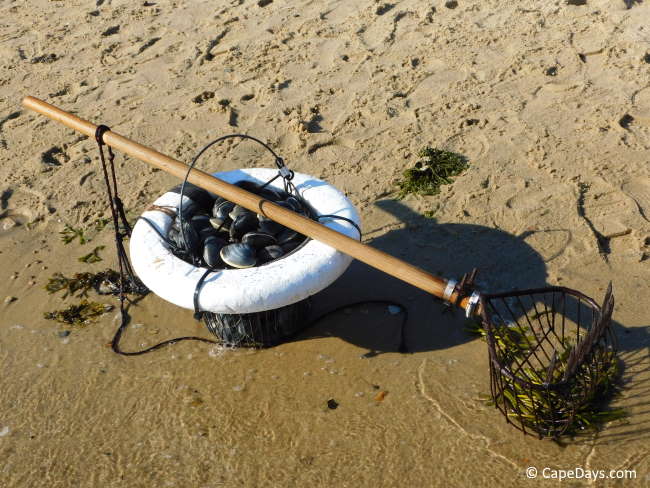 10 Quarts is A Lot of Clams!
However, each town has its own rules - and harvest limits may change from time to time.
So before you dig, please learn the current harvest limit for the town where you'll be digging, and take care not to exceed it.
You Might Also Wonder ...
When are the best months for clam digging on Cape Cod?

I'm a "fair weather clammer". In my humble opinion, best months are June, July, August, and September.

A few of my friends prefer to go clamming in the colder months.  They say the clams taste sweeter when they come out of cold water.
That could be true. Even so, you won't find me out there diggin' in December! ;-)

Where can I buy clamming equipment?

Most tackle shops on Cape Cod carry clamming gear.
If you'd rather buy before you get here, check Walmart and Amazon. (Just be forewarned: their stock is often low or sold out by the time summer rolls around.)

And last but certainly not least, K.B. White Company usually offers summer package deals on high-quality clam digging  equipment.

If I don't have a clam rake, can I just dig with my hands?

Sure ... if you're in shallow-enough water.    
Just keep in mind that buried pieces of sharp sea debris can do a number on unprotected fingers. 
If you're going to dig with your hands, wear a good pair of cut-resistant gloves.

Where can I take clam digging lessons on Cape Cod?

As far as I know, the only organization that offers "learn to shellfish" classes is the town of Barnstable's Natural Resources Marine & Environmental Affairs Department.

Check the Department's website for details.
Is digging quahogs a good activity for kids?
Absolutely!

Give the little tykes a pail and net, and they'll happily splash around and chase minnows, while the older kids and adults harvest dinner. :-)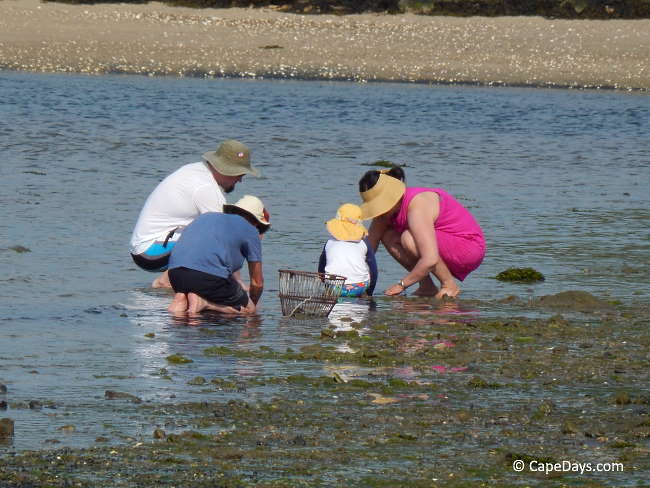 Have Fun Clam Digging on Cape Cod!

Related Pages:
---
Dig Your Own Clams