Bait & Tackle Shops
---
FTC Disclosure: If you make a purchase via a link on this site, I may receive a small commission on the transaction - at no added cost to you. Thank you!


---
Cape Cod Fishing Tackle & Bait Shops


Where to Get Bait, Lures & Local Fishing Advice
On a trip to our favorite Cape Cod fishing tackle shops, I'm like a kid in a toy store!
Is it unusual for a woman to be more excited about diamond jigs than diamond rings? Perhaps. But, that's just the way I am ...

In my years as a fishing fanatic, I've found there's no better place to learn where the fish are, what's biting, and what they're hitting, than the local tackle shop.


Riverview Bait & Tackle - South Yarmouth, MA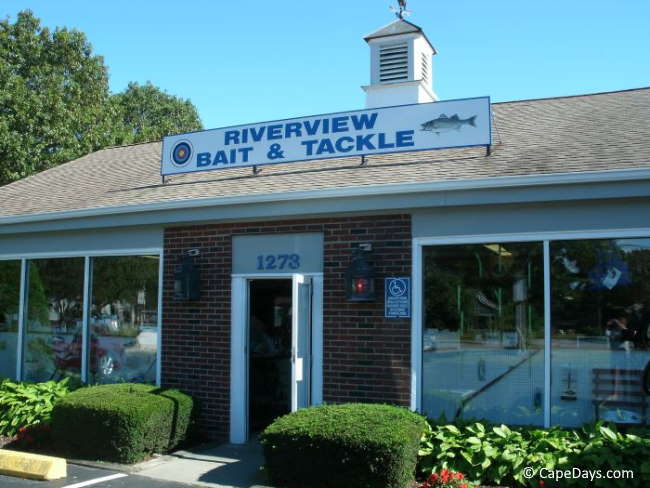 Whether you're just running in to pick up some sand eels, or you're in the market for a brand new rod and reel, these Cape Cod bait and tackle shops can set you up with whatever you need.
And if you ask real nicely, someone might even clue you in on a secret "hot spot"!


Cape Cod Bait & Tackle Shops
Upper Cape Cod Region Shops

Canal Bait & Tackle
101 Cranberry Highway
Sagamore
(508) 833-2996


Red Top Sporting Goods
265 Main Street
Bourne
(508) 759-3371


Maco's, Inc.
3253 Cranberry Highway
Bourne
(508) 759-9836


Mashpee Bait & Tackle
22 Falmouth Rd.
Mashpee
(508) 477-7527


Forestdale Bait & Tackle
48 Rte. 130
Forestdale
(508) 539-8952


Eastman's Sport and Tackle
783 Main St.
Falmouth
(508) 548-6900


Falmouth Bait & Tackle
258 Teaticket Highway
Falmouth
(508) 457-0700



Mid Cape Cod Region Shops

Powder Horn Outfitters
210 Barnstable Road
Hyannis
(508) 775-8975


Sports Port
149 West Main Street
Hyannis
(508) 775-3096


Riverview Bait and Tackle
1273 Route 28
South Yarmouth
(508) 394-1036


Sportsman's Landing
313 Main Street
Dennis
(508) 398-4125
Lower Cape Cod Region Shops

Fishing the Cape
Harwich Commons
Harwich
(508) 432-1200
* Focus on fly fishing


Sunrise Bait & Tackle
431 Route 28
Harwichport
(508) 430-4117


Drew's Sport Shop
1137 Main St.
Chatham
(508) 945-0964


Chatham Bait & Tackle
308 Orleans Rd.
North Chatham
(508) 945-9779


The Hook Up
85 Lowell Road
Orleans
(508) 240-0778


Bait Shack
4 Bay Ridge Lane
Orleans
(508) 240-1575


Goose Hummock Shop
15 Route 6A
Orleans
(508) 255-0455



Outer Cape Cod Region Shops

Blackbeard's Bait & Tackle
50 Brackett Rd.
Eastham
(508) 240-3369

If you know of, or own, a Cape Cod fishing tackle shop that's missing from this list, please let me know. I'll be happy to add it!

---
Bait & Tackle Shops
---
Was this page helpful for you? Please click the "Like" button to let me know. Thank you!