Lighthouse Tours
---
FTC Disclosure: If you make a purchase via a link on this site, I may receive a small commission on the transaction - at no added cost to you. Thank you!


---
Cape Cod Lighthouses

Tours, Overnight Stays & Lots More!
Updated: October 3, 2023

Wondering which Cape Cod lighthouses are open to the public for tours? Looking for the best lighthouse photo opps? I'll show you when and where to go! 
I'll also tell you about a super-cool, little-known lodging option for lighthouse lovers. :-)

Click a link to go straight to that section.
Lighthouses on Cape Cod
Need to Know Info

Tours: May - Oct., grounds open to the public year round


Best For: Adults and older kids 

Time to Allot: 1/2 hour+


Food/Restrooms: No


Reservations: Not required

More details below

Cape Cod Lighthouses Open to the Public
*Note: Most of these lighthouses rely on volunteers to conduct the tours. On days when they're short-staffed, the tour schedule might be altered or canceled at the last minute. 
When that happens, visitors are still welcome to walk the grounds and take photos.


Nobska Point Lighthouse

Nobska Light sits high on a bluff in Woods Hole, a village in the town of Falmouth.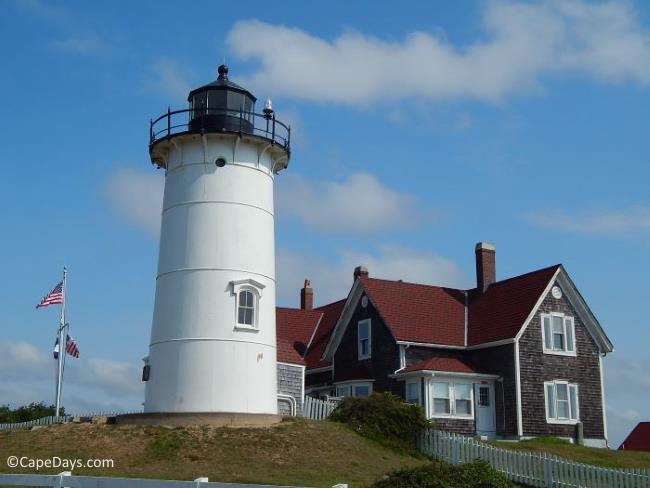 Nobska Point Light
Originally built in 1828, Nobska Point Lighthouse's original Fresnel lens is still in use. On a clear day, there's a breathtaking view from the lighthouse, across Vineyard Sound, to the nearby island of Martha's Vineyard!

2023 Nobska Lighthouse Tour Schedule: 

Now that lighthouse renovations have been completed, guided tower tours have started up again.

For the rest of this summer, through October, the tower will be open to visitors on Tuesdays and Thursdays from 10 a.m. to noon.
*Note: Due to space constraints, no more than 6 visitors may be inside the lighthouse at any time. If you have your heart set on going into the tower, be sure to reserve your tour time as far in advance as possible.

Admission:  Tickets for tower tours - adults $10; seniors and veterans $8; children $5 (plus small online reservation fee)
The lighthouse grounds are open for walking, sightseeing and fabulous photo opps from dawn to dusk, year round, free of charge.

Driving to Nobska Point Lighthouse:
Route 28 in Falmouth, to Woods Hole Road, to Church Street, to Nobska Point Lighthouse.
If you're biking along the Shining Sea Bikeway in Falmouth, you can also reach the light house by turning off the Bikeway at Church Street, or turning off at Oyster Pond Road then onto Nobska Road.
More Info: Friends of Nobska Light


Chatham Lighthouse

For more than two centuries, mariners have relied on beacons from Chatham to safely navigate the treacherous waters around the "elbow" of Cape Cod.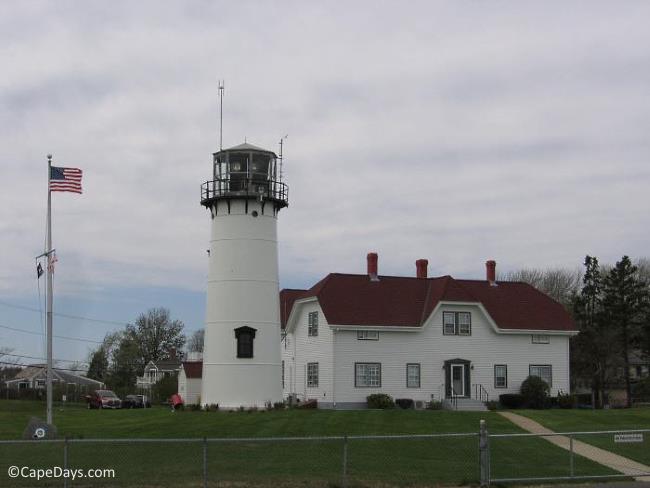 Chatham Light
Chatham Light, as you see it today, is one of two lighthouse towers that stood here in the mid-1800s.
In 1923, the second tower was dismantled and transported up the coast to Eastham where it became "Nauset Lighthouse" (see below).
Chatham Lighthouse is perhaps the most often-photographed of all Cape Cod lighthouses, thanks to its impressive setting overlooking Lighthouse Beach - one of the most beautiful beaches in Chatham.
2023 Chatham Light Tour Schedule: 

Members of the US Coast Guard Auxiliary's Chatham Flotilla will host tours and talks on these dates in 2023 (weather permitting) from 1 - 3 p.m.: 
June 17 & 18


Wednesdays in July and August


September 6 & 20

Admission: Free  

Driving to Chatham Light House:
Take Main Street to Shore Road.
Parking near the Lighthouse is extremely limited and often impossible to find. It's best to park in town and walk or bike ride to the light house.

More Info: USCG Auxiliary


Nauset Light

Nauset Light was moved from Chatham to Eastham in 1923 to replace the last-standing of Eastham's "Three Sisters" - a trio of Cape Cod lighthouses that had, over time, succumbed to the elements and erosion of the cliffs on which they stood. (More about Three Sisters, below.)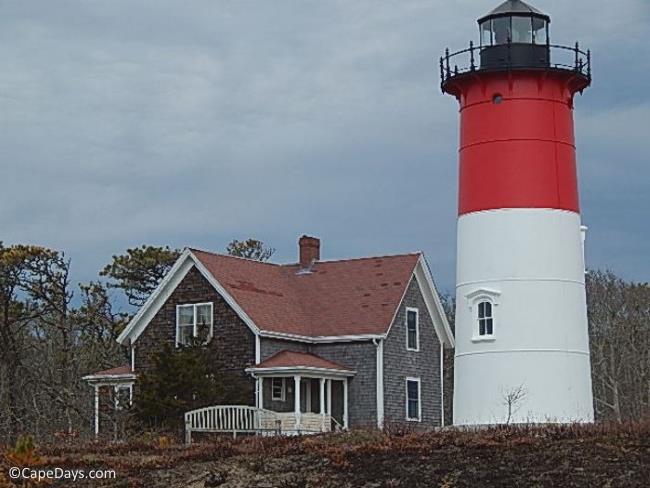 Nauset Light
Nauset Lighthouse, along with its Keeper's House and Oil House, sit on a knoll overlooking Nauset Light Beach and the Atlantic Ocean.

With such a gorgeous setting, it's no surprise that Nauset is one of the most popular lighthouses to visit on Cape Cod!
*FYI: If you're a fan of Cape Cod Potato Chips, you might recognize Nauset Light. It's the lighthouse pictured on Cape Cod Chips bags. :-)
2023 Nauset Lighthouse Tour Schedule: 

Nauset Lighthouse tours are scheduled as follows:
May 14, 21 & 28 from 1 to 4 p.m.


Sundays and Wednesdays in June, July, August from 4:30 to 7:30 p.m.


September 3 from 4:30 to 7:30 p.m.


September 6, 10, 13, 17, 20, 24 & 27 from 1 to 4 p.m.


October 1, 4, 8, 11, 15, 18, & 22 from 1 to 4 p.m.


Special Full Moon Tour - October 28 from 6:30 to 8:30 p.m. (weather permitting)

The grounds at Nauset Light are open every day from dawn to dusk.
Admission: Free

Driving to Nauset Lighthouse:
Route 6 to Brackett Road, to Nauset Road, to Cable Road, to Nauset Light Beach Road.

*Note:  There's parking at the adjacent Nauset Light Beach parking lot. Cape Cod National Seashore parking fees apply in season until 4:30 p.m.

Please see my Guide to Beaches in Eastham for important information about parking at Nauset Light Beach.

More Info: Nauset Light Preservation Society


Three Sisters Lighthouses
Built in 1892 to replace the original brick towers that were damaged by coastal erosion, the "Three Sisters" are now located just a short walk down Cable Road from Nauset Light.
Two of the "Three Sisters" Lighthouses
These towers have a fascinating history!
After ending their service as beacons for mariners, the lighthouses were sold to a private party in the 1920s. At times they were made part of a summer home. And one was once used as living space for ballet school students.

2023 Three Sisters Lighthouses Tour Schedule: 
Tours held every Monday from May 29 to September 4, 2023, from 11 a.m. to noon.

The grounds are open daily, year round, from dawn to dusk.
Admission: Free
Driving to Three Sisters: Route 6 to Brackett Road, to Nauset Road, to Cable Road. Three Sisters are located at the end of Cable Road.

Very limited parking is available in Three Sisters parking lot on the north side of Cable Road.
Parking is also available at Nauset Light Beach (parking fee/pass required in season). From there, follow the signs for a short walk to Three Sisters.

More Info: Cape Cod National Seashore events calendar

Highland Light (a/k/a Cape Cod Lighthouse)

The first lighthouse on Cape Cod was built here on the cliffs of  North Truro in 1797.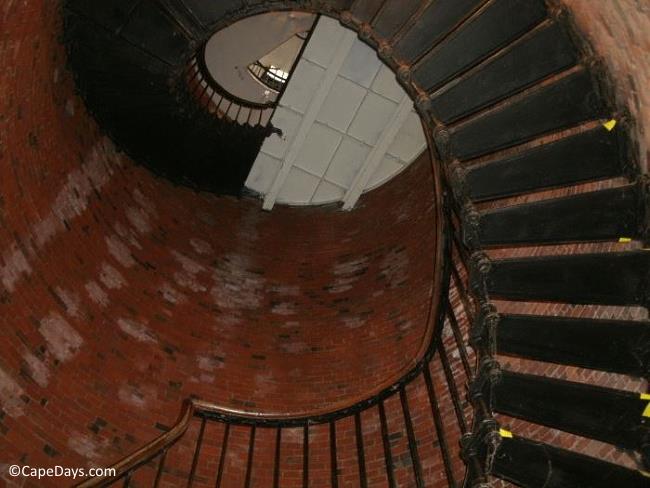 Inside Highland Light
Over the centuries, Highland Light has been re-built, re-fitted and even moved a number of times to save it from toppling off the eroding cliffs into the ocean.
The latest move took place during the summer of 1996 in an amazing process that involved sliding the 430-ton structure more than 450 feet along steel beams lubricated with Ivory Soap!
FYI: Although its formal name is "Cape Cod Lighthouse", we all know and refer to it as "Highland Light".


2023 Highland Light Tour Schedule:

Tours are held daily, 9 a.m. to 4:30 p.m., from early May to the end of October.
*Note: Guided tour hours are subject to adequate staffing availability.

Admission: $8 adults; $7 seniors; $5 students/children

Directions to Highland Lighthouse:
Route 6 to Highland Road, then right onto South Highland Road, and left onto Highland Light Road.
Parking is available (free).

More Info: Highland Light


Race Point Lighthouse

Race Point is the most remote of all Cape Cod lighthouses accessible by land. To get there, you'll need some good walking shoes and a lot of stamina.
Race Point Light
It's nearly a 2-mile hike from the Race Point Beach parking lot to the lighthouse through soft, shifting sand. (A very tough trek if you're wearing flip-flops!)

If you have a 4-wheel drive vehicle that's equipped to travel over sand, and you buy the required permit, you can drive out to the lighthouse.

Find out about over-sand driving to Race Point here.


2023 Race Point Lighthouse Tour Schedule:

No tours are scheduled for the 2023 season. 

Directions to the beach parking lot:
Route 6 to Race Point Road, then follow the signs to Race Point Beach parking lot. A parking fee or National Seashore parking pass may be required.

More Info: Race Point Light
Map of Lighthouses on Cape Cod MA
The blue icons indicate the location of each lighthouse that holds tours. To see how to get there, click on "Map" view and zoom around with the (+ and -) buttons.


View Cape Cod Lighthouses - Open to the Public in a larger map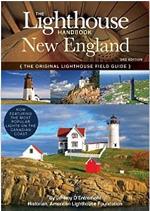 Lighthouse lovers and history buffs, this book's for you! 

The Lighthouse Handbook - New England is filled with the fascinating stories and vintage photos of our local lighthouses and their "keepers" throughout the centuries. 

It's a wonderful read! Check it out!


Lighthouse Vacations
For true lighthouse aficionados, what could be better than vacationing in a keeper's house?
Overnight Stays at Race Point Light
Getting away from it all" takes on a whole new meaning when you stay here!
The renovated keeper's house has 3 bedrooms, shared kitchen and bathroom, and very few modern conveniences.
Bring your own food, cook it yourself, and have the time of your life swimming, beachcombing, and watching the sun set from the lantern room.

Click here for more photos and rental information >>

Overnight Stays at Wings Neck Light

Located on Wings Neck Point in the village of Pocasset in the town of Bourne, this is the perfect spot for a unique family getaway!
Swim and sun at the beach. Fish from the rock jetty. Or just lounge the day away on the lawn, watching ships come and go from the nearby Cape Cod Canal.
Whatever your pleasure ... it's all good!
Click here for more photos and rental information >>
---
Lighthouse Tours
---