June
---
FTC Disclosure: If you make a purchase via a link on this site, I may receive a small commission on the transaction - at no added cost to you. Thank you!


---
Cape Cod Events

June 2020
This month's Cape Cod events calendar is chock-full of summer fun!

In early June, future Major Leaguers take the field on opening day of the Cape Cod Baseball League's 2020 season.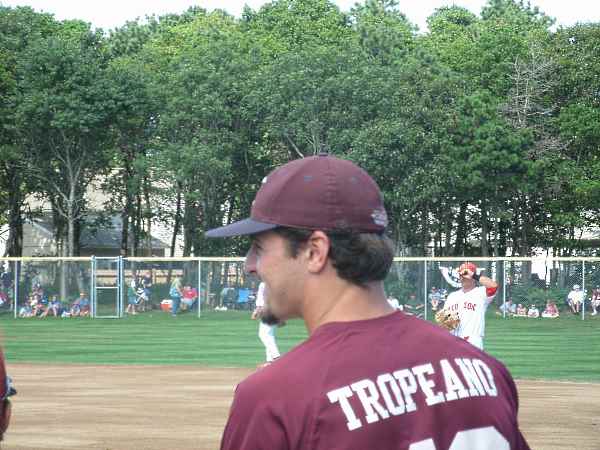 Opening Day of the Cape League season is a big event! For many players, it's the first step on the road to the majors. (FYI: Nick Tropeano went on to become a Major League pitcher. Way to go, Nick!)

Later in the month, our annual Quahog Day Festival brings the much-anticipated prediction from Doug, our resident soothsayer clam, foretelling how many days of fantastic beach days we'll have this summer.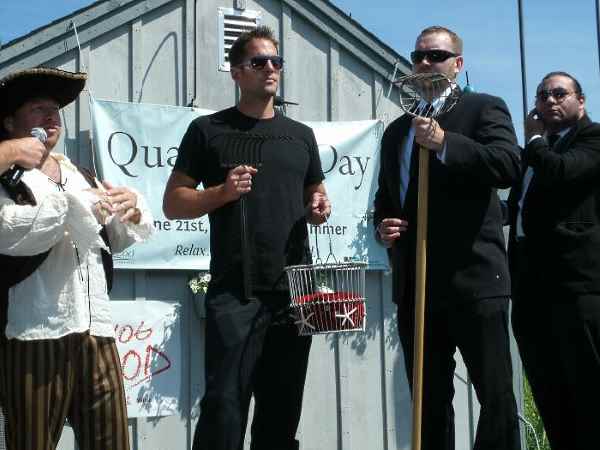 Doug the Quahog (in the basket) on stage at Quahog Day. Do you recognize the celebrity Captain of Doug's security team? That's Chris Lambton of "The Bachelorette" and HGTV fame!
And that's just the beginning! Read on for my hand-picked selection of the best Cape Cod events in June.


 Fairs, Festivals & Special Events on Cape Cod

June 2020
IMPORTANT!

Many event sponsors and venues have cancelled their June 2020 events. Others are taking a "wait and see" approach.

Although I'm trying my best to keep this page up-to-date, things are changing quickly in these uncertain times. So I strongly urge you to contact the event sponsor or venue directly to verify the event status before you make any plans!
Touch-a-Truck Event
When: June 7, 2020, 10 a.m. - 2 p.m.

Where: Sandwich High School, 365 Quaker Meetinghouse Road, Sandwich
Admission: $5 per child, adults FREE with child
More Info: Sandwich Women's Club

The Sandwich Women's Club's annual Touch-a-Truck Fundraiser event brings together dozens of shiny vehicles for kids (and their adult companions ;-) to touch, sit on, and learn about. How fun is it to see fire trucks, construction equipment, wreckers, emergency vehicles, pumpers, bobcats and cranes, up close and personal? Super-duper fun!!
This good-time-for-all event also features fun children's activities, along with lunch, snacks and beverages available for purchase on-site.
This don't-miss event benefits a worthy organization. So ... don't miss it!


Cape Cod Baseball League - Opening Day
When: 2020 Season - Cancelled

Where: Multiple locations Cape-wide
Admission: Free, donations appreciated
More Info: See my Cape League page for details

It's opening day, let the games begin! The country's best collegiate baseball players are back on Cape Cod for another season of great baseball.
Head to a ballfield in one of 10 towns across the Cape, and you'll soon see why CCBL games are high on my list of things to do on Cape Cod on a summer evening!


Arts Alive Festival
When: June 12-16, 2020 - Cancelled

Where: Falmouth Library Lawn
Admission: Free
More Info: Arts Falmouth
This gala 3-day event celebrates the arts in Falmouth and on the Upper Cape. Festival events include a Town Dance on Friday night, a special Rock Fest on Saturday night, and days filled with music, theater, dance performances, artist and crafter exhibits and sale, food and drink, and plenty of activities for the kids.


Orleans Historical Society Antiques Show
When: June 13, 2020 - Cancelled

Where: Orleans Historical Society Museum, Main St. & River Rd., Orleans
Admission: $6 adults 
More Info: Orleans Historical Society

More than 30 exhibitors from Cape Cod and beyond gather on the grounds of the Historical Society Museum to display an array of antiques, furniture, art, pottery, glass, nautical items, and collectibles.  
This annual show benefits a great cause - it's a fundraiser for the Historical Society. 


Taylor-Bray Farm's Spring Sheep Festival 
When: June 21, 2020 - Cancelled 

Where: Taylor-Bray Farm, 108 Bray Farm Road, Yarmouthport
Admission: Free ($5 per vehicle requested parking donation)
More Info: Taylor-Bray Farm
Here's your chance to see how wool goes from the sheep to the sweater!
At historic Taylor-Bray Farm's annual Sheep Festival, visitors are treated to demonstrations of the ages-old arts of sheep herding, sheep shearing, wool spinning, blacksmithing, and open-hearth cooking.
On the grounds of the 22-acre farm, you'll also meet the resident donkeys, sheep, Scottish Highland cattle and other farm animals - with petting areas for up-close visits. Haywagon rides and refreshments round out the day.

Please ... human visitors only, no dogs!


Fathers' Day Car Show
When: June 21, 2020, 8:30 a.m. to 2:30 p.m.
Where: Main Street, Hyannis
Admission: Free

Every year on Fathers' Day, the Main Street of Hyannis is lined with hundreds of shiny autos of all kinds - plus an arts and crafts fair, food vendors, music at the bandstand, and the multitude of sights, sounds and tastes that downtown Hyannis and the Harbor area are noted for.
Although it's dedicated to Dads on their special weekend, this antique and collector car extravaganza is a popular event with moms, kids and other family members, too!


Carousel of Light
When: Throughout the month 
Where: Mullen-Hall Elementary School, 130 Katharine Lee Bates Road, Falmouth
Admission: One ticket per ride, prices vary 
More Info: Carousel of Light


Come out for a ride on one of the most popular attractions in Falmouth - the Carousel of Light.
This hand-carved, twirling work of art features 20 wooden horses and 2 wheelchair accessible chariots (including one called "Bubbles" that actually blows bubbles!), all decked out in a nautical flair. 
 
Quahog Day Festival
When: June 22, 2020

Where:  Watch Online!

Admission: Free

More Info: Doug The Quahog

Usher in summer 2020 with this quirky celebration headlined by our resident "seer", Doug the Quahog.
Why do I refer to him as a "seer"? Because this marvelous mollusk has talents that amaze ... the ability to predict how many weeks of great beach weather lie ahead for Cape Cod.
See Doug, learn his prediction, and enjoy the celebration online in this season of social distancing!


Provincetown Portuguese Festival & Blessing of the Fleet
When: June 25-28, 2020
Where: Various venues in Provincetown
Admission: Varies by event, many free
More Info: Festival website 

Provincetown's rich Portuguese heritage is on full display this weekend with a wealth of entertainment including a fishing derby, capture the flag race, a festival parade, concerts, kids games, and plenty of wonderful Portuguese foods.
On Sunday, a Fisherman's Mass is held at St. Peter's Church, followed by a procession to MacMillan Pier and the Harbor for the traditional Blessing of the Fleet.


Orleans Improvement Association's Annual Garden Tour
When:  June 27, 2020 - Cancelled

Where: Various locations in Orleans
Admission: $30-$35 per ticket
More Info:  Orleans Improvement Association
Cape Cod is known for spectacular private gardens. Here's your chance to tour a number of distinctive gardens in the town of Orleans showcasing diverse plantings. Ticket holders will be treated to receptions at local art galleries after the tour.


Harwich 5K Road Race
When:  Postponed  (rescheduled to September 26, 2020)

Where: Harwichport, MA
Admission: Free for spectators; registration & fee for entrants
More Info:  Harwich Road Race 
Grab your running shoes and get ready to race or walk for a good cause, local fitness programs for kids.

Originally begun by a small group of fitness-minded moms, this 5K now draws hundreds of racers of all ages for a run along a flat, scenic route through the village of Harwichport.
The professionally timed event is followed by an after-party celebration and awards for the top finishers.


Cape Cod ChowderFest
When: June 23, 2020 - Cancelled

Where: Cape Cod Melody Tent, 21 West Main Street, Hyannis
Admission: $15

More Info: Cape Cod Melody Tent

One of the most anticipated events of the season, Chowder Fest serves up the best chowders on Cape Cod for our tasting pleasure. So bring your appetite, and get ready to sample the yummiest chowders you can imagine. Then cast your vote for the Best Chowder!
Live entertainment on the Melody Tent stage and a special play area for the kids make this event a fun outing for everyone in the family.


SandwichFest
When:  June 28, 2020 - Cancelled

Where: Sandwich Historic District
Admission: Ticket price for sandwich sampling - $25
More Info: Sandwich MA Chamber of Commerce


Which restaurant has "The Best Sandwich in Sandwich"? That's the ultimate question to be decided during SandwichFest.

Held in Sandwich, the oldest town on Cape Cod, activities at this fun summer street festival also include games for kids, a dog costume competition and parade, live music, and lots more.



Want to Add An Event To This Month's Calendar?

Click here


Related Pages:

Lots More Fun Things to See & Do on the Cape


---
June
---

Did you enjoy this page? Please click the "Like" button to let me know. Thank you!




Important Note: The date, time, place, admission charges, etc. of the events on this page may be changed by the event sponsor at any time, without my knowledge. Please be sure to confirm all information directly with the sponsor before you make any plans!