---
FTC Disclosure: If you make a purchase via a link on this site, I may receive a small commission on the transaction - at no added cost to you. Thank you!


---
Sand Sculpture Trail
Yarmouth Sand Sculpture Trail
2023

Updated: June 27, 2023

Yarmouth Sand Sculpture Trail is back in 2023, bigger and better than ever!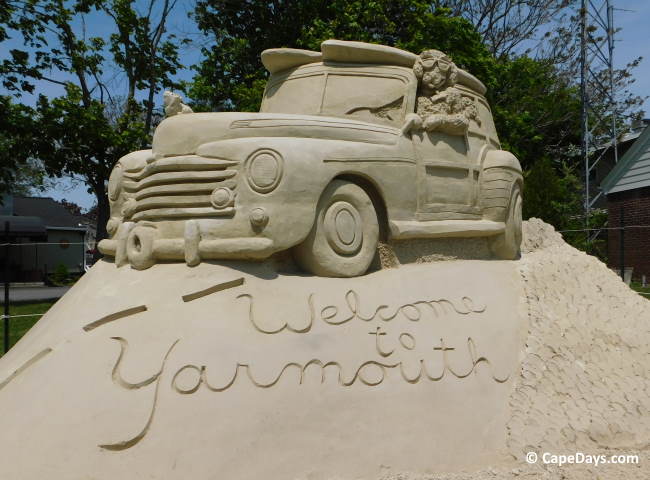 You'll find this towering creation at Yarmouth Visitors Center.
For the 12th year, nationally renowned performance artist and sculptor, Sean Fitzpatrick, and his wife, Tracey, are once again delighting Cape Cod locals and visitors with dozens of their unique and super-creative sand sculptures.

When to See the Sculptures
Sean and Tracey come to the Cape in mid-May to start working on their first sculptures.
They work from early morning (very early morning!) to noon-ish, 6 days a week, until the final sculpture on the trail is finished - usually around the third week in June.

Will you be here then? Keep an eye out for them at work around town.
They're happy to have you stop by and watch the big pile of sand come to life!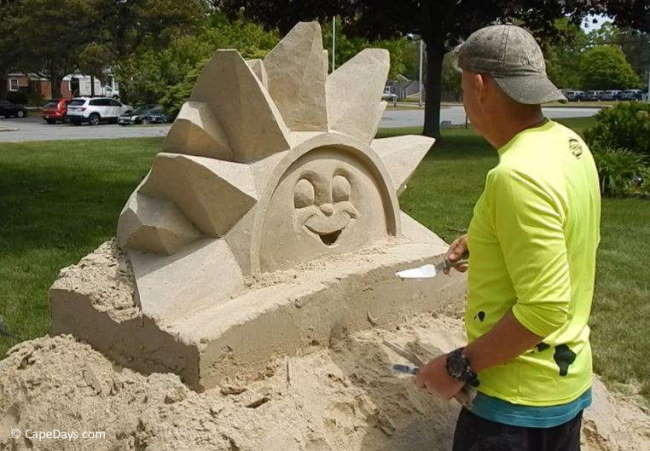 Sean Works His Magic
Later That Day ... The Finished Sculpture
>> Read about Sean's company, "Fitzy Snowman Studios"...

How long do the sand sculptures stay in place? All summer and into early autumn. 
Thanks to the special materials and techniques used to build them, the sculptures are incredibly durable. 

Unless they're accidentally damaged or intentionally vandalized (gladly, that doesn't happen very often!), they stay intact until mid-October. And some last even longer than that. :-)

Where to See the Sand Sculptures

List of Stops on the Sand Sculpture Trail

Mid-Cape Highway (Route 6)

Cape Cod Welcome Center – US-6, mile marker 70.6, eastbound side. 
Welcome to Cape Cod!
West Yarmouth

Hampton Inn and Suites - 99 Route 28

Putters Paradise - 119 Rt. 28

Cape Sands Inn - 149 Route 28 

The Cove Resort - 183 Route 28 

Sunbird Cape Cod Resort - 216 Route 28

Bellew Tile & Marble Co. - 280 Route 28

Laer Realty Partners - 411 Route 28

Route 28 Visitor Center - 424 Route 28 

Holiday Vacation Condominiums - 488 Route 28

Freebird Motor Lodge - 553 Rt. 28

Bayberry Hills Golf Course - 635 W. Yarmouth Road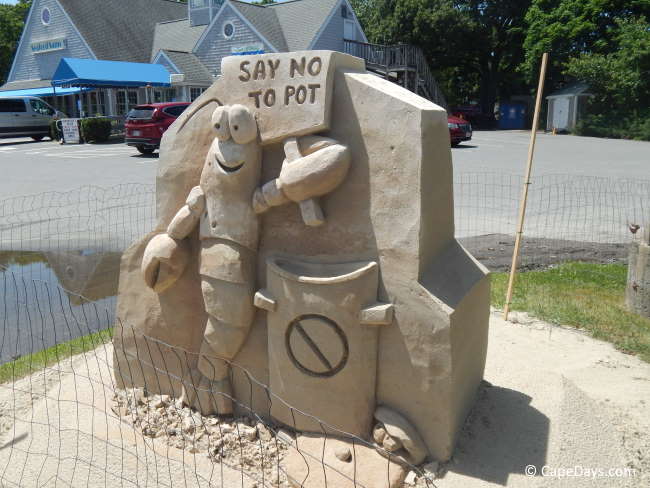 Every year I look forward to seeing the sculpture at Seafood Sam's.
It's always really cute and funny!
South Yarmouth

The Pancake Man - 952 Route 28

Candy Co. - 975 Route 28

Seafood Sam's - 1006 Route 28

Yarmouth Town Hall - 1146 Route 28

Dunkin' - 1050 Route 28 

Cape Cod Creamery - 5 Theater Colony Road at the intersection with Route 28

Sears & Sons Landscaping - 221 Old Main Street

Rockland Trust Bank - 428 Station Ave.

Dunkin' - 436 Station Avenue

Today Real Estate - 487 Station Avenue

Cape Cod Five - 514 Station Avenue

Bass River Golf Course - 62 Highbank Road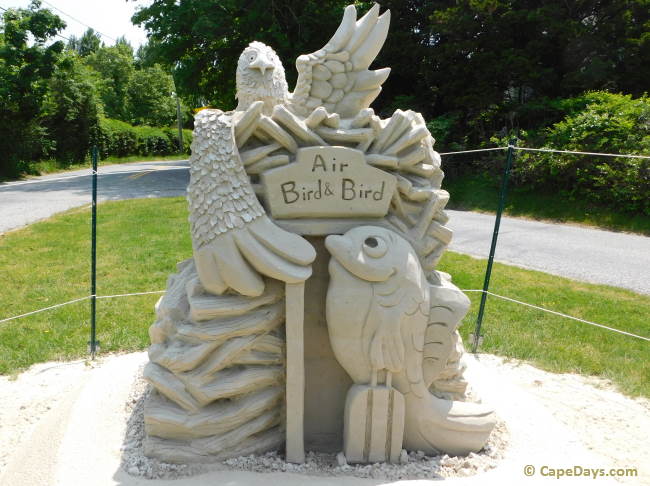 Yarmouth Port

Just Picked Gifts - 13 Willow Street

Yarmouthport Village Green - 2 Strawberry Lane

Taylor Bray Farm - 108 Bray Farm Road N.

Cooperative Bank of Cape Cod - 121 Route 6A

Voila! Designs by Frederique - 169 Route 6A

Winslow Crocker House Museum - 250 Route 6A

Bass River Rod & Gun Club - 621 Route 6A

Kinlin Grover|Compass - 927 Route 6A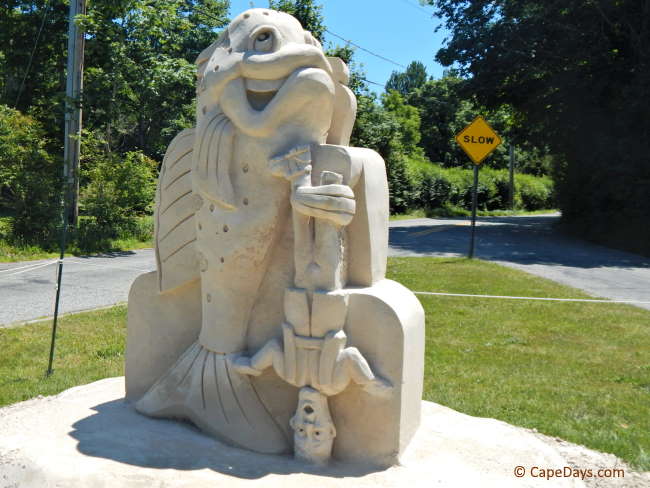 Catch of the Day
(My favorite from 2022!)
* Important *

Each sculpture is finished with a very thin, invisible, protective coating made from wood glue and water, then sprayed with sealant.
If the protective layer is broken, moisture seeps into the cracks. And that's the beginning of the end for the sculpture. :-(
Please, please, please ... don't touch!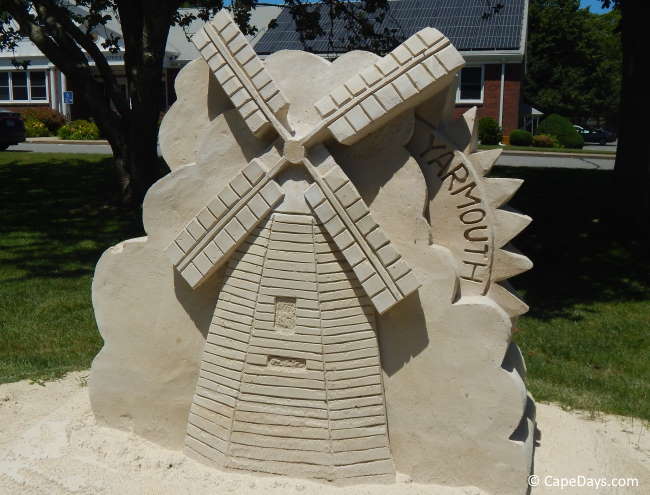 Replica of Yarmouth's Judah Baker Windmill
Have fun touring Yarmouth Sand Sculpture Trail!


Related Pages:

---
Sand Sculpture Trail
---