---
FTC Disclosure: If you make a purchase via a link on this site, I may receive a small commission on the transaction - at no added cost to you. Thank you!


---
Sand Sculpture Trail
Yarmouth Sand Sculpture Trail
2023

Yarmouth Sand Sculpture Trail is coming back in 2023, bigger and better than ever!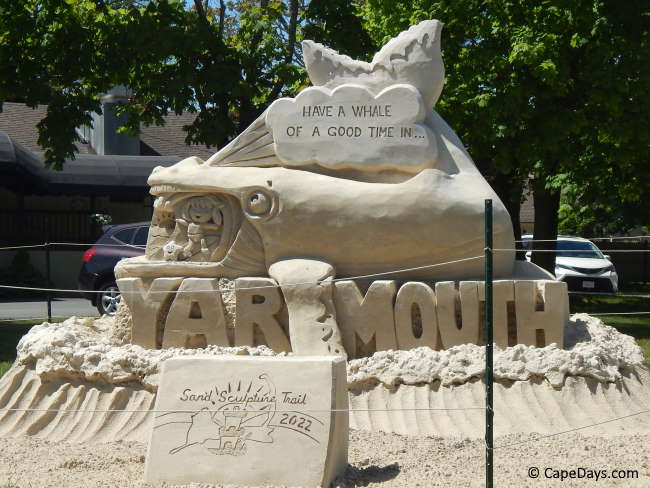 Nationally renowned artist and sculptor, Sean Fitzpatrick, will  once again delight Yarmouth locals and visitors with dozens of his unique and super-creative sand sculptures.

Where to See the Sand Sculptures

They're all over the town of Yarmouth.
You'll see them along Rt. 28 on the south side of town, on Rt. 6A on the north side, and at a few spots in between. There's one at the rest area on the Mid-Cape Highway, too.   

Sand Sculpture Trail: Interactive Map

*Note: This is last year's map. I'll update this map with the 2023 locations as soon as they're announced. So please check back often! 
Map of Yarmouth Sand Sculpture Trail
Click on the map to see the street address of each location.
When you're ready to go, just put the address into your GPS and it'll take you there.

Sand Sculpture Trail: List of Stops

*Reminder: This is last year's list. I'll update with 2023 stops as soon as they're announced.

Prefer to see all the stops on the trail in list form?
Here you go ...

Mid-Cape Highway
Rest Area & Visitors Center – US-6, eastbound side, at mile marker 70.6.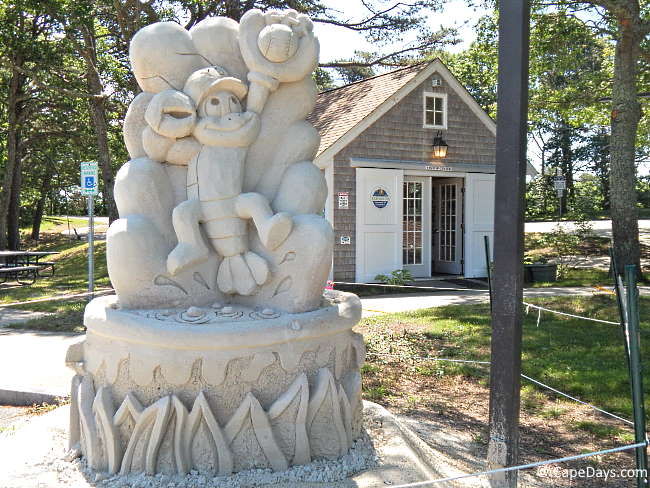 Welcome to Yarmouth!
Good to Know ...

The two primary roadways in the town of Yarmouth are known by several different names:

Route 28 is officially designated as MA-28. It's also known as "Main Street" in West Yarmouth and South Yarmouth.


Route 6A is officially designated as MA-6A. It's also known as "Main Street" in Yarmouth Port.

West Yarmouth

Cape Sands Inn - 149 Route 28

The Cove Resort – 183 Route 28
Bellew Tile & Marble – 280 Route 28
Instant Karma – 327 Route 28

Route 28 Visitor Center – 424 Route 28
The Music Room - 541 Route 28

Bayberry Hills Golf Course - 635 W. Yarmouth Road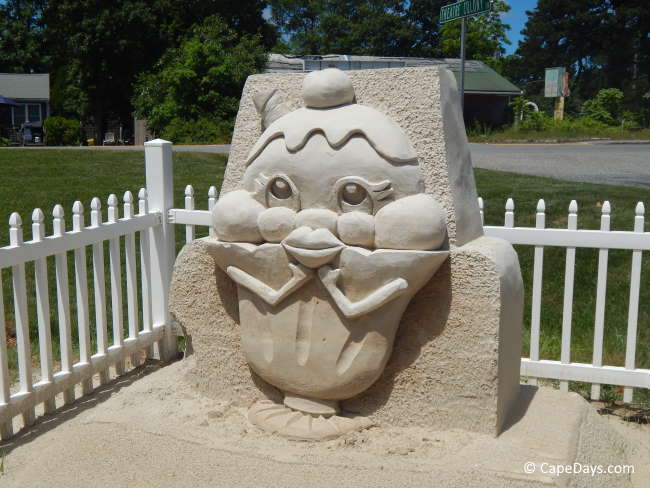 Loads of Yumminess at this Stop on the Trail!
South Yarmouth

Cape Cod Irish Village - 822 Route 28 
The Pancake Man Restaurant - 952 Route 28

Candy Co. – 975 Route 28

Seafood Sam's – 1006 Route 28

Dunkin' Donuts - 1050 Route 28

Yarmouth Town Hall – 1146 Route 28

Hearth 'N Kettle – 1196 Route 28

Cape Cod Creamery – 5 Theater Colony Road

Red Jacket Beach Resort - 1 South Shore Drive
Seaside Cottages – 135 South Shore Drive

Caffe Gelato Bertini - 46 South Street
John G. Sears Landscaping – 221 Old Main Street
Cultural Center of Cape Cod - 307 Old Main Street
Y-D Red Sox - Red Wilson Field at Dennis-Yarmouth Regional High School, 210 Station Avenue
(*FYI: The Y-D Red Sox are Yarmouth's home team in the  famed Cape Cod Baseball League.)
Rockland Trust – 428 Station Avenue

Dunkin' Donuts - 436 Station Avenue
Today Real Estate – 487 Station Avenue

Cape Cod 5 – 514 Station Avenue
Ocean Tailors - 65 Whites Path
Bass River Golf Course – 62 Highbank Road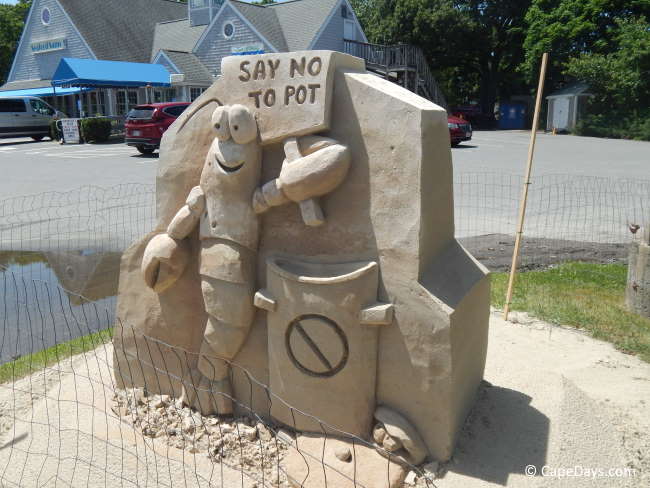 Lovin' This Sculpture!
Yarmouth Port

Just Picked Gifts – 13 Willow Street

The Cooperative Bank of Cape Cod – 121 Route 6A
Kinlin Grover Real Estate – 927 Route 6A
Yarmouth Port Village Green - 2 Strawberry Lane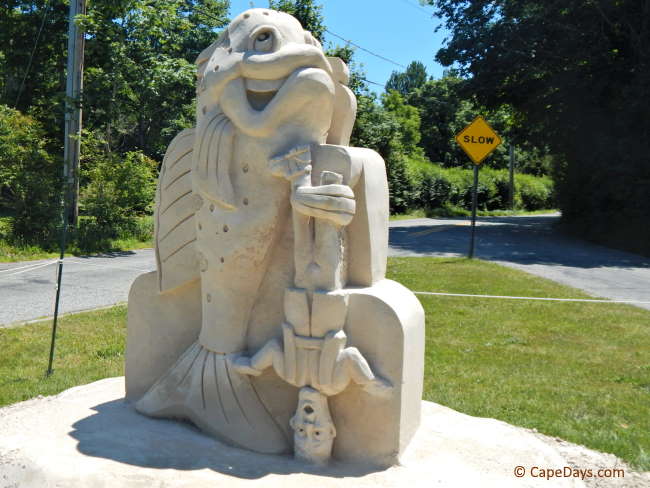 Catch of the Day
(My favorite from 2022!)
Best Time to See the Sculptures
When is the best time to tour Yarmouth's sand sculpture trail?  The short answer is: all summer long.

Sean normally starts working on the sculptures in mid-May, and he puts the finishing touches on the last one by late June.

If you're here during that time, keep an eye out for Sean at work around town. It's fascinating to watch as he brings a big pile of sand to life!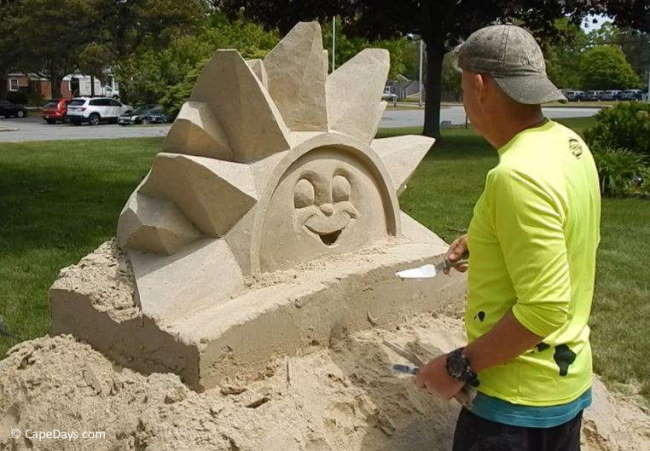 The Master Doing His Magic
Later That Day ... The Finished Sculpture
How long do his works of sand art stay in place? Much longer than you might imagine! 
Thanks to the special materials and techniques used to build them, the sculptures are incredibly durable. 

Unless they're accidentally damaged or intentionally vandalized (gladly, that doesn't happen very often!), the sculptures stay intact from the time they're created, all the way through to Columbus Day in October. :-)

Sand Sculpture Trail Photo Contest

While you're touring the trail, be sure to snap a few pics for the  photo contest!
Prizes are awarded for the best photo in categories including Most Creative, Best Selfie, and Best Location.
* Important *

Each sculpture is finished with a very thin (invisible) protective coating made from Elmer's glue and water.
If the coating layer is broken, moisture will seep into the cracks. And that's the beginning of the end for the sculpture. :-(
Please, please, please ... don't touch!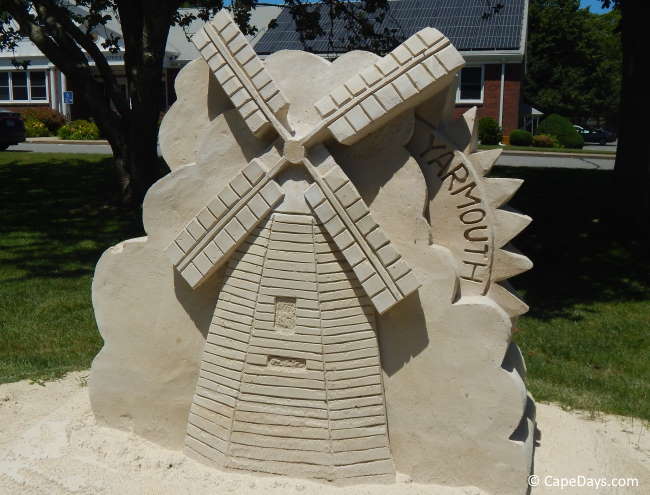 Replica of Yarmouth's Judah Baker Windmill
Enjoy Your Tour of the Yarmouth Sand Sculpture Trail
and Good Luck in the Photo Contest!


Related Pages:

---
Sand Sculpture Trail
---