Yarmouth
---
FTC Disclosure: If you make a purchase via a link on this site, I may receive a small commission on the transaction - at no added cost to you. Thank you!


---
Visiting Yarmouth MA

The "Split Personality" Town 

Yarmouth MA has a split personality ... in a good way!
On the north side of town, along Cape Cod Bay, the village of Yarmouth Port is quaint and peaceful feeling. Its streets are lined with Colonial-era homes, antiques shops, art galleries, and lovely inns.
On the south side, along Nantucket Sound, it's a whole different world.
The south-side villages of West Yarmouth and South Yarmouth are the active part of town, with a distinctly "family neighborhood" atmosphere.
 One of the perks of vacationing in Yarmouth is that, no matter where you're staying, the "other side" of town isn't far away!


Yarmouth Massachusetts on the Map

At its narrowest point, Yarmouth is just over 4 miles wide from the Bay to the Sound. And at its widest, it's only about 6-7 miles wide.


View Yarmouth MA in a larger map
That unique geography makes it super-convenient for sightseeing on either side of town. It's just a few minute road trip from one side to the other!


Activities & Attractions in Yarmouth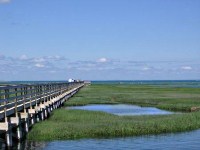 Bass Hole Boardwalk stretches nearly 900 feet out over the saltmarshes to Cape Cod Bay.
In the morning, it's a peaceful place to greet the new day with the sea birds and marsh wildlife.  In the evening, locals and visitors make their way here to watch the colorful sunset and see the moon glistening off the water.
To get there, turn off Rt. 6A at Center Street. At the end of the street, you'll come to the small parking lot for Gray's Beach. Park there (free), and take the short stroll down to the beach and boardwalk.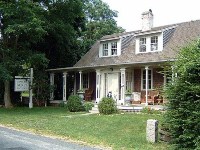 For  many years,  Edward Gorey, the quirky and immensely talented illustrator, lived here at 8 Strawberry Lane in Yarmouth Port. 
When you visit Mr. Gorey's home, you'll feel like he's just stepped out for a few minutes. Everything is still there, much as he left it. His first childhood sketches,  personal momentos, books and playbills, artful scribblings on envelopes and scrap paper, even a stack of receipts from his favorite eatery (Jack's Out Back, just up the street). In every nook and cranny of the home, there's something Gorey!

Edward Gorey House is open to his fans and curious visitors from April to December.


Crab Creek, one of the best blue crabbing spots on Cape Cod, is midway between the Bay and the Sound, on the Yarmouth-Dennis town border. 

An outing to Crab Creek is the perfect way to entertain the whole family for a couple hours - and have a good shot at bringing home a bucket full of dinner.

Never gone crabbing? It's easy! And there's no need to get wet unless you want to ;-)

Here's when, where, and how to catch 'em and the easiest way to cook 'em, too.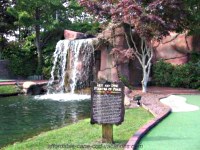 Miniature golf lovers will find the best mini-golf on Cape Cod (and perhaps in the entire universe!) at Pirates Cove on Rt. 28 in West Yarmouth MA.

You can't miss it. It's the place with waterfalls, a full-sized pirate schooner, and the big shark sticking out of the side of the adjacent Pirates Cove arcade and gift shop.

I'd say that this is one of the top attractions in town for kids, but it goes way beyond that. Adults are just as likely to tee up for an 18 or 36-hole round, then come back for more the next day!


Places to Stay in Yarmouth
The Escape Inn, on Rt. 28 in South Yarmouth, is one of my favorite affordable lodging recommendations in town.
There's been a little motel at this location for as long as I can remember. A few years ago, it was given a long overdue, total transformation. 
No more typical 1960s roadside motel. Now, the Escape Inn is a bright, airy, thoroughly charming place to stay - as the
glowing guest reviews
attest!
Find Your Perfect Lodging in Yarmouth MA
---
Yarmouth
---


Important:  Lodging owners/management may change their rates, discounts, special offers, promotions, services,  amenities, dates of operation, availability, etc. at any time, without prior notice, and without my knowledge. Be sure to confirm all details directly with the lodging provider before you make any travel plans!