Wellfleet
---
FTC Disclosure: If you make a purchase via a link on this site, I may receive a small commission on the transaction - at no added cost to you. Thank you!


---
Visiting Wellfleet MA

The town of Wellfleet MA is, in my humble opinion, one of the New England coastline's real gems.


View of Downtown Wellfleet from Duck Creek
Cape Cod, Massachusetts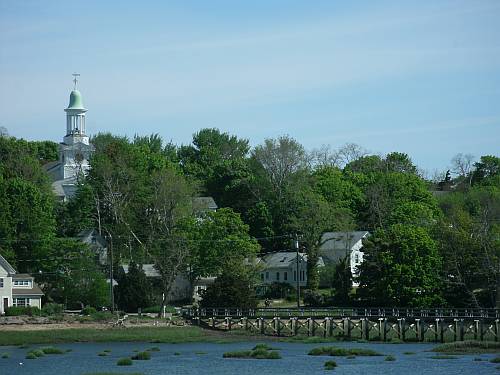 It's a town with a naturally tranquil ambiance. 

Walking trails and boardwalks wind through woods and marshlands to the water. Bike paths and country lanes lead to crystal clear kettle ponds.  Solitude is easy to come by, even during the busy days of summer.


Wellfleet Bay Wildlife Sanctuary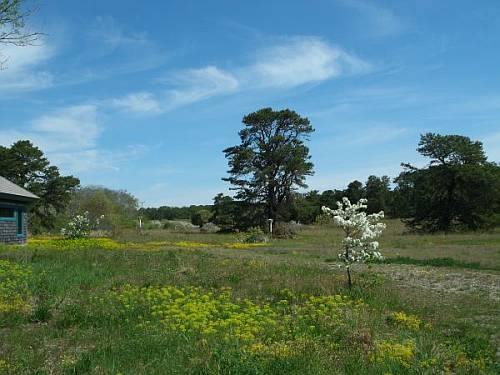 Kid-friendly beaches draw families to the town's Cape Cod Bay shoreline, while surfers head across town to ride the Atlantic Ocean waves. 


Marconi Beach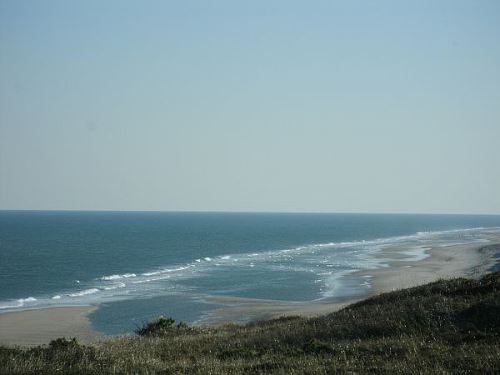 The small "downtown" area is a favorite spot for shopping, dining, and gallery hopping ...


Wellfleet - Nicknamed "The Gallery Town"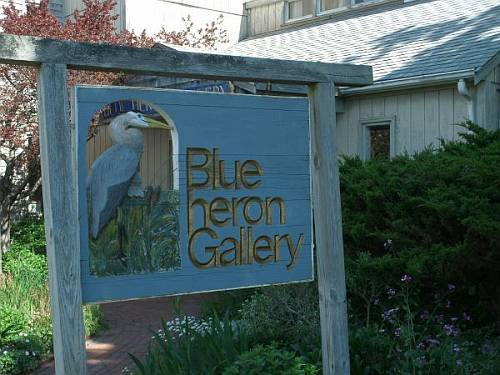 ... and the harbor area offers up the best just-caught local seafood!   


Fresh Wellfleet Oysters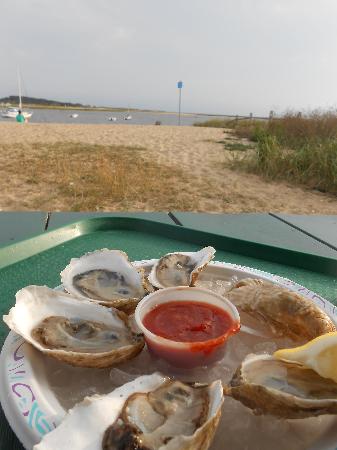 Well  known as a haven for artists, actors, foodies, and nature lovers - Wellfleet is a town where the hectic, day-to-day city life quickly melts away! 

Where is Wellfleet?

View Wellfleet MA in a larger map
Part of the town's charm is its somewhat remote location, about 3/4 of the way out on the "arm" of Cape Cod.

From Boston and Providence, it's about a 100-mile drive, and about 285 miles from New York City.
Once you're over the Cape Cod Canal, there's still 50 miles to go before you reach Wellfleet.
Things to See & Do in Wellfleet
Although life moves along at a leisurely pace here, there's still plenty going on around town.

These are just a handful of my favorite places to visit and things to do in Wellfleet:


The Town Clock - (200 Main Street)  When you hear bells ringing at odd times of day, that's the 1st Congregational Church's bell tower clock (known locally as the "Town Clock").

This is the only bell clock in the world  that still chimes on "ships time". 

It's well worth a trip into town to hear, and see, this one-of-a-kind clock!



Beachcomber - (1120 Cahoon Hollow Road) Overlooking Cahoon Hollow Beach and the Atlantic Ocean, the Beachcomber has been a hot spot for eating, drinking, and good-times on the Outer Cape for as long as I can recall.

More than just another restaurant and bar, this place has a view you'll never forget!



| | |
| --- | --- |
| | Wellfleet Drive-In Movie - (51 Rt. 6)  One of very few drive-ins left in the USA, the Wellfleet Drive-In Theater is a nostalgic "remember when" experience for us oldsters ... and a real novelty for kids who've never seen an outdoor movie theater. (Poor deprived kids :-) |
Baker's Field Skate Park - (70 Kendrick Ave.) Speaking of things to do with kids in Wellfleet MA, the park at Baker's Field has it all.

Alongside the skate park, there are tennis courts, a playground for the young 'uns, and Mayo Beach is right across the street.



Wellfleet Bay Wildlife Sanctuary - (291 Rt. 6) Covering more than 900 acres, this is one of the top wildlife sanctuaries in Massachusetts.

Visitors come from far and wide to walk the nature trails, spot rare birds and other wildlife, and join in on land and sea excursions offered throughout the season.



Wellfleet Harbor Actors Theater - (2357 Rt. 6)  In the mood for a cultural treat? Wellfleet Harbor Actors Theater and the Julie Harris Stage is the place to go for professional theater, dance, opera, music, and movies.

Definitely not for adults only, the whole family will love "WHAT for Kids" productions, too! 

Places to Stay in Wellfleet
In keeping with the town's natural character (and restrictions on commercial development), you won't find any big, full-service hotels in Wellfleet.

Instead, vacation lodging options around town include a few classic Cape Cod-style motels, several campgrounds, a nice variety of B&Bs, and lots of vacation rental homes and cottages.


See More Accommodations in Wellfleet MA

Enjoy your visit to Wellfleet!


---
Wellfleet
---

Photo Credits: Lodging, oyster, Beachcomber, and WHAT photos courtesy of Trip Advisor. All other photos copyright Dee Young, Affordable-Cape-Cod-Vacations.com



Important:  Lodging owners/management may change their rates, discounts, special offers, promotions, services,  amenities, dates of operation, availability, etc. at any time, without prior notice, and without my knowledge. Be sure to confirm all details directly with the lodging provider before you make any travel plans!