Cape Cod Chips Factory Tour
---
FTC Disclosure: If you make a purchase via a link on this site, I may receive a small commission on the transaction - at no added cost to you. Thank you!


---
Cape Cod Potato Chip Factory
 
Free Tours & Sample Chips 
When you're looking for a fun way to pass a little time, stop by the Cape Cod Potato Chip Factory in Hyannis MA. 
On a free tour, you'll see how the famous Cape Cod Chips are made. You'll also get a couple sample bags to take with you.


Cape Cod Chips Factory - Hyannis MA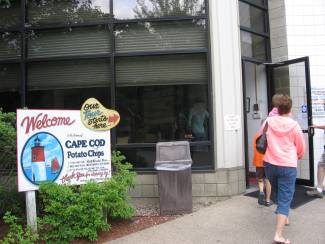 The tour is self-guided, so you can spend as much or as little time as you like strolling through the factory.
Realistically, for adults and older kids the whole tour probably won't take much more than 15-20 minutes.
With younger kids, you might want to spend a little longer, reading the signs and posters to them, and explaining how the chipmakers "kettle cook" a boring round vegetable and turn it into a crispy, tasty treat!
On your way out, don't forget to grab your free bags of chips.
(Hint: When you take a bag of Cape Cod Potato Chips from the freebie bin, shake it a little bit - very gently - to be sure it has chips in it. Last time I was there, I grabbed a bag that was sealed but empty. Bummer!)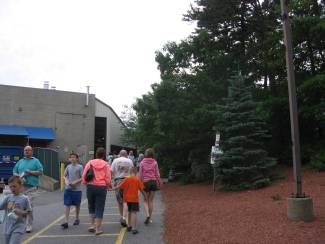 If you're like most of us, I bet you'll be munching on your free chips as you walk back to your car!
(One More Hint: You can buy Cape Cod Chips at most grocery stores and many convenience stores all over New England. But ... you'll find the best selection of flavors in the Cape Cod Potato Chip Factory gift shop.)


When & Where to Visit the Chips Factory
Location: 100 Breeds Hill Road, Hyannis (Only a mile or so from the airport and the Hyannis Mall)
Hours:  Tours were canceled in 2020-21 and have not yet resumed.

Admission: Free. There's plenty of free parking, too.


---
Cape Cod Chips Factory Tour
---