Barnstable, MA
---
FTC Disclosure: If you make a purchase via a link on this site, I may receive a small commission on the transaction - at no added cost to you. Thank you!


---
Barnstable, Massachusetts

Barnstable, Massachusetts. It's a name that causes a bit of confusion every now and then.  "Why?", you might ask. 

Because Barnstable (pronounced: BARN-stuh-bul) is the name of a county, a town, and a village on Cape Cod.


Barnstable County Court House
Built in 1831


Confused, yet? Don't worry. It'll all become clear as you read on ...


About Barnstable MA
Cape Cod has 15 towns, all within one county: Barnstable County.

The largest town in the county is the Town of Barnstable, which has 7 villages.

On the south (Rt. 28) side of town are the villages of:

Cotuit

Marstons Mills

Hyannis

Centerville
Osterville

On the north (Rt. 6A) side of town are:

West Barnstable
Barnstable (a/k/a Barnstable Village)

Got it now? Yes? Good! Now let's move on to a little bit about each village.



Hyannis: The Most Popular Village in Barnstable

Although Hyannis is generally thought of as the largest town on Cape Cod, in reality it's simply a village, as I explained above. (Albeit, Hyannis is a big village, but it's a village none the less.)

Because it's such a popular Cape Cod vacation spot, I've dedicated a whole section to Hyannis, beginning here. 


The Other Villages In Barnstable
Centerville
During the summer months, the population of Centerville booms with vacationers coming to enjoy the village's most popular attraction - Craigville Beach. After a day of sun and swimming, a visit to 1856 Country Store and a stop at Four Seas Ice Cream never go amiss!

Lodgings in Centerville
include small motels, B&Bs, and vacation rentals.

Craigville Beach in Centerville MA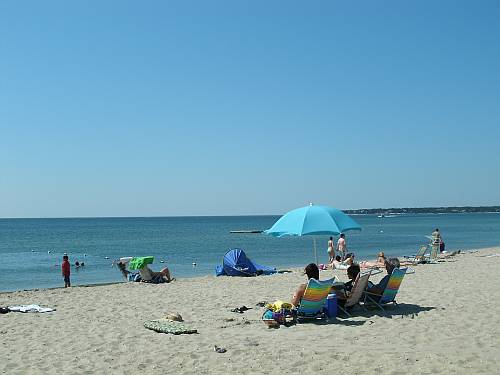 Cotuit 

This quiet, primarily residential village is bordered on 3 sides by water. Not surprisingly, boating, kayaking, and fishing are top attractions to Cotuit. For art lovers, the Cahoon Museum of American Art is well worth a visit. And don't miss the hometown team, the Cape Cod Baseball League's Cotuit Kettleers, who play their home games at Lowell Park from mid-June to early August.

For lodging in Cotuit, consider Skyfield by the Sea Bed & Breakfast, , a bed and breakfast inn on a miniature horse farm. (Never seen a miniature horse? They're totally adorable!).

You'll find a nice selection of vacation rentals in Cotuit, too!


Marstons Mills

The small village of Marstons Mills holds the distinction of being the only village in the town of Barnstable that has no coastline. 

Despite the village's lack of beaches, Marstons Mills does have one attraction that draws lots of adventurous visitors: Cape Cod Airfield. Take a scenic flight in the big red bi-plane, or just stop by to watch the RC airplane flyers in the field next door. Fun!

Where to stay in Marstons Mills? Check out these vacation rentals ...


Osterville

One of the more affluent villages in all of Cape Cod, Osterville is  picture-postcard pretty. 

Visitors to Osterville are treated to a walkable Main Street, unique shops and boutiques, antiques and art galleries, a great selection of restaurants, and beautiful beaches.

There aren't any hotels in the village. Instead, rental homes and cottages are the vacation lodging of choice.


On the Water in Osterville MA


West Barnstable

The small village of West Barnstable is home to Sandy Neck Beach -  a huge expanse of wildlands, dunes, and beachfront shared by the Towns of Sandwich and Barnstable MA. 

The village also has a number of historic sites,  including the resting place of hometown son, Captain John "Mad Jack" Percival, who captained USS Constitution ("Old Ironsides") on her around-the-world voyage from 1844-46.

Places to stay in West Barnstable include
several lovely B&Bs
and a variety of
vacation rentals
.

Sandy Neck Beach

Barnstable Village

Strolling along the village's Main Street, you're surrounded by vivid reminders of colonial days on Cape Cod. The Olde Colonial Courthouse where the King's Court held session in the 1600s. The Old Gaol, where law-breakers were jailed (some say a few former inmates still haunt the building today). Crocker Tavern, a favorite gathering spot for early American Patriots as they plotted their Revolutionary War strategies. 

These historic sites and many others line Olde Kings Highway (Rt.6A/Main Street) in Barnstable Village ...  along with boutique shops, art and antiques galleries, restaurants and taverns.

For vacation accommodations in Barnstable Village, you'll find lovely bed and breakfast inns and rentals.


Barnstable Village
Cape Cod, Massachusetts

Where is Barnstable on the Cape Cod Map?
The town of Barnstable is in the "Mid-Cape" region, about 1/3 of the way along the Cape Cod peninsula.
 

Map of Barnstable MA

View Barnstable MA in a larger map
Driving distances from major northeast cities to Barnstable are approximately:
65-70 miles from Boston and Providence
254 miles from NYC
345 miles from Philadelphia

Once you're over the bridge and onto Cape Cod, you'll only have about 15 miles to go to reach Barnstable Village, or 20 miles if you're going to Hyannis.


Things to See & Do in Barnstable Massachusetts
In a town this size, you'll find plenty of activities and attractions to satisfy everyone's entertainment desires. Here's a small sampling of our family's favorite places to see and things to do in Barnstable MA: 

Whale Watch Cruises
269 Millway 



If you're staying anywhere in the Mid-Cape region, this is the nearest whale watching cruise. (You do want to see the whales - don't you?!)

Click here for details about the whale watch cruises, schedules, the sights you'll see, etc. 



The Old Jailhouse
3353 Main Street



This is the "Old Gaol" that I mentioned above. It's the oldest wooden jailhouse in the US, built in the late 1600s.

Stop by for a daytime tour, or sign up for a haunted overnight stay ... if you dare!



Sightseeing Cruises
Hyannis Harbor 



Step aboard an historic 1911 coastal steamer, a   classic Catboat, or a sailing catamaran for a  sightseeing cruise to the Kennedy Compound, Point Gammon lighthouse, and beyond. 

For a land and sea tour, try the Duckmobile!

  

West Barnstable Train Station Museum
2469 Meetinghouse Way 


Movie buffs might recognize this train station from scenes in Golden Boys and The Lightkeepers. 

Today, the station is a museum filled with fascinating railroad memorabilia. 




Island Ferries
Hyannis Harbor 




The nearby islands of Nantucket and Martha's Vineyard are popular (and fun!) day trip destinations for Cape Cod vacationers. Take a ferry from Hyannis and you'll be on-island in no time. 

More about the ferries from Hyannis to Martha's Vineyard and Nantucket.



Enjoy your visit to Barnstable, Massachusetts!


---
Barnstable, MA
---

Did you enjoy this page? Please click the Like button.




Important:  Lodging owners/management may change their rates, discounts, special offers, promotions, services,  amenities, dates of operation, availability, etc. at any time, without prior notice, and without my knowledge. Be sure to confirm all details directly with the lodging provider before you make any travel plans!