Adaptive Sailing
---
FTC Disclosure: If you make a purchase via a link on this site, I may receive a small commission on the transaction - at no added cost to you. Thank you!


---
Adaptive Sailing

With "Sail Cape Cod"

Planning an accessible Cape Cod vacation? Put adaptive sailing on your list of don't-miss activities!


Sail Cape Cod's adaptive sailing program makes it "a breeze" for vacationers (and locals, too!) with physical or cognitive limitations to get out on the Cape's scenic waters. 


The Basics

The Season: Late June to mid-August


Where: Hyannis, MA


Time to Allot: 3+ hours

Best For: Children, teens and adults


Reservations: Required

Personal Note: Before I tell you all about adaptive sailing with SCC, I want to say thank you again to the SCC team for inviting me to come see, first-hand, what they do and how they do it. Thank you so much for your time, your talent, and your devotion to accessible sailing on Cape Cod!!

About Sail Cape Cod

Sail Cape Cod is a Hyannis MA-based, private, non-profit organization that's dedicated to the goal of bringing affordable, accessible sailing to locals and visitors alike. 

Having seen SCC's operation "up close and personal", I'd say they meet that goal - and then some!

Whether you're interested in private sailing lessons or just looking for a leisurely pleasure cruise, the Sail Cape Cod team will do their best to make it happen.
The Sailboat & Her Crew

SCC's adaptive sailboat "Lila" is specially outfitted to accommodate  physically or cognitively disabled children, teens and adults.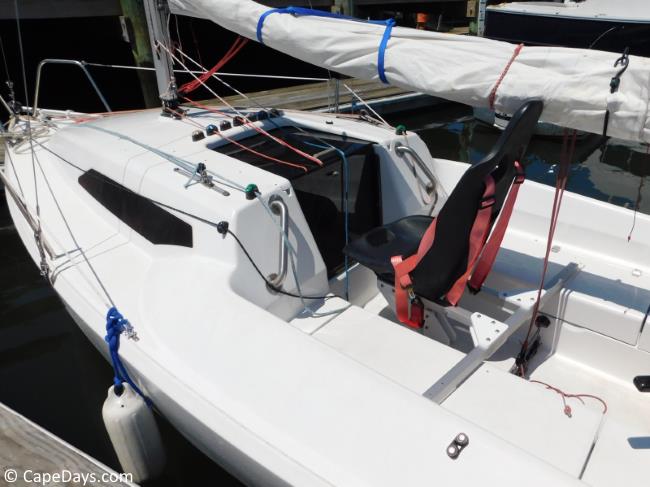 Lila's Custom Cockpit Chair

She's a safe, stable girl (sailboats are traditionally referred to as female!) that's perfect for a novice's first sail - and for experienced sailors, too.

There's a Hoyer-style lift at the dock for guests who need help transferring from a wheelchair to the boat. And well-trained SCC crew are always there to assist with boarding ...


Lily, a US Sailing Certified Instructor, with Jake at the Dock in Hyannis
 
... and on the water, where SCC's certified instructors lend as much or as little assistance as needed.


"JB" Sailing Lila on Lewis Bay
FYI: JB, the young man in the photo above, was diagnosed at an early age with Duchenne Muscular Dystrophy (DMD).

Learn more about JB and the "JB's Keys" foundation, here.

The SCC team are a super-friendly, talented group of ladies and gents who absolutely love what they do!

Whether they're giving lessons to young people like JB, or helping  disabled veterans rekindle their passion for sailing, or taking mobility-challenged seniors out for an afternoon cruise ... the entire SCC crew go out of their way to make sure everyone has a wonderful time!


Left to Right: Lily, Me, Fiona & Kerry

For more information about adaptive sailing with SCC, and to reserve your time on the water ...


P.S. If you do go sailing with SCC, I'd love to hear all about it! You can contact me here.



Related Pages:

Wheelchair Accessible Lodging

Cape Cod's Best Accessible Beaches

---
Adaptive Sailing
---