---
FTC Disclosure: If you make a purchase via a link on this site, I may receive a small commission on the transaction - at no added cost to you. Thank you!


---
New England Whale Watching Cruises

Massachusetts, New Hampshire & Maine
If you're vacationing anywhere on the coast of New England, whale watching is likely on your "must-do" list of activities.
If it's not, it should be! Really. Look at this spectacular whale watch cruise photo ...



Breathtaking Sight on a New England Whale Watch Cruise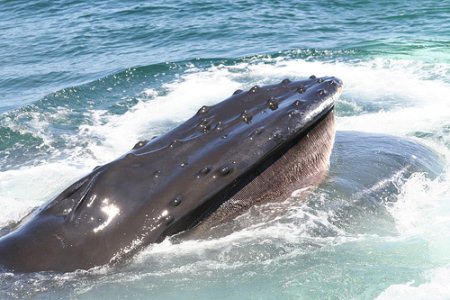 From whale watching in Maine on the remote Bay of Fundy, to excursions out of ports in Boston and Cape Cod, each state offers you whale watches that'll introduce you to Mother Nature's giant creatures, up close and personal. 


Whale Watch Cruises in Massachusetts
As you might guess, I'm a big fan of whale watching in Massachusetts. Partly because I live here, but also because Massachusetts has more whale watching excursions than any other New England state.
So ... for everyone visiting our gorgeous southern New England coastline, I've created two separate pages with lots of information to help you plan your excursion:

Whale Watches in New Hampshire
With a coastline that's quite a bit shorter than either Massachusetts' or Maine's, it shouldn't come as any surprise that there are fewer excursions to choose from in New Hampshire than other parts of New England.
These are a few of the more popular ones:
Granite State Whale Watch, Inc.
Rye Harbor
Rye, NH
(603) 964-5545
www.grantiestatewhalewatch.com
 
Atlantic Whale Watch & Deep Sea Fishing
Rye Harbor
Rye, NH
(800) 942-5364
www.atlanticwhalewatch.com

Eastman's Docks
River Street
Seabrook Beach, NH
(603) 474-3461
www.eastmansdocks.com


Whale Watching in Maine
The rocky coast of Maine boasts some of the best whale watching in northern New England.
From Eastport and Bar Harbor in the north, to Kennebunkport in the south, you'll find cruise companies that'll have you safely and comfortably at the whale grounds in no time. (With "puffin watching" as an added bonus in some locales!)

Here are some well-regarded Maine whale watch companies for your consideration:

Bar Harbor Whale Watch Co.
1 West Street
Bar Harbor, ME
(207) 288-2386
(800) 942-5374
www.barharborwhales.com

Fundy Breeze Charters
109 Water Street
Eastport, ME
(207) 853-4660
www.fundybreeze.com

Boothbay Whale Watch at Fisherman's Wharf Inn
22 Commercial Street, Pier 6
Boothbay Harbor, ME
(207) 633-3500
(888) WHALE-ME
www.whaleme.com

Odyssey Whale Watch
170 Commercial Street
Portland, ME
(207) 775-0727
www.odysseywhalewatch.com

Firstchance Whale Watch & Scenic Lobster Cruises
4 Western Avenue
Kennebunk, ME
(207) 967-5507
www.firstchancewhalewatch.com


---

Related Pages:

Aimee's Day of Whale Watching on Cape Cod

Other Special Attractions Cape Cod

** Don't miss This Month's Most Popular Pages at the top of this page!

---