"Special" Attractions
---
FTC Disclosure: If you make a purchase via a link on this site, I may receive a small commission on the transaction - at no added cost to you. Thank you!


---
Special Cape Cod Attractions

Top Things to See & Do
Every vacation deserves a special treat or two! These Cape Cod attractions are well worth splurging on the cost of admission.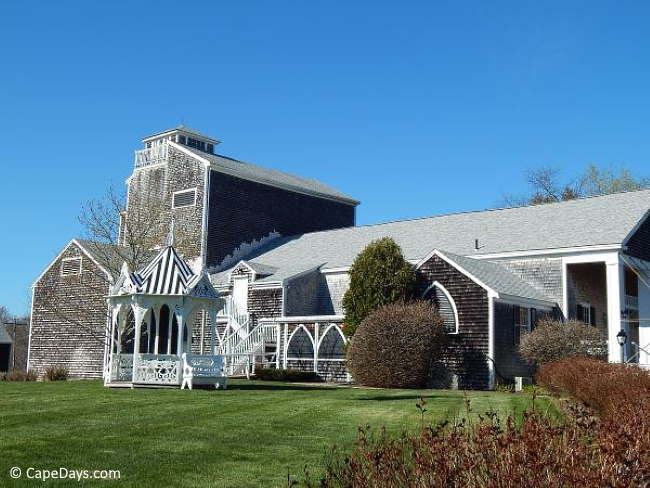 Cape Playhouse
"Where Broadway Goes to Summer"
Whale Watching -- Stellwagen Bank National Marine Sanctuary offers some of the best whale watching in the world. Go on a Cape Cod whale watch cruise from Barnstable Harbor or Provincetown. April to October.
Broadway Quality Theater -- Enjoy a show at the renowned Cape Playhouse in Dennis, the iconic venue where famous names from stage, screen and television began their acting careers - and the stars still perform today. June to September. Ticket prices vary by performance. 
Sailing Cruises -- Thankfully, you don't need a boat of your own to enjoy this favorite of Cape Cod activities. Sailing cruises and charters are available from late spring to early autumn, from many local harbors and marinas. 
Play a Round of Golf -- I've never been a golfer, but my friends who love whacking a little white ball around a big patch of green tell me that Cape Cod golf courses are some of the best courses in the northeast. With our temperate climate, you can often golf here all year long.
Tour the Dunes -- When it comes to memorable Cape Cod activities, exploring the dunes ranks right up there with the best. Art's Dune Tours has been showing visitors the wild side of Provincetown's dunes since 1946. For a truly special experience, go on a sunset clambake tour!
Ride The Rails -- Board the Cape Cod Central Railroad for a scenic ride through quaint towns and villages. Specialty train rides include a family supper train with special kids' activities, a Sunday brunch train, an elegant dinner train, and even a Murder Mystery train. Seasonal (May-Oct), with a special occasion trains for Thanksgiving dinner and New Years Gala. 
Deep Sea Fishing -- Arrange a private fishing charter, or join in the fun on a fleet boat. From early spring to fall, you can fill your days with tight lines and tough-fighting fish. 
Windsurfing -- Brisk prevailing breezes bring us the perfect conditions for windsurfing, and for one of the most cutting edge Cape Cod activities - kiteboarding. Bring your board or rent one from a local shop. Then fly across the waves to your heart's content! 
Lobster Roll Cruises -- A vacation in New England isn't complete until you've chowed down on some fresh-caught lobster. A Lobster Roll cruise from Sesuit Harbor is a fun and tasty way to get your "lobster fix", along with a scenic cruise on the Bay.      
Parasailing -- Parasailing is one of the few Cape Cod activities that requires a little more nerve than I happen to have. But if you're game to take to the air, a parasail adventure will give you an amazing birds-eye view!
Cape Cod Melody Tent -- During the summer months, the Cape Cod Melody Tent in Hyannis hosts a wide range of well-known performers in an intimate setting where all seats are within 20 rows or less from the stage. Performances from June to September. 
Seal-Sighting Tours -- Families of seals are a common sight in our waters and out on the barrier beaches. Get up close to these adorable critters on a guided seal-sighting tour. 
Rent a Power Boat -- Find a secluded spot for an afternoon swim. Cast into a school of feeding bluefish. Or just go cruising. Power boat rentals give you the freedom to enjoy lots of aquatic Cape Cod activities at your own pace.

---
"Special" Attractions
---


IMPORTANT: Schedules and prices shown on this page are for general guidance only. The providers of these attractions may change their rates and operating schedules at any time, without notice. Please be sure to confirm all information directly with the provider before making any plans.