Whale Watching
---
FTC Disclosure: If you make a purchase via a link on this site, I may receive a small commission on the transaction - at no added cost to you. Thank you!


---
Cape Cod Whale Watching

Need-to-Know Info for the Best Cruise Experience
Updated: January 13, 2023
Is a Cape Cod whale watching cruise in your vacation plans? On this page you'll find all the must-have information for a fantastic day on the water!

Here's What This Page Covers

Click a link to go straight to that section:
The Basics
The Season: Mid-April to late October


Best For: Ages 5 and up


Time to Allot: 5+ hours

Food Available: Yes


Restrooms: Yes


Reservations: Recommended

When to Go Whale Watching on Cape Cod
Whale Watching Season
Cape Cod's whale watch season begins in mid-April as hundreds of the gentle giants migrate to their summer feeding grounds off the Massachusetts coast.
Northern Right Whale
(Photo Courtesy: NOAA Teacher at Sea Program
Ellen O'Donnell, Deerfield Community School NH)

The season comes to an end in late October when the whales begin heading south again for the winter. 

Are You Sure to See Whales?
Sightings are very reliable all season long. I can't remember the last time I heard of a Cape Cod whale watch excursion returning to port without seeing any whales! 
Best Months for Seeing Whales
June, July, August and September are prime time! 

During the summer, the Humpback whales are here, along with Finback whales, Minke whales, and their colorful "cousins" the Atlantic White-sided dolphin.
On our trip to the whale grounds this past June, we saw so many whales that I lost count. Awe-inspiring, even for an "old salt" like me!
Here's a short clip from video I shot that day ...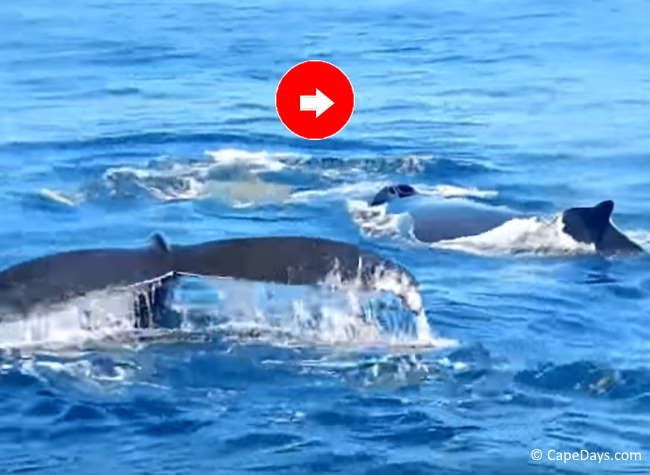 Best Weather for Whale Watching
Some days on the ocean are better than others. When you're trying to pick a perfect day for whale watching, keep these two things in mind: (1) offshore water conditions; and (2) the weather.  
Offshore Water Conditions
Are you a fan of rockin' and rollin' boat rides in big seas? I doubt it! 

So, how can you gauge the offshore water conditions before you get out there?
Keep an eye on the marine weather forecast!

Look for a day when light wind is in the forecast and seas (a/k/a "swells") are predicted to be 2 feet or less. Those are the best days to be on the water!

Are you skeptical about the forecast?

Call the whale watch cruise provider, and ask for their advice. They'll give you the straight scoop.
Believe me, they don't want a bunch of barfy passengers onboard any more than you want to be one of those barfy passengers! ;-)


Weather Conditions
Of course, we all hope for blue skies and sunshine for our whale watching days. Don't despair, though, if Mother Nature isn't totally cooperative while you're here. 

Rain showers in the forecast? That's not a big deal. The cruise boats have lots of indoor space for getting out of the weather.
Pack a hooded rain slicker (more about that, below), and you'll be all set to head out on deck to see the whales up close.   

Will you see whales when it's raining? Sure! Remember ... whales live in water. A little more water coming from the sky doesn't bother them a bit. They still swim, feed and play, even when it's raining! 

Where to Go Whale Watching on Cape Cod
No matter where you're staying on Cape Cod, there's a whale watching cruise reasonably nearby.
 
Whale Watch Cruise Ports
Whale watch cruises leave from two places on Cape Cod:  
Barnstable Harbor


Provincetown Harbor




Which Port to Choose?
My advice is to minimize your driving time as much as possible, especially in the height of our tourism season when traffic can be an issue. Go with the port that's nearest to you. 

Barnstable Harbor is nearest to:

Bourne

Falmouth
Mashpee
Sandwich
Barnstable/Hyannis
Yarmouth
Dennis
Brewster

Provincetown Harbor is nearest to:
Mid-way between the two ports are the towns of: 

If you're staying in one of these "mid-way between" towns, then take your pick of either whale watch cruise port. 


Important FYI: In the summer months, traffic can be very heavy on Rt. 6 heading toward Provincetown.
If you're in one of those "mid-way between" towns and you opt to go whale watching from Provincetown, be sure to factor traffic conditions into your travel plans! 
Whale Watching Cruises
Hyannis Whale Watcher Cruises
Barnstable Harbor
Barnstable, MA
(508) 362-6088
www.whales.net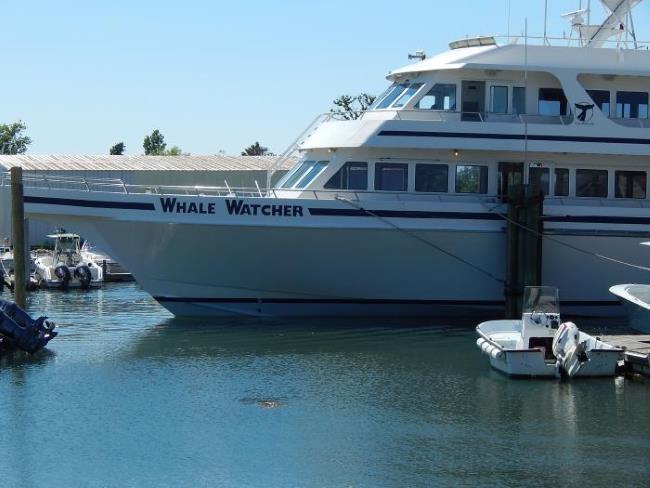 Ready for Boarding at the Pier in Barnstable, MA
Whale Watcher is a state-of-the-art, high-speed, water-jet driven ship that's designed and built especially for whale watching. It's a good-sized vessel measuring in at 130 feet in total length, with comfy interior cabins, a well-stocked galley, and outdoor decks for up-close viewing.
*Note: Despite the company's name, these excursions leave from Barnstable Harbor - not Hyannis Harbor!
(Hyannis is on Nantucket Sound on the south side of the Cape. The village of Barnstable is on Cape Cod Bay on the north side of the Cape.)

Operating Season:  May 16 - October 29, 2023
 
Time Onboard: About 4 hours


Tickets: $75/adult; $65/senior (62+); $55/child (4-12); $3/child age 3 and under; active military free with valid ID. Reservations recommended.


Discounts: May be offered. Check site for details.


Accessibility: Can accommodate smaller manual wheelchairs. Rest room on first deck. Call the company for details.


Parking: Paid parking is available at the pier.


$$ Saving Hint: About 3/4 mile from the pier there's a large parking lot at the Barnstable County Courthouse Complex (marked with the yellow pin on the map below). Parking is free, and it's an easy 15 minute walk to the pier.



View Whale Watch Pier and Parking - Barnstable MA in a larger map
Dolphin Fleet of Provincetown
MacMillan Pier
Provincetown, MA
(800) 826-9300
www.whalewatch.com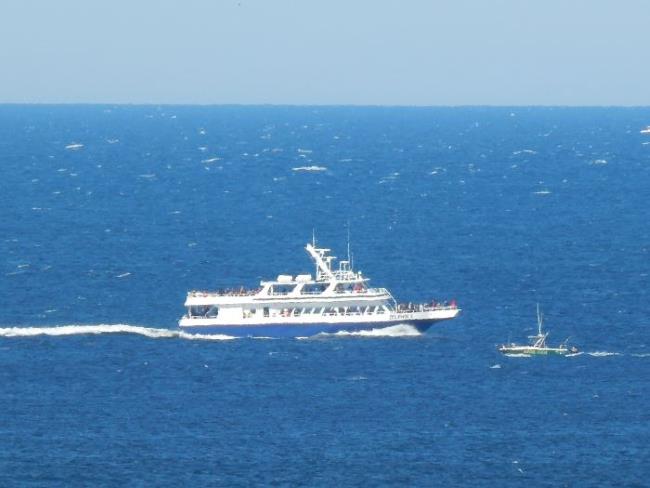 Dolphin Fleet Cruise Boat off Race Point in Provincetown, MA

Dolphin Fleet has multiple ships, each with climate-controlled cabins, open viewing decks, and a galley serving a variety of meals, snacks and beverages. 
Operating Season:  April 16 - October 30, 2022 (tentative)


Time Onboard: About 3-4 hours


Tickets: $70/adult; $45/child (5-12); $60/senior (62+); Free boarding pass for children age 4 and under. Reservations recommended.


Discounts: Check company website for discount offers


Parking: Parking can be a real headache in Provincetown, especially during the summer months. If you get there early enough, you might find a spot in the parking lot adjacent to the pier. If not, check the side streets a few blocks away from the pier. You can usually find a spot in one of those lots. (Expect to pay from $15-$30+ for parking, depending on the time of year and where you park.)


Accessibility: Smaller manual wheelchairs can be brought onboard, but rest rooms cannot be accessed. Call the company for details.


Suggestion: If you'll be whale watching in June, July or August, be sure to get into town early. It might take longer than you expect to find parking and walk to the pier. You don't want to miss the boat! ;-)


Captain John Boats - Provincetown
MacMillan Wharf
Provincetown, MA
(508) 556-1426
www.captjohn.com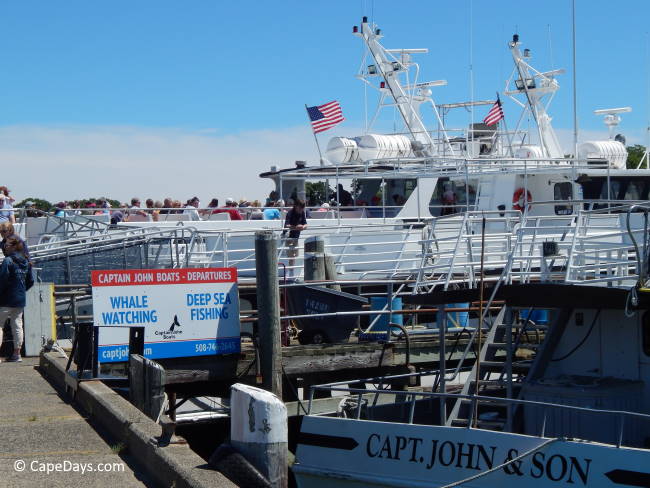 Captain John Boats

Captain John Boats' whale watch vessel has two open viewing decks, a climate-controlled cabin, rest rooms, and a galley serving a variety of food and beverages. 
Operating Season:  2023 schedule TBA


Time Onboard: About 4 hours


Tickets: $67/adult; $47/child (4-12); free boarding pass for children age 4 and under with paying adult. Reservations recommended.


Discounts:  Be sure to check Groupon for discounts on Capt. John whale watching tickets! 


Parking: As I mentioned above, it's possible you'll find a spot in the lot by the pier if you get there early enough. Otherwise, park in one of the lots on the side streets near the pier. 


Accessibility: Boarding is on the upper deck. Food and bathrooms are on lower deck, down a flight of stairs.


Private Whale Watch Charters
Looking for an extra-special adventure? Book a private whale watching charter for your family or a small group of friends!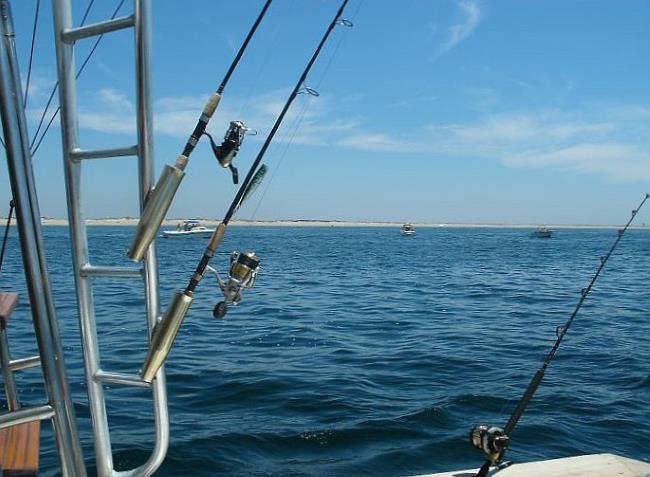 On a Private Charter on Cape Cod Bay
Spotting Whales and Catching Fish :-)

Having a boat and professional guide all to yourself is the recipe for an unforgettable day!
Interested in a private whale watch charter?

>> See my directory of private charter guides and need-to-know info about chartering.
What to Take With You
Along with your camera (the #1 must-have for whale watching!), these items are super handy for your day on the water:


Wind & Water-Resistant Cover-Up
The light-weight, water-resistant fabric is a great shield against wind, salt spray, and the unexpected rain shower. 

The jacket packs into its own pouch pocket. So it takes up very little space in  a carry-on bag. 

BTW: These jackets are great for everyday wear, too. The zippered pocket is a handy (secure) place to carry your phone and wallet when you're out and about around town!

See Prices & Availability at Amazon




Cooler for Drinks & Snacks
These babies are sturdy and flexible. They're much easier to cram full of stuff than their hard-sided cousins. And the hand and shoulder straps make them a breeze to carry on board!

See Prices & Availability at Amazon




Hat Leashes
With these hat leashes (a/k/a "hat lanyards"), you clip one end to the back of your cap and the other to your shirt or jacket.

Your hat might fly off, but it won't escape into the briny waters of Cape Cod!

See Prices & Availability at Amazon



Seasick Prevention

The beauty of this spray is that you only use it if/when you need it. No worries if you forget to take a seasick pill an hour before boarding the boat. No drowsiness from using the spray.  

Carry it with you for quease-free Cape Cod whale watching!
See Prices & Availability at Amazon
Enjoy your Cape Cod whale watching adventure!



---
Whale Watching
---