---
FTC Disclosure: If you make a purchase via a link on this site, I may receive a small commission on the transaction - at no added cost to you. Thank you!


---
Golf Courses
Cape Cod Golf Courses
Updated: January 18, 2023

Avid golfers from all over the world come here to play our unique public and semi-private Cape Cod golf courses.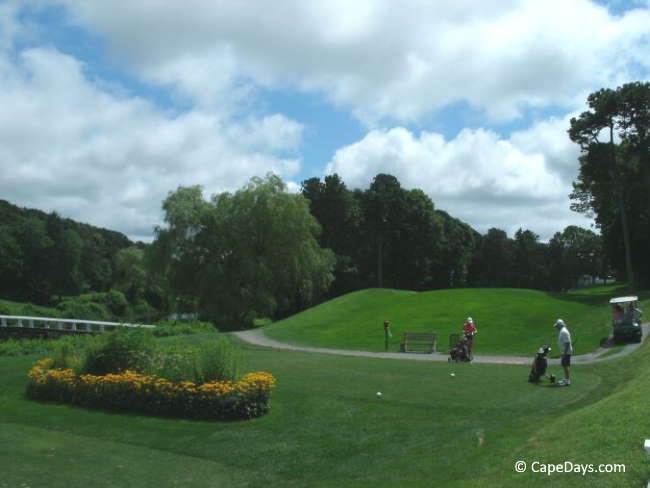 Whether you're coming for that long-awaited "golf 'til you drop" getaway with your buddies, or you're just interested in a few hours on an awesome seaside course - you'll find just what you're looking for in my Cape Cod MA golf course directory.



Directory of Public & Semi-Private
Golf Courses on Cape Cod

Paul Harney Golf Club

74 Club Valley Drive
East Falmouth, MA
Paul Harney Golf Club

PHGC is an 18 hole, 3585 yard, par 60 executive course established by former PGA professional Paul Harney. It's a fun and friendly course to play!

Cotuit Highground Golf Club

31 Crockers Neck Road
Cotuit, MA
Cotuit Highground Golf Club

This 2490-yard course has 9 holes (eight 3's and a 4). The consistent breezes off Nantucket Sound during the summer, along with a laid-back playing atmosphere, make this an enjoyable course for all ages and playing abilities.

Harwichport Golf Club

51 South Street
Harwichport, MA
Harwich Port Golf Course

The 9-hole walking course features 2,461 yards of golf, par 34. No tee times, first come-first served, cash only. 

Chatham Seaside Links
209 Seaview Street
Chatham, MA
Chatham Seaside Links

Built in 1895, Chatham Seaside Links was originally part of the elegant Chatham Bars Inn resort. The Links features 9 holes at 2890 yards in a pretty setting near downtown Chatham.

Holly Ridge Golf Club

121 Country Club Road
South Sandwich, MA
Holly Ridge Golf Club

One of this Cape Cod golf course's claims to fame is having been named by Golf Digest as one of the "Best Places to Play". Holly Ridge offers 18 holes of par 54 golf on over 3000 yards on a challenging yet fun course designed by Geoffrey Cornish.

Falmouth Country Club

630 Carriage Shop Road
East Falmouth, MA
Falmouth Country Club

At Falmouth Country Club, you'll have your choice of an 18 hole, 6665 yard, par 72 championship course, or their 9 hole "Talon" course. The terrain here is relatively flat, making it a great course to walk and enjoy the scenery.

Cape Cod Country Club

48 Theater Drive
Hatchville, MA
Cape Cod Country Club
Cape Cod Country Club is in the quaint Falmouth village of Hatchville. Its 18 hole, par 71, 6429 yard course is in a links-type layout and features a variety of playing terrain along with scenic water views of Coonamessett Pond.

Quashnet Valley Country Club

309 Old Barnstable Road
Mashpee, MA
Quashnet Valley Country Club
Quashnet Valley's 6601 yard, par 72 championship layout is set along cranberry bogs, freshwater ponds, and the Quashnet River and provides a challenging golf outing for players of all abilities.


Blue Rock Golf Course

48 Todd Road
South Yarmouth, MA
Blue Rock Golf Course
Blue Rock has long been one of the most popular Cape Cod "stay and play" golf resorts. Scratch golfers will find challenges on Blue Rock's 18 hole, par 54, 2890 yard course - but it's also friendly to weekenders and juniors, as well.


Bass River Golf Course

62 High Bank Road
S. Yarmouth
Bass River Golf Course
Overlooking the beautiful Bass River, this course features 6665 yards of par 72 golf on 18 challenging holes. The fairways are narrow, the greens are small, and the views are spectacular!

Chequessett Yacht & Country Club

680 Chequessett Neck Road
Wellfleet, MA
Chequessett Yacht & Country Club
CY&CC is a semi-private country club in the historic town of Wellfleet. The club's 9-hole golf course has wonderful views of Cape Cod Bay, and offers two sets of tees for those who'd like to play one of the smaller golf courses on Cape Cod but still get in a full 18.

Highland Links

10 Lighthouse Road
North Truro, MA
Highland Links

This is without a doubt one of the prettiest courses you'll find anywhere, set on the bluffs overlooking the Atlantic Ocean. Highland Links is aptly named, as it's a real Scottish-style links course with deep natural rough, Scotch broom, heath, non-irrigated open fairways, and Highland Light as the backdrop.


The Brookside Club

11 Brigadoon Road
Bourne, MA
The Brookside Club
This 18-hole, par 70, 6300 yard golf course mixes it up with a good variation of holes - uphill and down, long and short, and narrow and wide fairways. When you're done for the day, relax and watch the sunset over the Bay from the clubhouse terrace!


Sandwich Hollows

1 Round Hill Road
East Sandwich, MA
Sandwich Hollows

Sandwich Hollows is a town-owned and operated 18-hole, par 71, 6307 yard course. One of many unique features of Sandwich Hollows is its grass tee practice range.

Ballymeade Country Club

125 Falmouth Woods Road
North Falmouth, MA
Ballymeade Country Club
This well-maintained 6928 yard, par 72 course with its spectacular fairways and greens, will definitely test your skills - and perhaps your sense of humor, too, unless you can hit 'em long and straight. When you get to the 11th tee, take a moment to soak in the breathtaking views of Buzzard's Bay!
Hyannis Golf Club
1800 Iyannough Road (Rt. 132)
Hyannis, MA
Hyannis Golf Club

The fairways at HGC are nice and wide, the course and facilities are well-maintained, and many claim that Hyannis Golf Club has some of the best greens of any public course in the area. 18 holes, par 71, 6711 yards.


Olde Barnstable Fairgrounds Golf Course

Rt. 149
Marstons Mills, MA
Olde Barnstable Fairgrounds Golf Course

Olde Barnstable Fairgrounds invites the public to "Come play where the pros play!". This 18-hole, par 71, 6479-yard course can honestly make that boast, having hosted a number of prestigeous events including US Amatuer and US Open qualifiers.

Bayberry Hills

West Yarmouth Road South
W. Yarmouth, MA
Bayberry Hills

The Town of Yarmouth has two top-notch public courses: Bayberry Hills, with 18 holes (par 72, 6724 yards), as well as a 9-hole links course called "The Links 9". The big course is quite popular. So if you can't get your desired tee time there,  consider trying the links course. With its tall sea grasses, strategically placed bunkers and sometimes hearty breezes to contend with, it's a whole different world.

Dennis Highlands

825 Old Bass River Road
Dennis, MA
Dennis Highlands
One of two town-owned and operated Cape Cod golf courses in Dennis. The Highlands is a par 71 championship course with 6,500 yards of play across rolling terrain. Many golfers consider the Highlands to be the easier of the two Dennis MA public golf courses because, although still quite challenging, it's a bit more open than The Pines.


Dennis Pines

Golf Course Road
East Dennis, MA
Dennis Pines
With 18 holes of par 72 golf on 7029 yards from the longest tee, this course has some long, challenging holes - especially on the front nine. Accuracy is key on the tree-lined fairways!


Cranberry Valley Golf Course

183 Oak Street
Harwich, MA
Cranberry Valley Golf Course
Cranberry Valley is one of the more traditional Cape Cod golf courses, running alongside cranberry bogs, marshes and pine woodlands. This par-72 course has a yardage of 6745 over 18 holes (some challenging, others not so much!). Cranberry Valley is popular and centrally located, so it does tend to play a little slow, particularly on weekends.

Captains Courses
1000 Freeman's Way
Brewster, MA
Captain's Courses
There are two courses at The Captains: the Port and the Starboard, designed by renowned architect Brian Silva. Both are par 72 and just over 6700 yards. The Captains rank right up there with the best championship courses, getting glowing reviews from such prestigeous publications as Golf Digest and Sports Illustrated.


Kings Way Golf Course

Kings Circuit (off Rt. 6A)
Yarmouth Port, MA
Kings Way Golf Course

Kings Way is a semi-private course offering limited public play on its Brian Silva-designed golf course.
The course boasts "play to a par of 60 featuring spectacular elevating changes, Scottish bunkers, and undulating greens."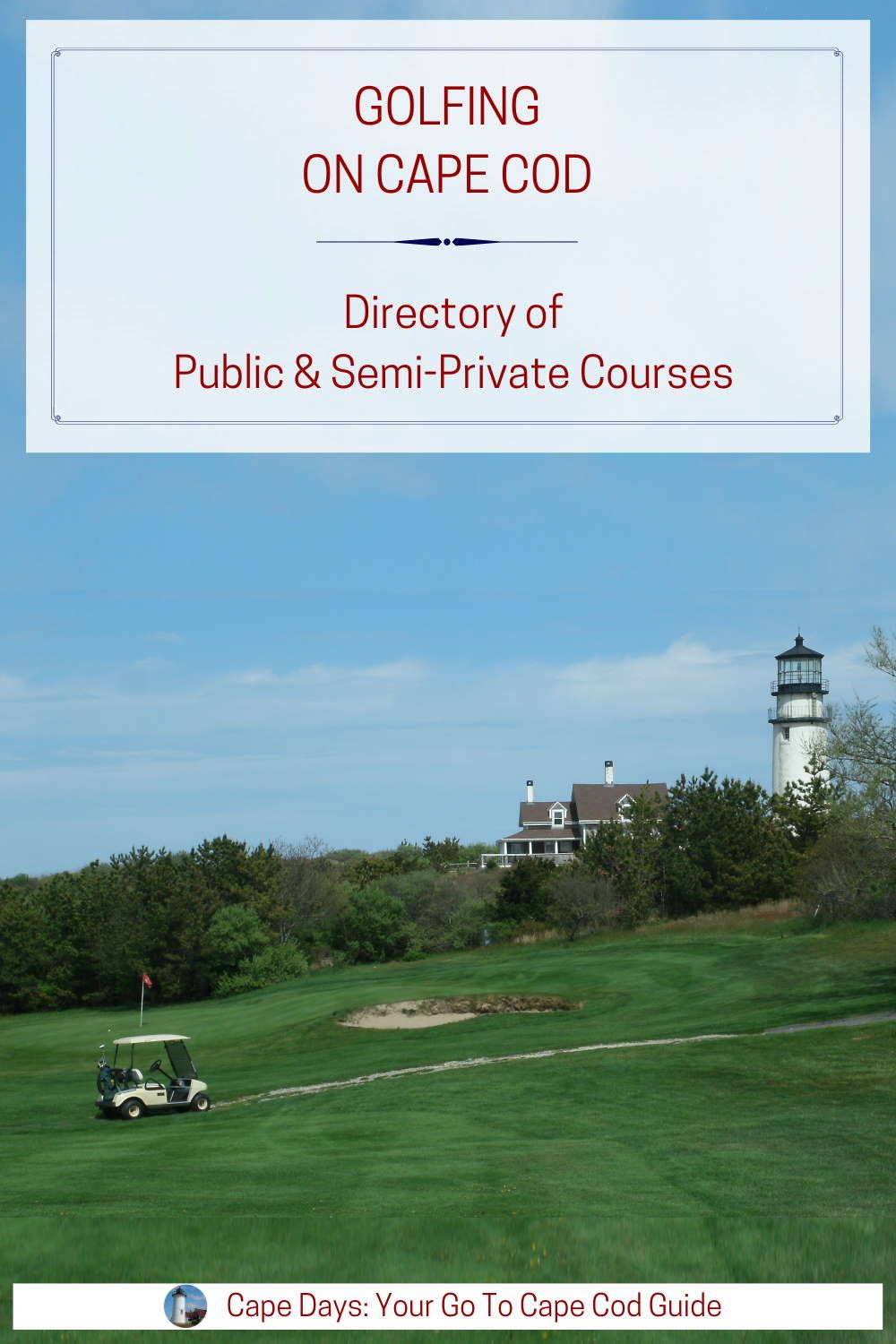 Enjoy your golf outings on the Cape!
---
Golf Courses
---