---
FTC Disclosure: If you make a purchase via a link on this site, I may receive a small commission on the transaction - at no added cost to you. Thank you!


---
Whale Watching in Massachusetts

Cape Ann, Boston & Cape Cod
Where is the best whale watching in Massachusetts?
Ask anyone from the North Shore and Cape Ann region, and they'll tell you that Gloucester MA whale watching can't be beat.

Folks who live in the "big city" will likely say that whale watching in Boston MA is the best.

Of course, I'm partial to Cape Cod whale watching because it's right here in my "home waters".  But the simple truth is, no matter where you go whale watching in Massachusetts, you'll have an experience of a lifetime!



Fantastic Video of Whale Watching - Boston, Massachusetts
Whichever port you choose, from Gloucester to Cape Cod, you're only a short boat ride from the whales at Stellwagen Bank Marine Life Sanctuary.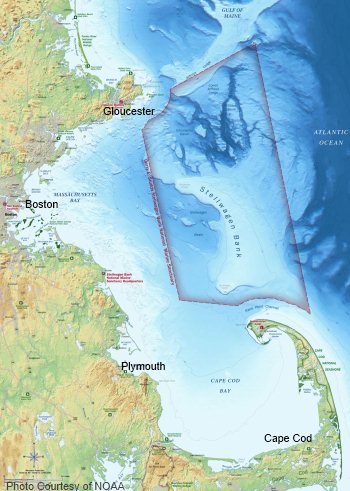 Massachusetts Whale Watching Excursions
North Shore-Cape Ann Region
7 Seas Whale Watch
7 Seas Wharf
Gloucester, Massachusetts 01930
(978) 283-1776
(888) 283-1776
www.7seas-whalewatch.com


Cape Ann Whale Watch
Rose's Wharf
415 Main Street
Gloucester, Massachusetts
(978) 283-5110
(800) 877-5110
www.seethewhales.com


Atlantic Yankee Whale Watch
25 Rogers Street
Gloucester, Massachusetts 01930
(978) 283-0313
(800)-WHALING
www.yankeefleet.com


Capt. Bill & Sons Whale Watch
24 Harbor Loop
Gloucester, Massachusetts 01930
(978) 283-6995
(800) 339-4253
www.captbillandsons.com


Newburyport Whale Watch
54 Merrimac Street
Newburyport, Massachusetts 01950
(800) 848-1111
www.newburyportwhalewatch.com


Boston Metro Area
Boston Harbor Cruises
One Long Wharf
Boston, Massachusetts 02110
(617) 227-4321
(877) 733-9425
www.bostonharborcruises.com


New England Aquarium Whale Watch
1 Central Wharf
Boston, Massachusetts 02110
(617) 973-5206
www.neaq.org


South Shore-Plymouth Area
Capt. John Boats & Cape Cod Cruises
10 Town Wharf
Plymouth, Massachusetts 02360
(508) 746-2643
(800) 242-2469
www.captjohn.com


Cape Cod & The Islands
Hyannis Whale Watcher Cruises
Barnstable Harbor
269 Millway
Barnstable, Massachusetts
(508) 362-6088
(800) 287-0374
www.whales.net


Dolphin Fleet of Provincetown
MacMillan Wharf
Provincetown, Massachusetts
(508) 240-3636
(800) 826-9300
www.whalewatch.com


Shearwater Excursions
Straight Wharf, Slip #1011
Nantucket, Massachusetts 02584
(508) 228-7037
www.explorenantucket.com



Related Pages:

Aimee's Day of Whale Watching on Cape Cod

Cape Cod Activities & Attractions - Main Page


** Don't miss This Month's Most Popular Pages at the top of this page!
---