Provincetown Airport
---
FTC Disclosure: If you make a purchase via a link on this site, I may receive a small commission on the transaction - at no added cost to you. Thank you!


---
Provincetown Municipal Airport

Cape Cod's "Other" Airport 
Much like Cape Cod's primary airport in Hyannis, the Provincetown Airport is also small, friendly and super-easy to get around.




Actually, calling the airport in Provincetown "small" is an understatement! It takes about a minute to walk from one end of the airport's terminal building to the other end.
(Okay. Maybe two minutes, if you walk really slowly and stop to buy a snack from one of the vending machines.)

Inside the Terminal. Isn't It Cute?!
Provincetown or Hyannis: Which Airport to Choose?
For most travelers, the choice to fly to P'town or to Hyannis is simply a matter of geography. 
Which airport you choose really depends on how far you'll have to travel after you land.

If your final destination on the Cape is:
then it makes sense to fly to Provincetown. All these "Outer Cape" towns are a half-hour drive or less from Provincetown Airport.
Orleans is a little farther away. Usually about a 45 minute drive in busy summer traffic.
If you're going to any other town, Barnstable Municipal (Hyannis) Airport is the better choice. Hyannis is in the Mid-Cape area - much more centrally located than Provincetown.

(Hop on over to my Cape Cod towns page to see where each town is located in relation to Provincetown and Hyannis.)


Provincetown Airport Ground Transportation
The airport is northwest of downtown, about 2 miles out, in a gorgeous setting on Race Point.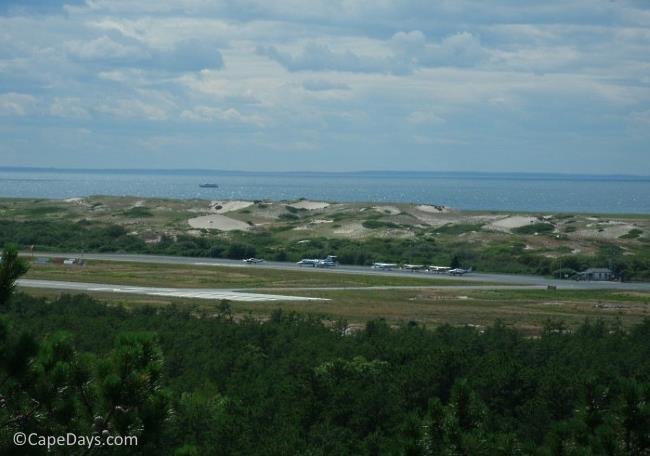 Spectacular Setting For An Airport!

If you've arranged for a Provincetown car rental, you're all set. Pick up your car at the airport, and be on your way.
Otherwise, take a cab. They'll fetch you right outside the airport and deliver you to your destination in no time.
Average cost for a cab ride from the airport to downtown - $8+ per person.
Cabs are usually available outside the airport, year round. But it's always a good idea to have a phone number handy just in case. 

Here are the phone numbers for a few of the many Provincetown cab companies: 
Mercedes Cab - (508) 487-3333

Junior's Taxi - (508) 487-0265

P-town Taxi - (508) 413-9958


Pride Taxi - (508) 487-3400

Cape Cab - (508) 487-2222



---
Provincetown Airport
---