Boston-Cape Cod
---
FTC Disclosure: If you make a purchase via a link on this site, I may receive a small commission on the transaction - at no added cost to you. Thank you!


---
Boston - Cape Cod Ferry Services
About the Ferries, Ports & Fares
Updated: May 8, 2023

A 90-minute Boston-Cape Cod ferry ride cuts miles, and perhaps hours of travel time, off travel between Boston and Provincetown.
The Basics

Season: daily from May to mid-Oct., weekends until early Dec.


Route: Boston - Provincetown


Fare: From $92+/adult (RT)

Best For: all ages


Food Available: yes


Rest Rooms: yes


Reservations: 

recommended

 
Where The Ferries Travel To/From

The Boston-Cape Cod ferries sail a direct route between Boston and Provincetown.
For some unknown reason, quite a few folks seem to think there's also a ferry from Boston to Hyannis. Not true!
Have a look at this map, and you'll see why there's no Boston-Hyannis ferry route:


The blue line shows the easy, direct route between Boston and Provincetown.


The yellow marker indicates Hyannis Harbor.
As you can see, a boat would have to go all the way around the entire "arm" of Cape Cod to get to Hyannis.
Given the distance, time, and navigation hazards involved, no company has taken on that challenge.


About the Boston-Provincetown Ferries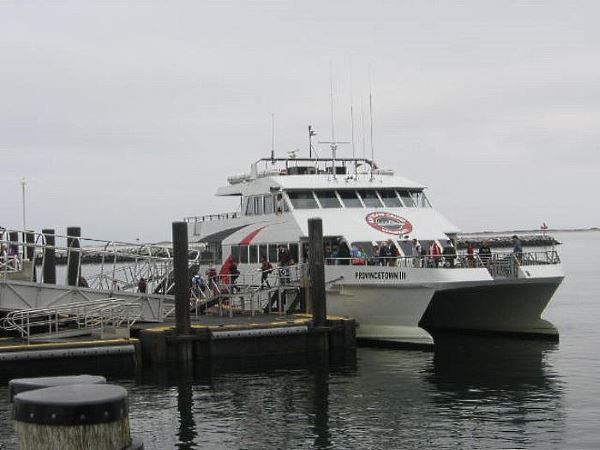 Passengers from Boston Arriving in Provincetown
Operating Season
Winter on the Atlantic Ocean can bring some incredibly nasty wind and waves.
That's why the ferries between Boston and Cape Cod operate only in from late spring to late autumn. 

*2023 Operating Season: May 16 - October 9, 2023 (daily) and October 13 - December 3, 2023 (weekends only)


Ferries, Ports of Call, Schedules & Tickets

Two companies operate on the Boston-Cape Cod route:
Bay State Cruise Company

and

City Cruises


The Boats: Both cruise companies offer big, comfy catamaran-style boats with "fast ferry" service.

Length of Trip: Total cruise time is about 90 minutes, pier to pier.
Schedules: Both companies offer 2-3 departures and returns daily. Additional sailings are usually offered on holiday weekends.
Fares: Fares vary by company. From $92+ round trip for adults, 90+ for seniors, children's fares vary by company and child's age.

More Info: Bay State Cruise Company | City Cruises
Explore Boston at a Discount!
Click here to read about my favorite Boston sightseeing discount passes. Some Cape Cod attractions are included, too!

Is the Ferry the Best Choice for You?
As much fun as it is to cruise to Cape Cod, it's not the right choice for everyone.

So, is a Boston-Cape Cod ferry your best transportation option?

Here are a few important things to consider:
1. Distance from the Provincetown Pier to Your Destination
If you'll be staying any distance from Provincetown, you need to consider how far you're willing to travel to reach your ultimate destination.
Which towns are near enough to make the Boston-Provincetown ferry a convenient choice?
Orleans is a bit farther away, but not too much farther. About 45 minutes, give or take, depending on traffic.
If you're staying anywhere else, you'll have a long way to travel after you dock in Provincetown.

2. "Passengers Only" - No Cars Allowed
Neither cruise line transports vehicles. Bicycles are allowed on board (for a small extra charge).
So if you want a car to use while you're here, you'll need to rent one in Provincetown.
The good news is: Provincetown is a super-easy town to get around without a car. When you step off the boat and onto the pier at McMillan Wharf, you'll be right in the heart of the action.
Want to go beyond downtown? Hop on the shuttle. It'll take you to the beach or nearly anywhere you'd like to go around town for just a few dollars.

3. Stuff Happens

Are your travel plans time sensitive?
Delays and cancellations do happen. Usually it's because of high winds and rough seas. 

If you absolutely, positively must get to the Cape or back to Boston by a specific time, then consider a different mode of transportation.



Related Pages:

Nantucket Ferries

Martha's Vineyard Ferries


---
Boston-Cape Cod
---