Ferries
---
FTC Disclosure: If you make a purchase via a link on this site, I may receive a small commission on the transaction - at no added cost to you. Thank you!


---
Cape Cod & Islands Ferry Services

Boston, Cape Cod, Nantucket & Martha's Vineyard
Nearly a dozen Cape Cod ferry boats connect us with Boston and with the islands of Martha's Vineyard and Nantucket.
I've arranged this Guide to Cape Cod Ferries by route. Just click on any photo link for information on ports, schedules, fares, discounts, etc. for that route:



Or read on to learn about the different types of ferries available to transport you, your vehicle, and even your furry four-legged friends.

Fast Ferries
The "fast ferries" are, as their nickname suggests, fast. 
Propelled by water jets, these sleek, catamaran-style ships zip right along. They're able to cover the 24 nautical mile distance between Hyannis and Nantucket in just over an hour, and make the 46 nautical mile trip from Boston to Provincetown in about 90 minutes.


"M/V Gray Lady" on the Way to Nantucket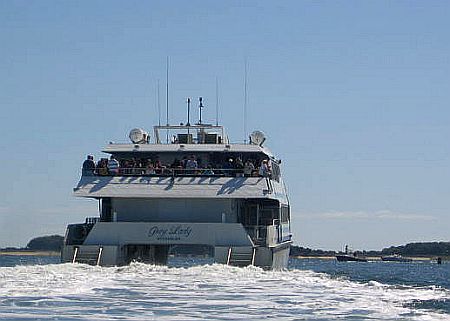 Because their twin hulls are an incredibly stable platform on the water, a ride on one of the fast ferries is a smooth, comfortable ride. 
And on those days when the seas are a little choppy, the twin hulls cut through the waves, rather than ride up and over them, as a single-hulled ship would do. That's good news for those with delicate stomachs - queasiness is kept to a minimum! 


Tia and Devon on "M/V Gray Lady " at the Pier in Hyannis
The fast ferries have all the amenities, too. Heat and air conditioning for sailing in all seasons, a snack bar, and wireless internet - plus comfy seating indoors and plenty of outdoor deck space for taking in the views.

Traditional Ferries
Don't feel the need for speed? The slower "traditional" ferries will give you a more leisurely, and significantly cheaper, ride to the islands.
(Unless you're planning to take your vehicle with you on the ferry - in which case, forget what I said about a cheap ride ;-)


"M/V Eagle"  Returning to Port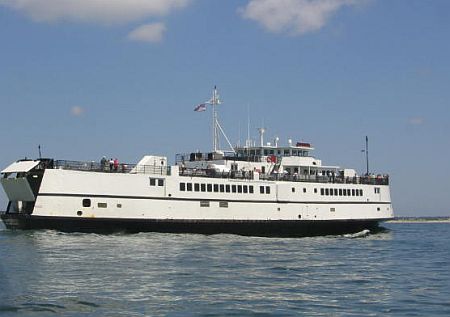 These big, lumbering vessels hold hundreds of passengers, as well as tons of cargo and vehicles of all shapes and sizes. 
It takes about double the time to go from port to port on one of the traditional ferries, as it does on a fast ferry.

Slow? Yes. But their sheer size makes for a smooth ride in all but the nastiest seas.
Amenities on the traditional ferries include climate control, indoor and outdoor seating, onboard food and beverages, and wireless internet.
All that, plus the significantly lower passenger fares, makes the traditional ferries a great choice for families traveling to the islands!
---
Ferries
---