---
FTC Disclosure: If you make a purchase via a link on this site, I may receive a small commission on the transaction - at no added cost to you. Thank you!


---
Cape Cod Family Beach Vacation
 Make it the Best on a Reasonable Budget!
Imagine the best family beach vacation of your life, on a budget of $1500 a week for a family of four.  Come to Cape Cod MA ... the top beach destination in New England!



With more than 100 beaches for your family to explore and enjoy, you'll soon see why the world-famous "Dr. Beach" regularly highlights Cape Cod on his Top 10 Beaches in the USA list!



Of course, our salty shoreline isn't the only thing that draws visitors to Cape Cod from far and wide each summer.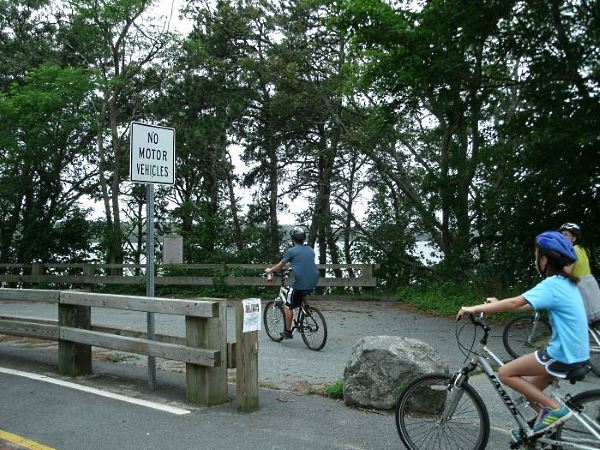 Family Ride on a Scenic Bike Path

Bike rides and beach bonfires. Kite flying and kayaking. Lighthouse tours, seal spotting, concerts in the park. And that's just a fraction of the fun you'll have during your week on Cape Cod!
Let me show you some ideas for a fantastic Cape Cod family vacation that won't break the bank.

Vacation Budget for the Week

For this sample vacation itinerary, I've picked the town of Dennis as "home base" for the week.
When you're planning your own getaway, choose any town that suits your fancy. You'll find plenty of affordable lodging, dining, activities, and entertainment all over Cape Cod!

| | |
| --- | --- |
| Lodging | $900 |
| Dining Out | $300 |
| Dining In | $100 |
| Entertainment | $200 |
| TOTAL | $1500 |
Note: This sample budget is for a family of four (2 adults, 2 children). Activity cost estimates are based on admission for four people over the age of 12.


Family Friendly Vacation Lodging
When you're trying to stick to a budget without sacrificing comfort and convenience, a vacation rental is the best of all worlds.


For less than the cost of a basic motel room, a rental home or cottage gives you all the comforts of home.
Much-needed "personal space" for adults and kids. A kitchen for quick breakfasts and midnight snacks.

A safe place to stash your bikes and beach toys. And somewhere comfy to hang out on a rainy afternoon.

Dining In & Out
($400)
With a stove, a fridge, and an outdoor grill at hand, it's easy to eat well without spending a ton of money.
Make a quick stop at the grocery store when you get here. For $100 (or less) you'll be able to stock up on the basics and lay in some hamburgers, hot dogs, and chicken for dinners on the grill.
As for dining out - the town of Dennis is chock-full of casual, moderately priced restaurants that are perfect for families with kids. Here are a few of our favorites: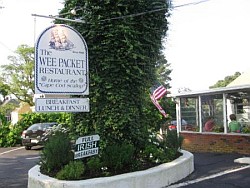 Wee Packet Restaurant (79 Depot Street in Dennis Port; $-$$) is a favorite with locals and visitors alike for its friendly atmosphere and its extensive breakfast, lunch and dinner menus.

Be sure to check out the gift shop. It's in a 200+ year old barn at the rear of the property. Very cool setting and lots of neat items!


Sesuit Harbor Cafe (357 Sesuit Neck Road in Dennis; $-$$$) is one of the coolest Cape Cod waterfront eateries.

At Sesuit Harbor Cafe, there's no indoor seating. Instead, patrons seating. Instead, patrons chow down on lobster rolls, fresh fish, and all sorts of non-seafoody fare from picnic tables overlooking Sesuit Harbor on Cape Cod Bay. Fun and yum! 


Sundae School (381 Lower County Road in Dennisport; $) is a family beach vacation institution! 

After a day in the sun, there's nothing like an ice cream cone or gooey sundae to top off the day.

And Sundae School's old-style ice cream parlor ambiance adds to the flavor!



Entertainment
($200)
One of the best things about a family beach vacation on Cape Cod is that there's so much to see and do here, at little or no cost. 

FYI: When we have friends with kids come to visit, we agree to limit our total entertainment budget to $150 for the week. By combining lots of free activities with a few special ones, we always stay well within budget.
Here are a few of our favorites ...


Beaches, Beaches & More Beaches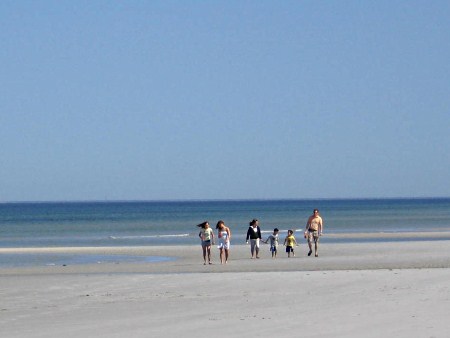 There are 16 saltwater beaches in the town of Dennis alone. That's enough to keep any beach-loving family happy for days on end!

Parking passes are $25-30/day or $90 a week. The pass is good for its duration (day/week) at most of the town's beaches.

If you walk or bike to the beach, no fee or sticker is required.


Ride the Bike Trails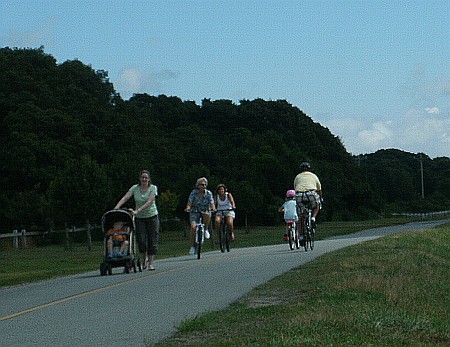 Cape Cod is blessed with a network of some of the finest bike paths in the USA.
Pick a section of the 22- mile long Cape Cod Rail Trail bikepath to explore. You'll pass through towns and woodlands, past cranberry bogs, historic sites, and water views. Most of the Trail is flat, easy to ride, and there are plenty of places to stop along the way for a rest, a bite to eat, and even a quick dip in fresh or salt water.
Bring your bikes and the day's adventure is free. Rentals begin at about $20-25 a day for adult-sized bikes.     
   

Catch Your Dinner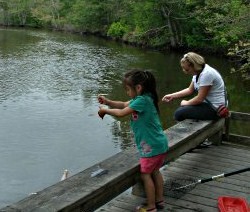 One of the coolest things about living - or vacationing - by the sea is catching your own seafood dinner.

Whether you're craving sweet blue crab, striped bass fillets on the grill, or a big bucket of succulent steamed clams, it's all here for the catchin' during the summer months. Get into the Cape Cod "catch and cook" spirit. It's a fun day for the whole family!

Fishing licenses are available online, and clamming permits are available at the local  town office. Crabbing is free - no license is required.
---
---
Photo Credits: Sesuit Harbor Cafe courtesy of
TripAdvisor