MA Fishing Licenses
---
FTC Disclosure: If you make a purchase via a link on this site, I may receive a small commission on the transaction - at no added cost to you. Thank you!


---
Massachusetts Fishing License


Rules for Fresh & Saltwater Anglers



"Do I need a Massachusetts fishing license?" You'd best know the answer to that question before you cast your line into the Commonwealth's fresh or salt waters!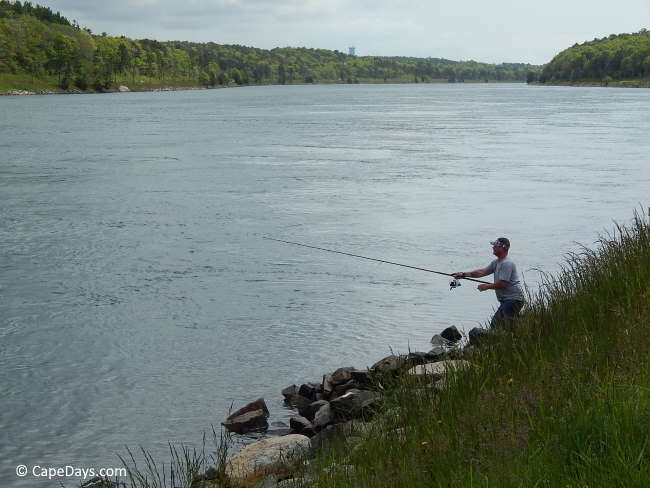 Hope He Has a License!
Who Needs a MA Fishing License?
Licensing laws are different for fresh and saltwater. Here's what you need to know about the rules, where to get your license, how much they cost, and more ...
Freshwater Fishing
If you're age 15 and older, you'll need a license to fish in Massachusetts' fresh water lakes, ponds, and streams.
Saltwater Fishing
If you're age 16 or older, you'll need a Mass. saltwater fishing permit to fish in Massachusetts marine waters, including up to the first dam in rivers and streams that flow to the ocean.

Exceptions:

If you're fishing on a permitted for-hire vessel (i.e., a licensed charter boat or head boat), the boat's license will cover you. You won't need your own saltwater permit.


If you have a recreational saltwater fishing license from a state that has a reciprocity agreement with Massachusetts,  then your out-of-state saltwater license will cover you while you're fishing in Massachusetts marine waters.

*Note - Massachusetts currently has reciprocity agreements with New Hampshire, Rhode Island, and Connecticut.
Does MA Offer Combination Fresh & Saltwater Licenses?
I'm often asked if there's an all-in-one license or permit that's valid for both fresh and saltwater fishing? Short answer: no.
If you plan to fish the fresh and the briney, separate licenses are required.
How Much Does a MA Fishing License Cost?

These are the current (2022) fees published by MassWildlife:

Fresh Water License Fees
*Note - The prices shown below do not include the $5.00  Wildlands Conservation Stamp fee that is added to the first resident license and all non-resident licenses purchased.
Resident - $26.00


Resident minors age 15-17 - FREE


Resident seniors age 65-69 - $13.00


Resident seniors age 70 or over - FREE


Resident (3 day) - $10.00



Non-Resident - $36.00


Non-Resident (3 day) - $20.90


Non-Resident minors age 15-17 - $6.80


Disabled individuals (blind, paraplegic, and intellectually disabled) may qualify for a free MA freshwater fishing license. Click here for details.

Saltwater Permit Fees

The cost for a Massachusetts saltwater fishing permit is:
For ages 16-59 - $10


For ages 60 and up - Free 

Where to Buy MA Fishing Licenses
You can buy your fresh and saltwater licenses:
When you buy online, you'll be charged a small "convenience fee".

Fishing for Highly Migratory Species

To give you a complete picture of all the fishing license/permit requirements that apply in Massachusetts waters, there's one more I should tell you about ...

Atlantic Highly Migratory Species Fishing Permit

The U.S. government regulates Atlantic Highly Migratory Species ("HMS") and issues a special permit that's required when fishing for certain species of fish including Atlantic tuna, swordfish, shark and billfish.
Permits are issued to a boat, not to individual anglers.
For example: Let's say that you're planning to take a few of your buddies on your boat for a day of tuna fishing. You'll need to buy an HMS (Angling Category) permit for your boat and keep it onboard.
That permit will allow everyone on your boat to fish for tuna and other highly migratory species in US federal and MA state waters.

Important!

In addition to your boat's HMS permit, each angler will also need his/her own Massachusetts saltwater fishing permit if:

You transit in Massachusetts state waters in possession of the highly migratory fish


You fish in Massachusetts state waters in possession of the highly migratory fish


You land the highly migratory fish in Massachusetts.
Where to Buy a Highly Migratory Species Permit
HMS Permit applications can be found online at the National Marine Fisheries website. Call (888) 872-8862 for more info.
Cost of the Atlantic HMS Permit

The fee for an Atlantic HMS Permit for recreational angling is $20.00. The permit is valid from the date of issue through December 31st of that year.

Know the Regulations!

The Atlantic highly migratory species regulations are quite involved and they seem to change constantly.
Fair Warning: Violations can land you in BIG trouble!
Don't expect to get away with, "Sorry, I didn't know." That excuse won't fly with the authorities. It's your responsibility to know the regulations and follow them!

See the National Marine Fisheries Compliance Guide.

Related Pages:

Light Tackle Sport Fishing for Stripers, Blues, Bonito & Albies
Directory of Cape Cod Bait & Tackle Shops
Autumn Fishing: What's Biting in September and October?

---
MA Fishing Licenses
---