Sandwich Beaches
---
FTC Disclosure: If you make a purchase via a link on this site, I may receive a small commission on the transaction - at no added cost to you. Thank you!


---
All-in-One Guide to


Sandwich MA Beaches

Updated: February 9, 2022


You'll find several wonderful beaches along Cape Cod Bay in Sandwich.

Whether you start or end your day with a walk along the water, or spend your morning or afternoon swimming, sunning or trying to catch dinner ...

There's a perfect Sandwich beach for everyone!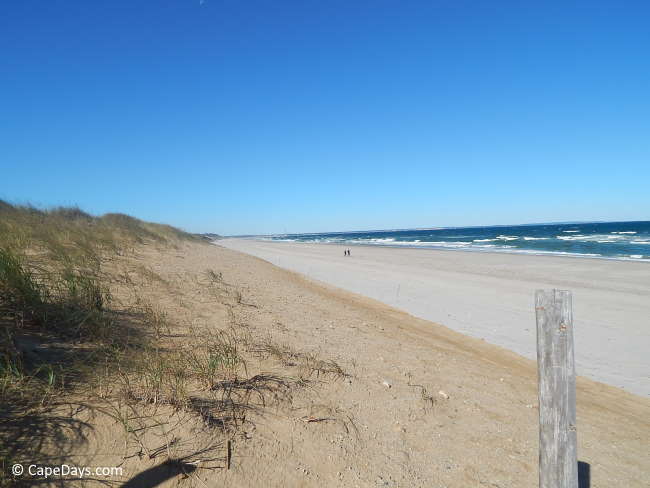 Springtime on a Sandwich Beach
| | |
| --- | --- |
| | This icon indicates that the beach is accessible to people with disabilities via a boardwalk, ramp, Mobi-Mat, or beach wheelchair. |
The Best Beaches in Sandwich, MA

| | |
| --- | --- |
| | Sandy Neck Beach |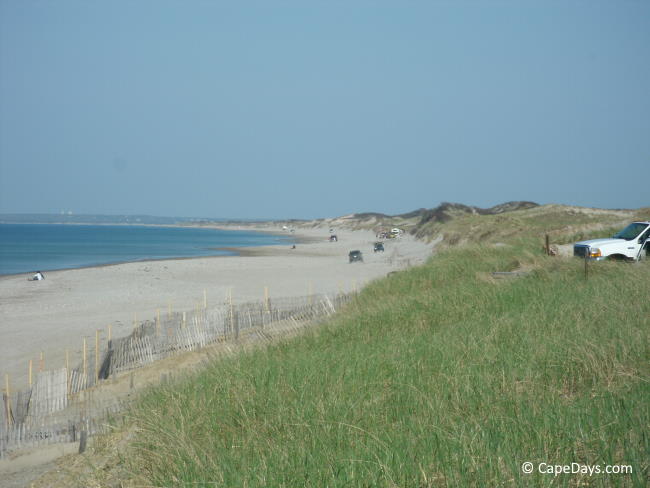 Sandy Neck Beach
This spectacular beach spans the towns of Sandwich and Barnstable. Waves are normally small, and the views are gorgeous.
There's an unusual mix of sand quality at Sandy Neck.  From the dunes to the high tide line, there's a nice swath of beach that's sandy with small shells and pebbles mixed in. Then, from the high tide line out into the water, it's very pebbly-rocky.  
At low tide, Sandy Neck is a popular place to beachcomb for sea glass and small heart-shaped stones. It's also a good time to wade out to the sandbars, plunk your folding chair down, and enjoy this beautiful beach on a sunny summer day!
Body of Water: Cape Cod Bay


Crowd Factor: Lots of people go to Sandy Neck, but with a short walk in either direction you'll be on your own.


Seasonal Amenities: Lifeguards, restrooms and outdoor showers, snack bar, handicap access via ramp, beach wheelchair available.


Location: Off Sandy Neck Road in Sandwich.


Parking: Large lot. Sandy Neck is managed by the Town of Barnstable. So, although part of the beach is in Sandwich, the town of Barnstable's rules apply. Sandwich and Barnstable resident beach stickers are honored. All others pay a daily parking fee at the gate or a weekly fee.


Note: Sandy Neck is also a favorite spot for

beach camping

and

campfires on the beach

.

Town Neck Beach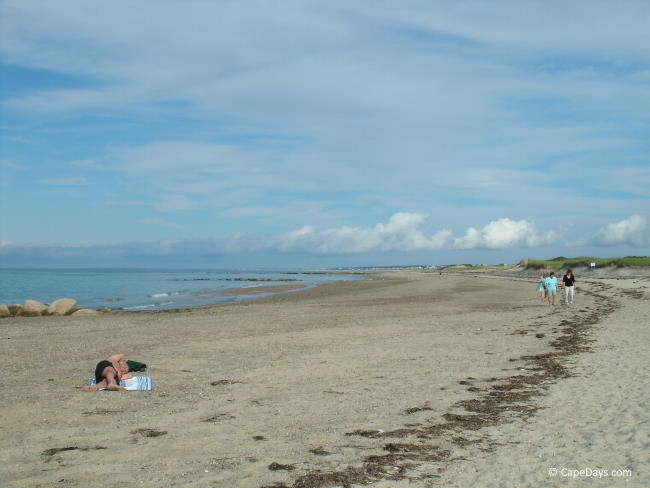 Town Neck Beach
Well known as home to Sandwich Boardwalk, Town Neck Beach is a wonderful place to sun, swim, kayak, and watch boats going into and out of the Canal.
Town Neck is a long beach with a mix of sand quality ranging from grainy to pebbly. There's a pretty view everywhere you look, and generally calm water. 

The Boardwalk is a popular spot for teens, and the saltwater creek below is a haven for small children to splash and adults to float on blow-up rafts. 
Body of Water: Cape Cod Bay


Crowd Factor: Lots of room, so usually doesn't feel crowded.


Seasonal Amenities: No lifeguards, and no amenities other than restrooms. Short walk to the beach. Handicap access surf chair available - call (508) 888-0525 to reserve.


Location: There are two ways to get to Town Neck Beach. For the part of the beach nearest the Canal, take Route 6A to Town Neck Road to Wood Avenue.

To get to the Boardwalk and the beach, take Rt. 6A to Jarves Street, then left on Factory Street, and right on Harbor Street. Harbor Street turns into Boardwalk Road. Parking lot is at the end of Boardwalk Road.  


Parking: Decent sized lots.


*Update: February 2022 - Sadly, the devastating Blizzard of  2022 dealt a fatal blow to our beloved Sandwich Boardwalk. Plans are underway to replace the boardwalk in 2024.

First Beach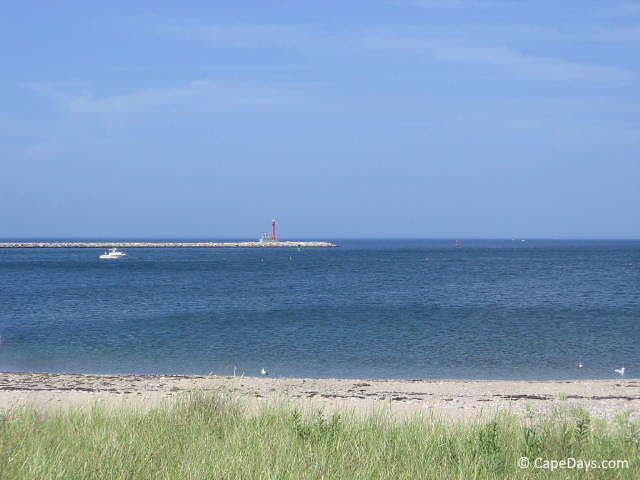 Aptly named, this is the first beach in Sandwich nearest the Cape Cod Canal.
Along with being a great place to watch the sun rise over Cape Cod Bay, this is also a good fishing spot. (Look for striped bass and bluefish busting through schools of bait near the jetty!)

Body of Water: Cape Cod Bay


Crowd Factor: Rarely crowded.


Seasonal Amenities: No lifeguards. Food nearby.


Location: Corner of Town Neck Road and Freeman Avenue. 


Parking: Decent sized lot.

East Sandwich Beach
East Sandwich Beach is a beautiful spot on the Bay, hidden behind the dunes. 
Soft sand, calm waters, and a great view make this a popular yet tranquil-feeling place to relax.
Body of Water: Cape Cod Bay


Crowd Factor: Busy, but usually no crowded feel.


Seasonal Amenities: No lifeguards. No food available on-site. 


Location: Take Route 6A to Ploughed Neck Road to North Shore Boulevard in Sandwich


Parking: Limited number of spaces.

*Note - Portions of this stretch of beachfront are private.

Sandwich MA Beach Parking Fees & Stickers
From mid-May to mid-September, during normal beach hours, parking at Sandwich beaches requires a resident parking sticker or a daily fee paid at the gate (fee varies by beach and residency status).
No entrance fees are charged to those who walk or bike to Sandwich beaches.

Related Pages:

Vacationing in Sandwich


---
Sandwich Beaches
---