Beach Camping
---
FTC Disclosure: If you make a purchase via a link on this site, I may receive a small commission on the transaction - at no added cost to you. Thank you!


---
Beach Camping on Cape Cod
What You Need to Know
Imagine waking to the sounds of the surf, seagulls diving, and seals frolicking in your "front yard". Beach camping, here we come!
No, not the kind of sleep-outs where you pitch your tent or roll out your sleeping bag at the water's edge. (Open-air and tent camping aren't allowed on Cape Cod beaches.)
Instead, I'm talking about driving your self-contained vehicle out onto the beach, parking it, and claiming a little slice of paradise as your "home away from home" for a day, a week, or longer.
See how close those campers are to the shore? How about that for "beachfront accommodations"!  


*Important: Beach camping requires a special permit. On occasion due to piping plover nesting restrictions, permits may be limited or unavailable at some locations. Please contact the beach camping venue directly for details before making any plans.
Camping on Cape Cod Beaches
There are only a few places on the Cape where beach camping is allowed. Here they are, beginning with the one nearest to the Cape Cod Canal ...
Sandy Neck Beach Park
Sandy Neck Road
West Barnstable, MA

How about that for an amazing stretch of seashore?!
Sandy Neck is nearly 7 miles long. So it really does go on as far as the eye can see - backed by over 4,000 acres of dunes, marshlands and maritime forests.

Sandy Neck is a great place to spend the day swimming, beachcombing, surf fishing, or hiking along miles of nature trails. Or maybe a little of each, depending on what you're in the mood to do!
In the evening, it's a fantastic spot for seaside campfires ... and SCV camping.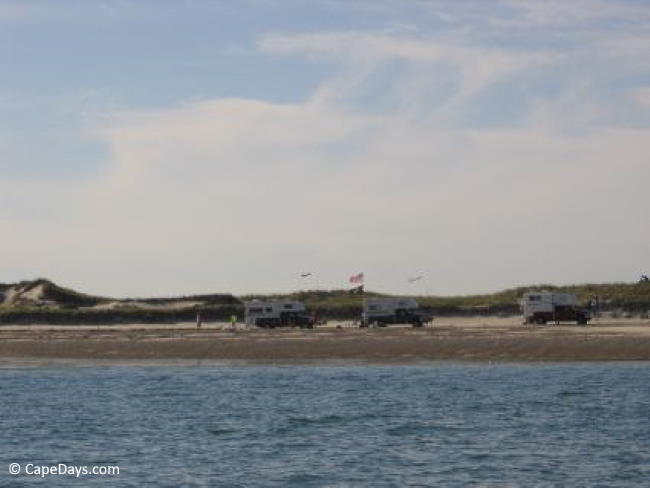 Sandy Neck ~ Barnstable, MA
If you plan to overnight at Sandy Neck in your SCV, you'll need to buy an off-road vehicle ("ORV") permit and pay the nightly camping fee.
Sandy Neck ORV Permit Fees:
Annual ORV Permits - valid April 15 to April 14 of the following year:

Town of Barnstable Residents - $90
Non-Residents - $180


Seasonal ORV Permits - valid the day after Labor Day through April 15th of the following year (i.e., during the "off-season" only):

Town of Barnstable Residents - $30
 Non-Residents - $60

* The nightly camping fee is $10/night for Barnstable residents and $20 per night for everyone else.
Note: SCV camping on Sandy Neck is limited to 4 consecutive nights at a time. After that, you'll have to leave for 24 hours before returning.
Permits are available at the Sandy Neck Gatehouse, at the end of Sandy Neck Road in West Barnstable.
For more information on camping at Sandy Neck, see the park's website, or call the Gatehouse at (508) 362-8300 or the Marine and Environmental Affairs Office at (508) 790-6272.


Race Point Beach
Race Point Road
Provincetown, MA
At the opposite end of the Cape, camping on remote Race Point is the ultimate "get away from it all" adventure!
Out on Race Point, nothing comes between you and Mother Nature.
You'll be right there, smack in the midst of miles and miles of rolling dunes, spectacular shoreline, and there's a good chance you'll see the occasional family of seals sunning on the sand or whales cruising by just offshore.
Sound amazing? It is! Race Point is one of the most beautiful spots on Cape Cod!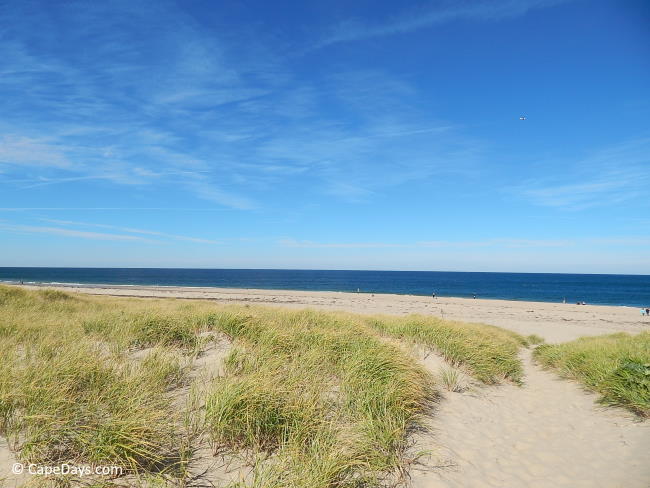 Race Point ~ Provincetown, MA

To go SCV camping at Race Point, you'll also need a special permit.
Here's where it gets really good ...
Permit Fees:
SCV 7-Day - $75
SCV Annual - $225
Yes, you read that right! Only $75 per week for your SCV permit to camp on one of the prettiest beaches on Cape Cod!
Here's where you can find out all about SCV camping on the National Seashore and download an advance permit application. The National Seashore's phone number for more info is (508) 487-2100.


---

Related Pages:

Having a Private Beach Campfire

All-in-One Beaches Guide


---
Beach Camping
---
Reminder:  Please be sure to do your own due diligence before you make your camping reservations!  (See Lodging Disclaimer, linked below.)