---
FTC Disclosure: If you make a purchase via a link on this site, I may receive a small commission on the transaction - at no added cost to you. Thank you!


---
Guided Horseback Rides
Horseback Riding on Cape Cod
Guided Trail & Beach Rides

Is horseback riding on your Cape Cod vacation wish list?

Whether you're an experienced rider or a first-timer in the saddle, guided horseback rides are a fun and unique way to explore parts of the Cape that few visitors get to see!

Guided Trail Riding on Cape Cod Conservation Lands
Where to Find Guided Trail Rides on Cape Cod
Two local stables are currently (2022) offering guided rides on the Cape:

Meeting House Farm & Sanctuary


Ridge Valley Stables

Sorry to say, there appears to be some out-of-date information floating around on the web. :(
Emerald Hollow Farm in Brewster, Haland Stable in Falmouth, CJ's Ranch in West Barnstable, and Woodsong Farm in Brewster are not offering guided trail rides for the general public anymore.

Meeting House Farm: Guided Trail Riding

About the Farm

Meeting House Farm is a small, family-owned and operated horse farm and animal sanctuary in East Sandwich.
Samantha (the owner, a/k/a "Sam") and her staff welcome their guests like old friends. And they go out of their way to assure that everyone who comes to the farm has a fun, relaxing and safe ride.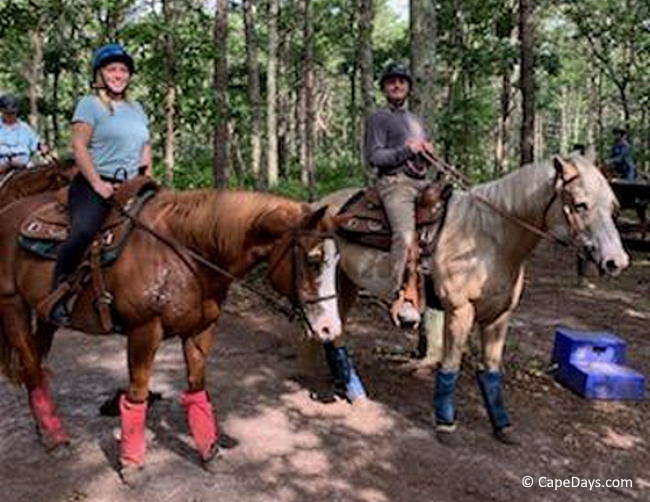 Newbies on Horseback
Mack & Nicole
About the Rides
Meeting House Farm caters to riders of all ages and experience levels with:
1 hour trail rides for beginners, ages 14 and up;


1.5 hour trail rides for intermediate and advanced-level riders, ages 14 and up; and


special family farm rides for families with younger children.

Amelia, ready to ride the "pony trail" on her 5th birthday.
(Love the pony's unicorn party hat!)
You'll be paired with a well-mannered horse that's just right for your experience level.
And you'll ride in a Western saddle - comfy and secure!
"Moose"
One of Meeting House Farm's Fabulous Trail Horses
Your guide will lead you along lovely Cape Cod conservation trails at a leisurely pace.
No galloping involved. ;-) 
This is easy riding at its best!
Riding a Shaded Conservation Trail
A Great Way to Beat the Summer Heat!
Guided trail rides are available year round.  

And yes, that includes the winter months, too ...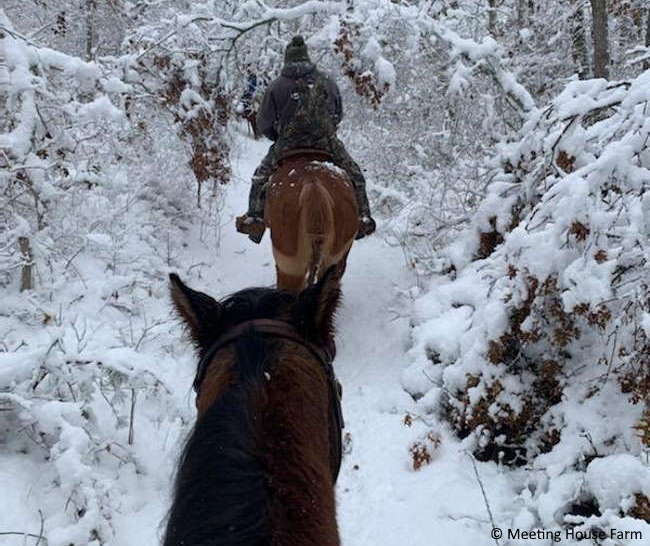 On Horseback in a Cape Cod Winter Wonderland
It's an Extra-Special Experience!
Meeting House Farm offers trail rides by appointment only.
To assure that her horses aren't over-worked, Sam only schedules a limited number of guided rides each week.
So be sure to reserve your time as far in advance as possible to avoid disappointment!

For more information about the guided trail rides, kids  pony rides, and other family activities at the farm:

Whiskey & Me on a Late-Autumn Ride at Meeting House Farm
Ridge Valley Stables: Guided Beach Horseback Rides

Want to go horseback riding on a Cape Cod beach?  

Ridge Valley Stables offers guided rides at Sandy Neck Beach Park during the Cape's "shoulder season" months - April and May, September and October.

*BIRD NESTING CLOSURE: June 1 - August 26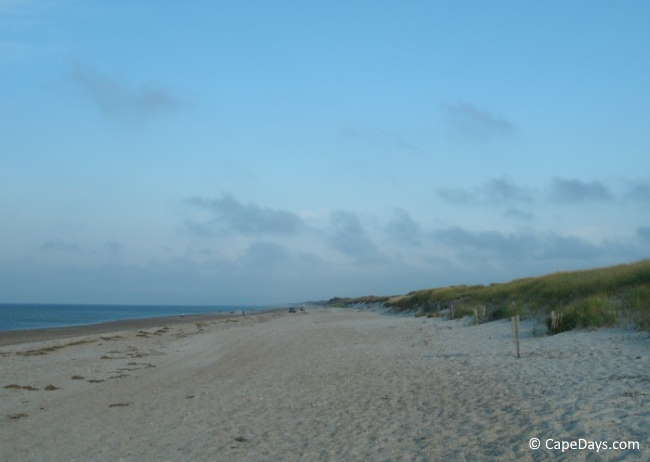 Sandy Neck Beach
Such a Beautiful Place to Ride a Horse!
About the Rides
The beach trail rides cover miles of scenic territory from Sandy Neck's access trail, along the dunes, to the Cape Cod Bay surf line ...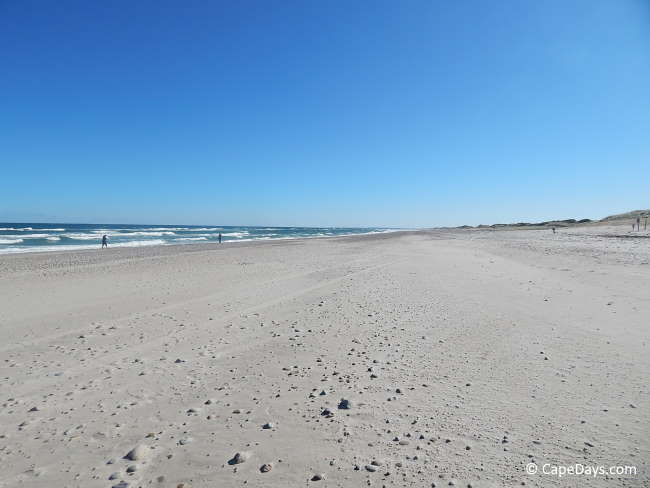 Imagine riding on this beautiful stretch of oceanfront!
On your horseback adventure, you'll also meander along pathways through acres of natural vegetation (including wild cranberry bogs!) and unspoiled wildlife habitat.
The Dunes at Sandy Neck
The beach rides at Sandy Neck:

are suitable for all levels of riding experience from novice to advanced;


cover approximately 11 miles and last from 3-6 hours, depending on the pace you're most comfortable with; and


can be customized for your family/group's preferences, and for special occasions like birthdays, weddings, anniversaries, etc.

Reservations are required!

*Special Note to Cape Cod Vacationers: If you have your heart set on taking a guided beach horseback ride while you're here, I highly recommend that you reserve as far in advance as possible!
For more information about guided beach horseback riding on Cape Cod Bay:


Happy Trails! :-)
Guided Horseback Rides
---

Cape Days News

Get updates, travel tips, deals & more from Cape Days!


---