Outdoor Movies
---
FTC Disclosure: If you make a purchase via a link on this site, I may receive a small commission on the transaction - at no added cost to you. Thank you!


---
Free Outdoor Movies on Cape Cod


When & Where to Find Them



Updated: June 19, 2021

Outdoor movies are a Cape Cod tradition!
Spread your blanket on the lawn for a family-friendly movie in the park. Or load the kids into the car and head to a drive-in.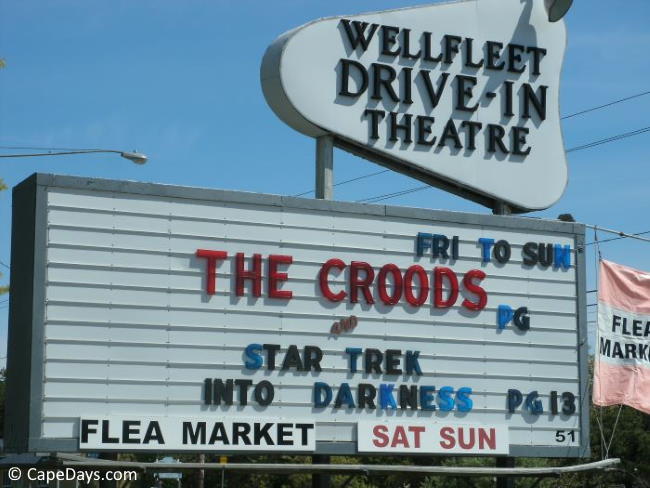 Last summer (2020), new outdoor movie venues popped up all over the Cape - from in-town parking lots, to museum lawns, to the wide-open spaces of Cape Cod Fairgrounds.

Sadly, some of those venues won't be "popping up" again this year.

But not to worry! The Drive-Ins and Movies in the Park we've known and loved for decades are back for 2021!!

Drive-In Movies
(* Note: All showings are weather dependent.)


Wellfleet Drive-In Theatre

When: Nightly throughout the summer (opening in May 2021)

Where: 51 State Highway (Rt. 6), Wellfleet, MA

More Info: Wellfleet Cinemas
Since the 1950s, this traditional drive-in theater has been a must-visit for Cape Cod vacationers and locals alike.

Go for the early movie or make it a "double feature" night. This throw-back to the good ol' days is sure to be a hit with the whole family!
Movies in The Park

Summer Drive-In Movie Nights

When: Thursdays from July 1 to September 2, 2021, at 9 p.m.
Where: Mashpee Village Green

More Info: Mashpee Commons Events

This summer's outdoor moves include (among others):  Ghostbusters 1, The Lion King, Dirty Dancing ... and yes, the ever-popular Jaws!


"Movies on Main" in Hyannis
When: Tuesdays from July 6 to August 10, 2021, from 7 p.m. to 10 p.m.
Where: Hyannis Village Green

More Info: Hyannis Main Street
Tom & Jerry, Sonic the Hedgehog and other family faves are on the 2021 schedule for "Movies on Main" in downtown Hyannis.



"Movies Under The Stars" in Falmouth
When: Wednesdays in July and August at dusk (Opening date for 2021 TBA)

Where: Falmouth Public Library, Main Street, Falmouth Village, MA
More Info: Falmouth Village Association on FB
To the delight of visitors and locals who've loved this fun, family friendly (and free!) event over the years,  "Movies Under the Stars" will be back again in 2021 - barring any unforeseen circusmtances!


What to Bring to Movie Nights
Whether you'll be lounging on the lawn for a movie in the park, or "tailgating" at a drive-in theater, there's one thing I highly recommend you take with you:

Bug Spray/Wipes

There's about an hour between dusk and full-on darkness when the "no see 'ems" (tiny little bitey gnats) come out in search of sweet-tasting humans. 

The best thing I've found to repel them is ... Repel.
    
It really does the trick to keep the little devils away!

Repel comes in a spray bottle and in wipes. I prefer the wipes because they're easy to carry, and one wipe each keeps my hubby and me bite-free for the entire evening.
 
We just swipe a wipe across our clothes and exposed skin, and we're all set!


Now that we have the itchy-bug situation under control, here are a couple more items I always pack for our outdoor movie nights:

Easy Tote Picnic Blanket

Backpack Folding Chair


Enjoy the flick!!


---
Outdoor Movies
---
Was this page helpful for you? Please click the "Like" button to let me know. Thank you!


Important Note: The date, time, place, admission charges, etc. of the events on this page may be changed by the event sponsor at any time, without my knowledge. Please be sure to confirm all information directly with the sponsor before you make any plans!