Outdoor Movies
---
FTC Disclosure: If you make a purchase via a link on this site, I may receive a small commission on the transaction - at no added cost to you. Thank you!


---
Free Outdoor Movies on Cape Cod


When & Where to Find Them



Outdoor movies are a Cape Cod tradition! And this summer, new ones are popping up all over the Cape.

Spread your blanket on the lawn for a family-friendly movie in the park. Or load the kids into the car and head to a drive-in.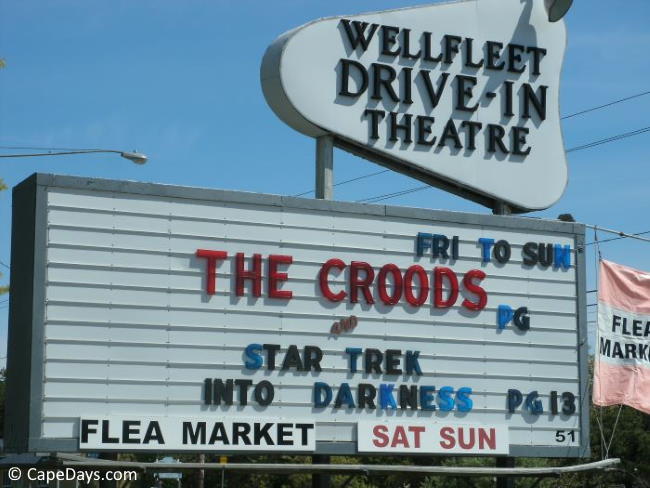 When you're wondering, "What are we going to do tonight?" ... here's your answer! :-)  

Drive-In Movies
(* Note: All showings are weather dependent.)


Wellfleet Drive-In Theatre

When: Nightly throughout the summer (closing 9/21/2020)

Where: 51 State Highway (Rt. 6), Wellfleet, MA

Admission: Per person. Adults $13, children and seniors $9

More Info: Wellfleet Cinemas
Since the 1950s, this traditional drive-in theater has been a must-visit for Cape Cod vacationers and locals alike.

Go for the early movie or make it a "double feature" night. This throw-back to the good ol' days is sure to be a hit with the whole family!

"Movies on Main" in Hyannis
When: Fridays from July 3 to August 7, 2020. Parking opens at 7 p.m., movie starts at 8 p.m.

Where: Corner of Main Street and High School Street Extension, Hyannis, MA

Admission: $20 per car

More Info: Hyannis Main Street
The Finest Hours, Remember The Titans, The Goonies and other family faves are on the schedule for "Movies on Main" in downtown Hyannis.


Did You Know? ...
The Finest Hours is a true story of four heroic Cape Cod Coast Guardsmen in a small wooden lifeboat, rescuing 32 crewmen from a sinking tanker off the Chatham coast during a raging winter storm.

When you see the movie, then see the men's lifeboat (the real boat, not a movie prop!) in her summer berth at Rock Harbor in Orleans, you'll understand why this rescue is still heralded as the most daring Coast Guard rescue of all time!

Yarmouth Drive-In Theater
When: Opening night is July 10, 2020

Where: 669 Route 28, West Yarmouth, MA

Admission:  $30 per car

More Info:  Yarmouth Drive-In Cape Cod
What's old is new again! The site of the decades-abandoned Old Yarmouth Drive-In movie theater has been re-born as a brand new, multi-entertainment venue.

Featuring 3 gigantic LED movie screens, a concert stage, and concession vendors, this is the place to go in the Mid-Cape region for outdoor movies and live entertainment!

"Popcorn Pop-Up" in Dennis
When: Wednesdays from July 15 to August 19, 2020. Parking opens at 7:30 p.m., movie starts at 8:45 p.m.

Where: Cape Cod Center for the Arts, 820 Main Street (Rt. 6A), Dennis MA

Admission: $15 per person

More Info:  Cape Playhouse
Little known fact: The Wizard of Oz premiered here on Cape Cod on August 11, 1939 - a day before the movie's worldwide release. 

It's back this summer at "Popcorn Pop-Up", a new outdoor movie venue at Cape Cod Center for the Arts in Dennis ... along with other perennial faves: Back to the Future, ET, Jurassic Park, Jaws, and Trolls.

The gorgeous grounds of the Center are a perfect spot for a pre-movie picnic dinner. So pack up your picnic basket, bring your favorite lawn blanket, and make a night of it!


Falmouth Drive-In at Cape Cod Fairgrounds

When: Opening in early August

Where: Cape Cod Fairgrounds, 1220 Nathan Ellis Highway (Rt. 151), East Falmouth, MA

Admission:  $40/car (max. 4 people) + $4.06 service fee

More Info:  Falmouth Drive-In

A new outdoor movie theater has also "popped up" at Cape Cod Fairgrounds.  

Falmouth Drive-In will show one movie each night, every night of the week except Wednesday, throughout the summer - and it's expected to continue operating into the Cape's "shoulder season" months.


Movies in The Park


"Movies Under The Stars" in Falmouth
When: Wednesdays from July 15 to August 26, 2020 at dusk (*Note: No movie on July 29th)

Where: Falmouth Public Library, Main Street, Falmouth Village, MA

Admission: FREE

More Info: Falmouth Village Association on FB
To the delight of visitors and locals who've loved this fun, family friendly (and free!) event in summers passed ... "Movies Under the Stars" are back for 2020!

On the schedule: Big Hero 6, Coco, Akeelah and the Bee, Moana, and a "Viewers' Choice" movie to close out the season. 


What to Bring to Movie Nights
Whether you'll be lounging on the lawn for a movie in the park, or "tailgating" at a drive-in theater, there's one thing I highly recommend you take with you:

Bug Spray/Wipes

There's about an hour between dusk and full-on darkness when the "no see 'ems" (tiny little bitey gnats) come out in search of sweet-tasting humans. 

The best thing I've found to repel them is ... Repel.
    
It really does the trick to keep the little devils away!

Repel comes in a spray bottle and in wipes. I prefer the wipes because they're easy to carry, and one wipe each keeps my hubby and me bite-free for the entire evening.
 
We just swipe a wipe across our clothes and exposed skin, and we're all set!


Now that we have the itchy-bug situation under control, here are a couple more items I always pack for our outdoor movie nights:

Easy Tote Picnic Blanket

Backpack Folding Chair


Enjoy the flick!!


---
Outdoor Movies
---

Did you enjoy this page? Please click the "Like" button to let me know. Thank you!




Important Note: The date, time, place, admission charges, etc. of the events on this page may be changed by the event sponsor at any time, without my knowledge. Please be sure to confirm all information directly with the sponsor before you make any plans!