Outdoor Movies
---
FTC Disclosure: If you make a purchase via a link on this site, I may receive a small commission on the transaction - at no added cost to you. Thank you!


---
Outdoor Movies on Cape Cod


When & Where to Find Them



Updated: July 10, 2023

Outdoor movies are a summertime Cape Cod tradition!
Spread your blanket on the lawn for a family-friendly movie in the park. Or load the kids into the car and head to a drive-in. 
Whichever you choose, you'll have a fun evening, I'm sure!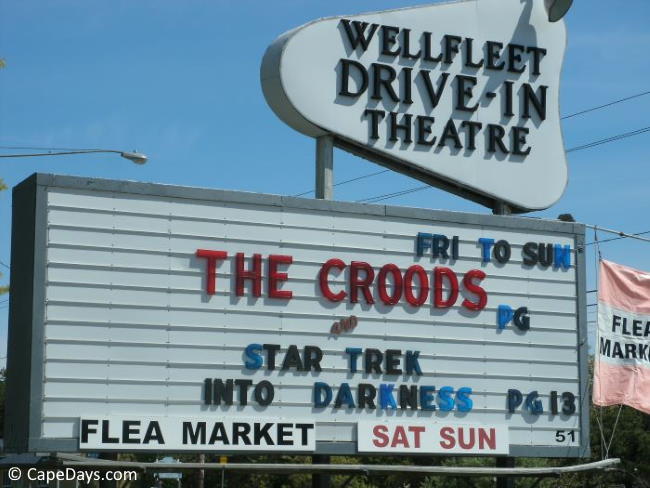 Drive-In Movies

Wellfleet Drive-In Theatre

When: Nightly throughout the summer
Where: 51 State Highway (Rt. 6), Wellfleet, MA
Admission:  Adult $15; Senior $12; Child $10

More Info: Wellfleet Cinemas
Since the 1950s, this traditional drive-in theater has been a must-visit for Cape Cod vacationers and locals alike.

Go for the early movie or make it a "double feature" night. This throw-back to the good ol' days is sure to be a hit with the whole family!
Movies in The Park

(* Note: All showings are weather dependent.)

Summer Movie Nights in Mashpee

When: June 29 - August 24, 2023 at dusk
Where: Mashpee Village Green (across from the library), Steeple Street, Mashpee, MA
Admission: Free

More Info: Mashpee Commons Events

June 29: Top Gun
July 6: League of Super Pets
July 13: Coco
July 20: Thor - Love & Thunder
July 27: Karate Kid
August 3: Moana
August 10: Top Gun Maverick
August 17: Jurassic World
August 24: Aquaman

Outdoor Movies in Hyannis
When: July 11 and August 8, 2023 at 7:45 p.m. 
Where: Hyannis Village Green
Admission: Free

More Info: Hyannis Main Street
"Movies on the Green" and "Movies on Main" in downtown Hyannis always feature old stand-bys and newer flicks for the entire family to enjoy. 
This summer's lineup includes Minions: The Rise of Gru on July 11th. The August 8th movie - TBA.


"Movies Under The Stars" in Falmouth
When: Wednesdays from July 19 to August 16, 2023 at dusk

Where: Peg Noonan Park, Main Street, Falmouth Village, MA
Admission: Free

More Info:  Movies Under the Stars

"Movies Under the Stars" has been one of Falmouth's most cherished summer events for almost as long as I can remember.
Come for the early movie and stay for a double feature!

July 19 - Dora and the Lost City at 6 p.m.; The Goonies at 8 p.m.

July 26 - Wall-e at 6 p.m.; Because of Winn Dixie at 8 p.m.

August 2 - Enchanted at 6 p.m.; Mamma Mia! at 8 p.m.
August 9 - Finding Nemo at 6 p.m.; Jaws (1975) at 8 p.m.

August 16 - The Incredibles at 6 p.m.; Shazam! at 8 p.m.
Movies on the Beach in Yarmouth
When: July 12, July 26, and August 9th, 2023 at dusk
Where: Smugglers Beach, South Yarmouth, MA
Admission: Free
More Info: Yarmouth Recreation on FB

The lineup of films for this is summer's movie series at Smugglers (Bass River) Beach is:
July 12 - Jaws
July 26 - Free Willy
August 9 - Finding Nemo


---

Cape Days News

Get updates, travel tips, deals & more from Cape Days!


---
What to Bring to Movie Nights
Whether you'll be lounging on the lawn for a movie in the park, or "tailgating" at a drive-in theater, there's one thing I highly recommend you take with you:

Bug Spray/Wipes

There's about an hour between dusk and full-on darkness when the "no see 'ems" (tiny little bitey gnats) come out in search of sweet-tasting humans. 

The best thing I've found to repel them is ... Repel.
    
It really does the trick to keep the little devils away!

Repel comes in a spray bottle and in wipes. I prefer the wipes because they're easy to carry, and one wipe each keeps my hubby and me bite-free for the entire evening.
 
We just swipe a wipe across our clothes and exposed skin, and we're all set!

Now that we have the itchy-bug situation under control, there's one more thing I always pack for our outdoor movie nights:

Easy Tote Picnic Blanket

The first time my hubby and I went to a movie at the beach, I packed a gigantic beach towel for us to sit on.
Silly me! When my butt started feeling damp and clammy, it dawned on me: towels absorb water. ;-)
Since that unfortunate incident, I always take a water-resistant beach/picnic blanket to lounge on. You should, too!

Enjoy the flick!!


Related Pages:

---
Outdoor Movies
---