Outdoor Movies
---
FTC Disclosure: If you make a purchase via a link on this site, I may receive a small commission on the transaction - at no added cost to you. Thank you!


---
Outdoor Movies on Cape Cod


When & Where to Find Them



Updated: June 23, 2022

Outdoor movies are a Cape Cod tradition!
Spread your blanket on the lawn for a family-friendly movie in the park. Or load the kids into the car and head to a drive-in. 
Whichever you choose, you'll have a fun evening, I'm sure!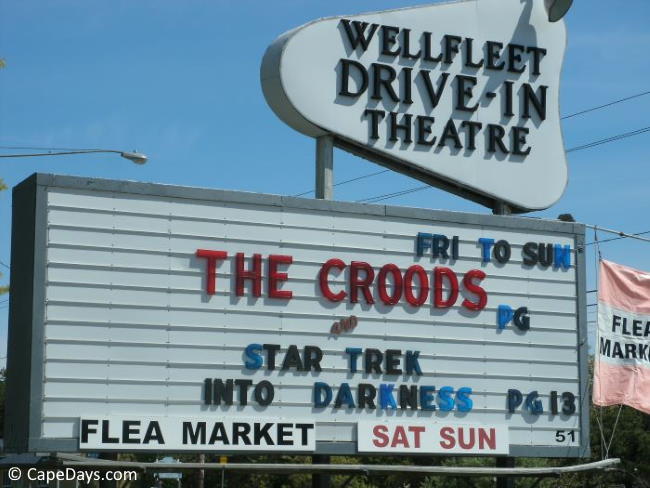 Drive-In Movies
(* Note: All showings are weather dependent.)


Wellfleet Drive-In Theatre

When: Nightly throughout the summer

Where: 51 State Highway (Rt. 6), Wellfleet, MA

More Info: Wellfleet Cinemas
Since the 1950s, this traditional drive-in theater has been a must-visit for Cape Cod vacationers and locals alike.

Go for the early movie or make it a "double feature" night. This throw-back to the good ol' days is sure to be a hit with the whole family!
Movies in The Park

Summer Movie Nights in Mashpee

When: Thursdays at 8 p.m. from June 30 to August 25, 2022 (rain date the following Sunday)
Where: Mashpee Village Green across from the library

More Info: Mashpee Commons Events

This summer's outdoor moves include classics like Ferris Bueller's Day Off and The Goonies ... and one of my all-time faves: Breakfast at Tiffany's.


"Movies on the Green" in Hyannis
When: Tuesdays in July, 2022 at 7:45 p.m. 
Where: Hyannis Village Green

More Info: Hyannis Main Street
"Movies on the Green" in downtown Hyannis always features some old stand-bys and newer flicks for the entire family to enjoy. 
This summer's lineup includes Encanto, Soul, Paw Patrol and others you won't want to miss!


"Movies Under The Stars" in Falmouth
When: Wednesdays in July and August at dusk
Where: Peg Noonan Park, Main Street, Falmouth Village, MA
More Info: Falmouth Village Association

"Movies Under the Stars" has been one of Falmouth's most cherished summer events for almost as long as I can remember. When it was cancelled in 2020 (due to "you-know-what"), a lot of people were really bummed out!
Now that life has mostly returned to normal, we're all looking forward to more evenings of movie-watching under the stars in Falmouth!

---

Cape Days News

Get updates, travel tips, deals & more from Cape Days!


---
What to Bring to Movie Nights
Whether you'll be lounging on the lawn for a movie in the park, or "tailgating" at a drive-in theater, there's one thing I highly recommend you take with you:

Bug Spray/Wipes

There's about an hour between dusk and full-on darkness when the "no see 'ems" (tiny little bitey gnats) come out in search of sweet-tasting humans. 

The best thing I've found to repel them is ... Repel.
    
It really does the trick to keep the little devils away!

Repel comes in a spray bottle and in wipes. I prefer the wipes because they're easy to carry, and one wipe each keeps my hubby and me bite-free for the entire evening.
 
We just swipe a wipe across our clothes and exposed skin, and we're all set!

Now that we have the itchy-bug situation under control, there's one more thing I always pack for our outdoor movie nights:

Easy Tote Picnic Blanket

The first time my hubby and I went to a movie at the beach, I packed a gigantic beach towel for us to sit on.
Silly me! When my butt started feeling damp and clammy, it dawned on me: towels absorb water. ;-)
Since that unfortunate incident, I always take a water-resistant beach/picnic blanket to lounge on. You should, too!

Enjoy the flick!!


Related Pages:

---
Outdoor Movies
---