Orleans Beaches
---
FTC Disclosure: If you make a purchase via a link on this site, I may receive a small commission on the transaction - at no added cost to you. Thank you!


---
Orleans Beaches
Updated: July 1, 2021

Orleans MA has beaches on the Atlantic Ocean and Cape Cod Bay, offering beachgoers a wonderful variety of scenery and water activities to choose from!

Surfing on Atlantic Ocean waves, reeling in big Striped Bass and Bluefish, watching the changing colors of sunset over Cape Cod Bay ... that's just the beginning.
As you'll see below, the town of Orleans might not have as many saltwater beaches as some other towns. But the ones it does have are beauties!


The Best Beaches in Orleans, MA

Nauset Beach

Nauset Beach is a mecca for surfers, boogie-boarders, sun-seekers, fishermen, and photographers from all over the world.
No wonder this spectacularly beautiful, long stretch of sand is regularly named a "Top 10 Beach" by prestigeous travel publications!
As wonderful as it is, Nauset Beach is not for faint-of-heart swimmers. The waves here are big and strong, and the water's cold.

Body of Water: Atlantic Ocean


Crowd Factor: Very busy, but lots of room to walk and get away from the crowd.


Amenities: Lifeguards in season, restroom and shower facilities, phenomenal snack bar 

(see note below)

, gazebo.


Parking: Huge lot, but it does fill up. So get there early. Sticker or daily fee required in season.


Skaket Beach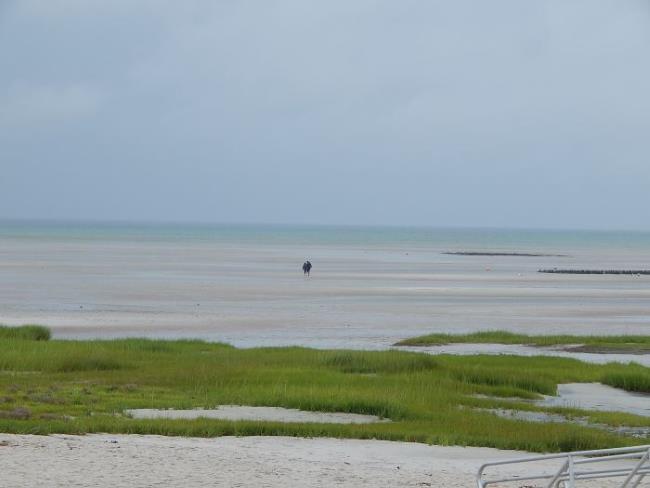 Walking the Skaket Beach Sand at Low Tide
Orleans beaches don't get any kid-friendlier than this!
When you're looking for warm water, soft sand, gentle surf, and a safe place for young children to explore the seashore, Skaket Beach is it.
Skaket is also a fantastic place for an evening stroll as the sun sets over Cape Cod Bay. (Be sure your camera is charged up ... you'll want to snap lots of shots of the setting sun!)
Body of Water: Cape Cod Bay


Crowd Factor: This beach is popular, but it's also large - especially at low tide.


Amenities: Lifeguards in season, restroom and shower facilities, snack bar, picnic tables.


Parking: The lot is decent sized, but it regularly fills up by 10 a.m. on sunny summer days. Daily fee/sticker required.
Rock Harbor Beach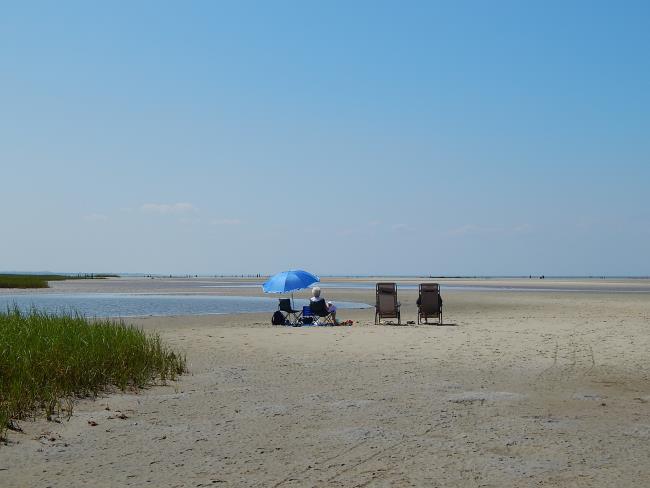 An August Afternoon at Rock Harbor Beach
The beach at Rock Harbor is a great place to hang out and watch the fishing boats, experience the amazing Cape Cod Bay tide change, and see a spectacular sunset.

It's also home to the best lobster rolls and clam chowder on Cape Cod, from Young's Seafood shack at Rock Harbor.    
Body of Water: Cape Cod Bay


Crowd Factor: Normally not overly crowded, except at fireworks time. Sunsets are popular there, too. So get there well before the sun starts to go down, and stake your claim to a patch of sand. 


Amenities: None.


Parking: Limited. No fee/sticker required.

Handicap Accessible Beaches in Orleans

In season, Nauset Beach and Skaket Beach have beach wheelchairs to help visitors with mobility limitations  access and enjoy the beach.

Beach wheelchair availability is on a first come, first served basis. On occasion, wheelchairs may not be available due to weather conditions or beach staffing limitations.
For more information about accessibility at Orleans beaches, contact the Sticker Office at (508) 240-3790.
Orleans MA Beach Parking Fees & Stickers

A daily fee or town-issued sticker is required for vehicle parking at Nauset Beach and at Skaket Beach from 7:30 a.m. to 4:30 p.m.:

Memorial Day Weekend (Sat., Sun. & Mon.)
Weekends (Sat. & Sun.) from Memorial Day to mid-June
Daily from mid-June to Labor Day

Click here for parking fee/sticker purchase information.


Related Pages:
The Best Wheelchair Accessible Beaches on the Cape

Vacationing in Orleans


---
Orleans Beaches
---