Free Beach Parking
---
FTC Disclosure: If you make a purchase via a link on this site, I may receive a small commission on the transaction - at no added cost to you. Thank you!


---
Free Beach Parking on Cape Cod

No Fees, Passes or Stickers Required 
Updated: February 5, 2022

Looking for free beach parking on Cape Cod? 
You can park at these beaches any time of year without any fee, pass or sticker required ...


Bayview Beach
Bayview Street
West Yarmouth, MA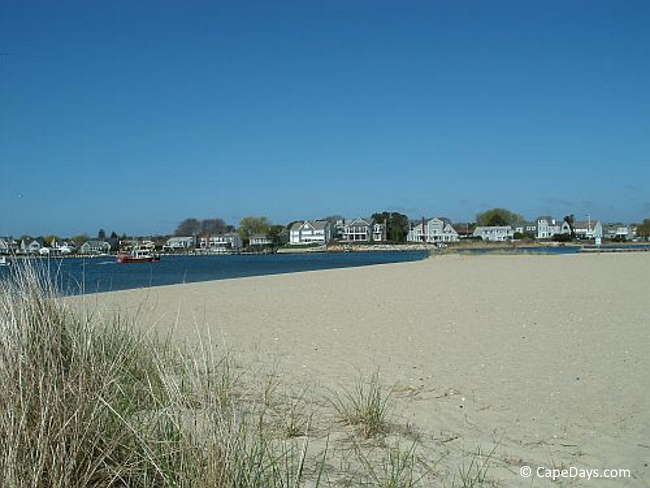 Bayview Beach
When you're in downtown Hyannis looking for a spot to hang out, cool off, and watch the boats going in and out of the Harbor, head over to Bayview. (It's on the Hyannis-Yarmouth town line.)
This is a family-friendly beach with warm, calm, shallow water. There's a play area for the kids and a nice view of the lighthouse on the inner harbor.
Parking is limited to about 20 cars.


Colonial Acres Beach
Standish Way
West Yarmouth, MA

Colonial Acres Beach
Colonial Acres as one of the best free-parking beaches on Cape Cod (in my humble opinion).
Along with a good-sized expanse of sand to stretch out on, Colonial Acres has wide-open views of Lewis Bay and plenty of room to walk the shoreline.
If you're into fishing or crabbing, bring your gear and try your luck in Mill Creek - the saltwater estuary that flows alongside the beach.
The parking area has room for about 15 cars.


Englewood Beach
New Hampshire Avenue
West Yarmouth, MA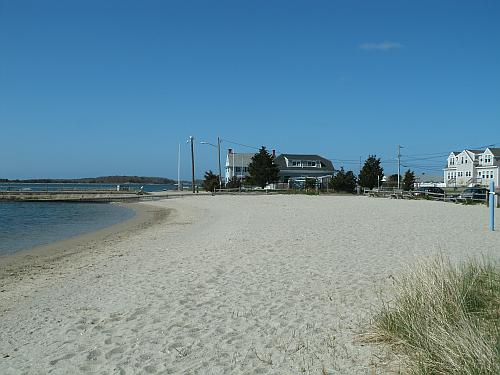 Englewood Beach
This neighborhood beach looks out onto a small boat anchorage. There's a swing set for the kids and enough room to toss a ball or run around and play.
On the other side of the boat ramp and pier (at top left in the photo above), there's a more quiet area with open views across Lewis Bay to Sweetheart Cove and Pine Island Wildlife Sanctuary.
At dusk, this is a favored spot for watching the spectacular sunsets over Nantucket Sound.
There are only about 20 parking spaces here, and they tend to fill up quickly on sunny summer days.



Oyster Pond Beach
Stage Harbor Road
Chatham, MA

Oyster Pond isn't a freshwater pond. It's a salt pond on an inlet from Nantucket Sound. 
Its sheltered setting, warm waters, and lack of any real "surf" make this beach perfect for families with younger children. Picnic tables, a swim platform, bathhouse facilities, and lifeguards (seasonal) are added bonuses.
The on-site parking lot has about 50 spaces.

Forest Beach
Forest Beach Road
South Chatham, MA

This small stretch of beach on Nantucket Sound is mostly used by families who own or rent a cottage in the neighborhood. Forest Beach offers no services/amenities, but it's still worth a visit when you're looking for a free-parking beach in Chatham!
Jackknife Cove 
Rt. 28 (on Chatham/Harwich town line)
North Chatham
Jackknife Cove on Pleasant Bay
Beautiful views of Pleasant Bay. Nice, family-friendly beach. No parking fee required. What else can you ask for?
Dogs are allowed on Jackknife Beach in the morning before 9 a.m. and evening after 6 p.m. 

Mayo Beach
Kendrick Avenue
Wellfleet, MA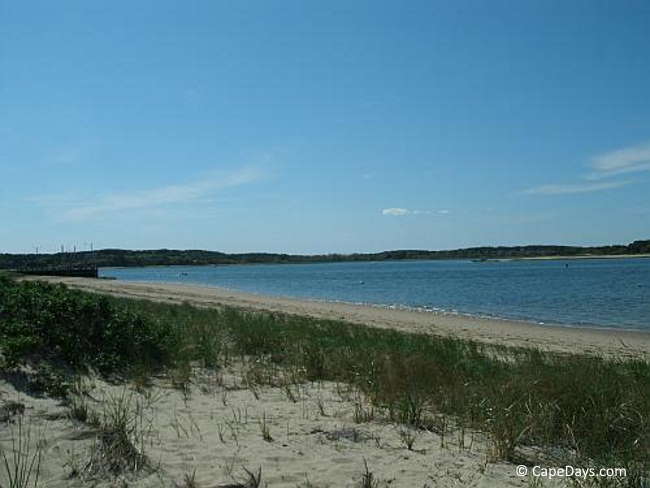 Mayo Beach
Mayo Beach is a popular spot for budget-minded families thanks to its warm, placid waters and the excellent park and playground just across the street. It's all free to use, along with a decent amount (about 90 spaces) of free parking.
If you're planning to spend a some time at Mayo, be forewarned. At high tide, the sandy beach area gets a little skinny. And at low tide, there are miles of mudflats (home to the world-famous Wellfleet oysters!) between the beach and the water.
So do yourself a favor. Check a tide chart for Wellfleet-Cape Cod Bay before you go. The hours around half-tide (midway between high and low tide) are the best time to be here.


Map of Cape Cod Beaches With Free Parking

View Beaches (Saltwater) With Free Parking in a larger map
~ Good to Know ~
Most town-managed Cape Cod beaches have no admission fee. You can walk in or bike in at no charge - even in the summer months. You'll only have to pay if you want to park your vehicle in the town-owned lot.
---
Subscribe to
Cape Days News

Get updates, travel tips, deals & more from Cape Days!


---

Related Pages:

Beachfront Lodging

---
Free Beach Parking
---