Avoiding Traffic Jams
---
FTC Disclosure: If you make a purchase via a link on this site, I may receive a small commission on the transaction - at no added cost to you. Thank you!


---
How to Beat Cape Cod Traffic Jams


Tips, Detours & Alternate Routes

Cape Cod traffic jams .... They're legendary!

But there's no reason to get stuck in a long line of barely moving traffic, whether you're coming or going or already here. 


Summer Traffic - Saturday 11:15 a.m.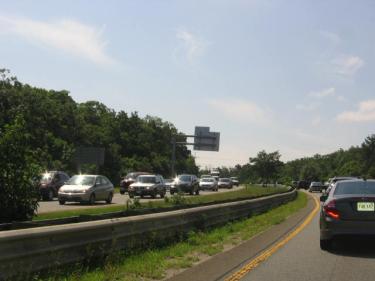 With a little advance planning, and armed with my tips and detour suggestions below, you'll be miles ahead of other Cape Cod vacationers by avoiding the inevitable summer traffic tie-ups!


Easy Drive Over the Bridge - Saturday at 8:10 a.m.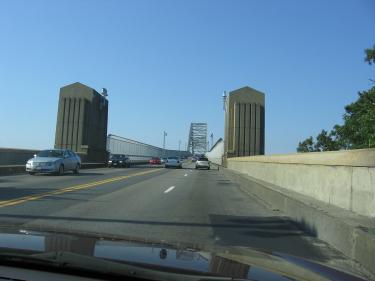 Tips for Avoiding Traffic Jams

Miss the Bourne and Sagamore Bridge Traffic
This might seem obvious, but it bears repeating ...
Cape Cod is surrounded by water. We're connected to the "mainland" by two traffic bridges - the Bourne and the Sagamore.
If you try to cross either bridge when everyone else is doing likewise, you'll have a long, frustrating crawl ahead of you.

The best way to avoid bridge back-ups is:
Calculate your drive time to the bridge;


Plan your trip, so you won't get to the bridge at the worst possible hour; and


Tune into a reliable traffic report along the way.


Alternate Routes to Cape Cod
Sometimes, no matter how well you plan, traffic happens.
That's when it's time to re-group and consider taking a little detour.

Should You Detour or Stay The Course?
Before I tell you about these alternate routes, I have to warn you: They have what I call a "crap shoot" factor to them.
Once you get off the interstate highway and onto local roads, speed limits are slower, and you'll have some town traffic and stop lights to contend with along the way.
So, is it better to stay the course on the interstate and hope for the best? Or should you detour onto one of the side roads, instead?
Who knows! Either way, it's pretty much a crap shoot.
With that caveat held firmly in mind ...

Here are some of my favorite detours:
Coming from Boston and the North Shore of MA

Most people who drive from Boston to Cape Cod take I-93 south to Route 3 south to the Sagamore Bridge.

But you can also hop off I-93 south and pick up Route 3A southbound. Rt 3A is the shore route. It's definitely not the quickest way to drive from Boston to Cape Cod. But it sure is pretty!

Plus, Route 3A goes right through the historic town of Plymouth. If you're in the mood for some sightseeing, stop for a visit to Plimoth Plantation, go see Plymouth Rock, or walk along the harborfront and tour a replica of the Mayflower. From Plymouth, it's only about 15 miles to he Sagamore Bridge.


Coming from Rhode Island

Take a look at Route 6 as an alternative to the interstates. Route 6 goes south of Providence (Rhode Island), then parallels I-195 and Route 25 to Cape Cod.

Route 6 will bring you to the Bourne Bridge, the Sagamore Bridge, and all the way down the center of Cape Cod.


Coming from I-495 South

If you run into Cape Cod traffic on the southern end of I-495, try detouring over to Route 28 south.

Route 28 is part of the "old" Cape Cod travel route. It's the route we used before I-495 was completed.

You can pick up Route 28 south from Exit 5, 4, 3, or 2 off I-495, and it'll bring you right to the Bourne Bridge. From there, Rt. 28 meanders along the south side of the Cape from Falmouth to Orleans.


Beat Traffic on Our Local Roads and Highways
A few areas on our local roads and highways are notorious for travel tie-ups during the summer months, especially on weekends and on cloudy days when many vacationers go exploring.
These are the spots to watch out for: 

From the "lane drop" on Route 6 (the Mid-Cape Highway), just after  Exit 9A/B in Dennis, to the traffic rotary in Orleans;


 Route 28 through portions of Falmouth, Hyannis, Yarmouth and Dennis


 Route 6 from Wellfleet to South Truro, where there's also a lane  drop from four lanes to two.

These bottleneck areas are relatively easy to avoid - if you have a good street atlas to show you the side roads we locals use. 



Related Pages:

Driving from Boston Logan Airport to Cape Cod

Aerial Maps of Cape Cod's Major Roads and Highways


---
---
Avoiding Traffic Jams
---