Solo Build It Review


Have you ever wished you had the freedom to live life on your own terms? Work when you want. Play when you want. Spend more time with the people you love.  

That's where I was back in 2007. Sitting in my office, at my desk, staring at a full calendar and a pile of paperwork and wishing I could ... Just. Go. Fishing!
 


After 20+ years in a high-stress profession, I was burnt out. For my physical health (and my sanity!), I knew it was time for a change.

Fast-forward to today. Welcome to my new "office" ...


"Working" on a Beautiful Late-Summer Afternoon

No, I didn't win the lottery or inherit a family fortune. I'm still earning a living. 

But now, my work is a labor of love! I'm the owner, writer, editor, researcher, photographer, and all-around "Jack of All Trades" for my thriving website called Cape Days: Your Go To Cape Cod Guide.
  
My Journey to Freedom
I'd seen it all before. "Sign up for ... [this, that, or the other thing]. It's the road to instant riches." Blah, blah, blah. 

Yep, I'll admit it. In my quest to escape the rat race, I was tempted by more than one get-rich-quick scheme. 

Don't ask me how many of my hard-earned dollars I flushed down the drain on MLM, network marketing, and work-from-home nonsense. Ugh! 

What's the old saying? "Once bitten, twice shy." Well, let's just say that by the time I discovered SBI, I was painfully shy!

Finding Solo Build It (a/k/a "SBI") 
My introduction to SBI came purely by accident. (Actually, I now believe it was "fate" rather than dumb luck.)

Have I mentioned that I'm a fishing fanatic? My hubby is, too. We often plan our vacations around the question: "Where should we go fishing next?"

Anyway, one day while I was researching tarpon fishing charters, I found a wonderful website about Vieques, an island off the coast of Puerto Rico.

From my very first glance, it was obvious to me that the Vieques website wasn't a typical Chamber of Commerce tourism site. There was a real person behind it - a lady named Luisa.

Luisa wrote with such a personal passion for the island, and her photos were absolutely beautiful. In about 30 seconds, she had me wishing we were there!

At the bottom of one of Luisa's pages, I noticed a link that said, "See How I Built This Site with SBI". Curious one that I am, I clicked the link, and I ended up here. 
You're probably thinking I'm about to say, "I signed on with SBI, and the rest is history." Whoa - not so fast!

Remember, I'd been fooled before. No matter how great the Site Build It system appeared to be (and it did look pretty darn cool!), I was still skeptical. So ... I walked away.
How I (Finally) Connected With SBI 
My hubby and I didn't end up going to Vieques. We went to Costa Rica instead. (Highly recommended, BTW!)

Still, every now and then I would think about Vieques, about Luisa, and about that whole online business thing.  
Days passed. Months passed. A year passed.

Then, after an insanely long, frustrating, annoying day at the office, I was driving home from work thinking, "I really can't take this stress much longer".

Always niggling in the back of my mind was: if a lady on a small Caribbean island can build a successful online business, I should be able to do it, too.

After dinner that evening, I hopped online and went to SiteSell's website. Was I still skeptical? Of course I was. I didn't want to walk face first into another money-sucking scam!  

But something about the SiteSell company kept tugging at me. So I spent a couple hours checking out 8 or 10 websites on their list of top performing websites.

That's when the light bulb clicked on ...

Those websites were created by people just like me. I could tell by the way they were written. I wasn't reading "canned" copy. It was the real deal. And the sites must be profitable, right? Otherwise, why would these people do it?!

With that realization - and with SiteSell's money-back guarantee in mind - I whipped out my credit card. And ... the rest is history???

Nope, not yet. ;-)
My Solo Build It Success Story
When I started with SBI (now known as "Solo Build It"), I honestly never imagined that one day my website would be in the top 0.5% of all sites on the web. But it happened ...
 

Websites in the Top 0.5%

Pretty amazing, especially considering that I was a total tech dummy back then. Surfing the web, emailing, shopping online, and some very basic word processing ... that was it for my computer skills when I clicked the "Buy Now" button. 
SBI To The Rescue!
Thankfully, SBI provided me with all the tools and support their promotional materials had promised. And much more. What a refreshing surprise that was, after having been fleeced by other companies that promised the world but delivered diddly-squat!! 

From my first minute with SBI, I've had 24/7 access to:
The Action Guide - A comprehensive training manual that takes you by the hand (virtually, of course!) and walks you step-by-step through the whole process of building a successful online business. In text and video formats, the Action Guide is perfect for everyone's learning style.  


BrainstormIt - The Holy Grail of tools to help you choose the perfect topic for your website. It also shows you the all-important "keywords" that'll bring traffic to your site.


BlockBuilder - The most amazing drag-and-drop website builder on the market today. It's a newbie's dream. If I can do it, anyone can! ;-)


The Forums - Hands down, the most friendly, knowledgeable group of folks on the web. When you're stuck, don't understand something, need some encouragement, or want to share your successes, the forums are THE place to go. "Help and be helped" is not a cliché here. It's how we roll!


SiteSell Pros - Talk about talent out the wazoo! SiteSell Professionals are tops in the online business world. Need/want assistance with any part of your business-building process? Hire a Pro! They're wonderful to work with!! 


SiteSell Support - They're the behind-the-scenes people who handle all our product-related and technical issues. SiteSell's platform and tools are so reliable, I've rarely had to contact Support. The few times I have turned to them, they've always been Johnny-on-the-spot to fix my glitch!
Okay, let's fast-forward again ...

It's been 12 years since I joined the SiteSell/SBI family. 

I've worked hard to build my online business into the success it has become. And you know what? Life is good as an online business owner!

I've finally found (no, I've created) the freedom I was so desperately seeking way back when.  

Every day I look forward to working. Or playing. Or maybe doing some "research" for my site (like taking a whale watching cruise or trying a new restaurant in town). How I spend my day is my choice.

The future is bright for my business - and for SBI. There are lots of new business-building tools coming from SiteSell all the time ... and I'll never run out of fun "research" to do for my site visitors.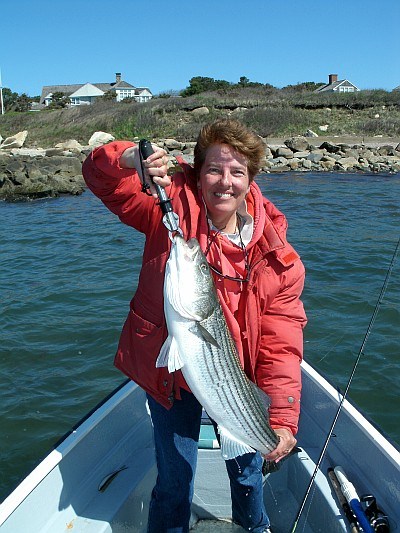 A Fun Day of On-The-Water "Research"! ;-)

Would you like to escape the "9-to-5" grind, too? 

Click below to learn more about SBI!


---
SBI Review
---