Vacation Rentals
---
FTC Disclosure: If you make a purchase via a link on this site, I may receive a small commission on the transaction - at no added cost to you. Thank you!


---
Cape Cod Vacation Rentals

Updated: March 25, 2021

The 2021 Cape Cod vacation rentals market was summed up perfectly in this recent Boston Herald headline: 

"Rentals gone wild on Cape Cod and the islands with summer 'booked'."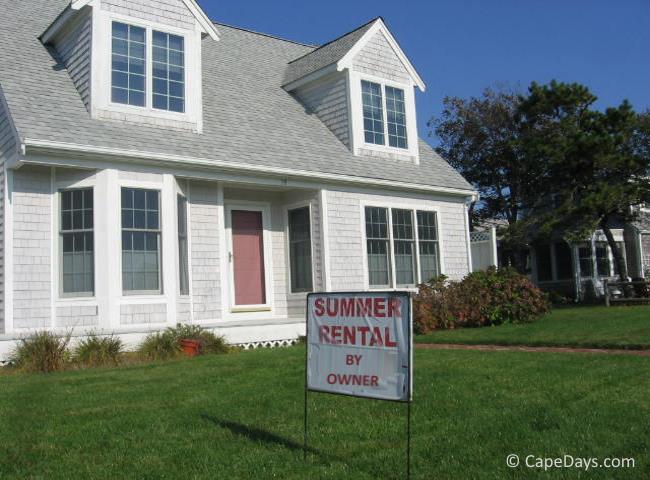 Last year, it seemed like anyone who was able to travel came to  Cape Cod. And visitors weren't just coming for a week or two. They were booking multiple weeks, even months at a time.
This year, it's happening again ... at a lightening-fast pace. One minute a property has vacancies, the next minute they're gone.

So please accept my apologies if some of the rentals you see below are fully booked by the time you look at the listing. I'm doing my best to update this page at often as I can! ;-)

Recommendation: If you're thinking of vacationing on the Cape this year, now is the time to find and reserve your rental!

When you find a property you like, fire off a quick message to the owner or agent to confirm that your preferred dates are still available. That way, you'll at least get your foot in the door (so to speak :-) before someone else beats you it!
Click a link to jump straight to that section:
*Featured Property *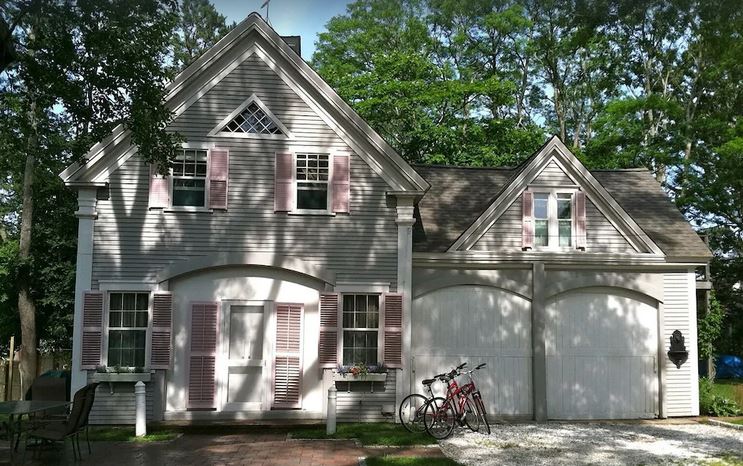 2 Bedroom, 2 Bathroom Carriage House in Dennis
This wonderful 1800's carriage house sits on the grounds of the oldest house in Dennis (built in 1680) and provides a vacation or retreat setting for those seeking something different.

Lovingly updated and beautifully decorated, it's filled with original art and carefully selected antiques, for a tranquil, restful vacation.

Click here to see more photos, availability and rates ...
 

Beachfront & Oceanview Rentals
Truro, MA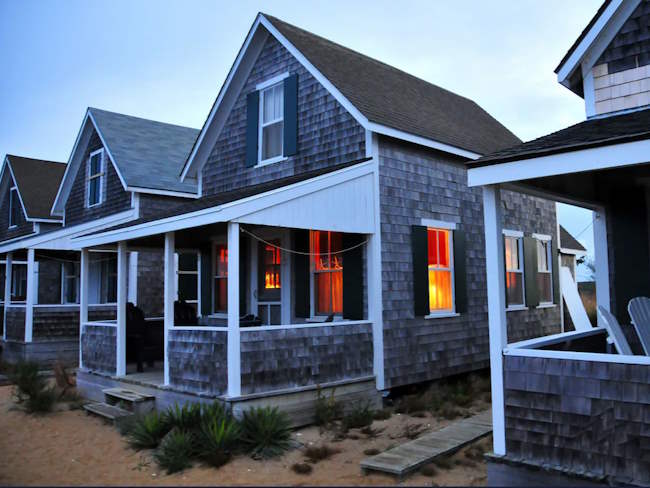 Lazy beach days. Surf casting for dinner. Hiking and biking on nearby trails. Cape Cod National Seashore sights and attractions a few minutes away. And ahhhh, those spectacular sunsets over Cape Cod Bay. That's just part of what awaits guests at this historic cottage made famous by American artist Edward Hopper.

Want more? Provincetown's vibrant day and nightlife is only a short ride up the road. 

More about the Corn Hill Cottage in Truro



West Yarmouth, MA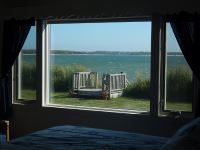 This comfy West Yarmouth waterfront vacation rental has 3 bedrooms, 2 baths, an open living/dining area with spectacular water views, and its own private beach reserved just for you!

Launch your kayak, windsurfer, or stand-up paddleboard from the beach. Bicycle around the family friendly neighborhood. Catch a feisty bluefish just steps from your front door.  

When it's time to tour Cape Cod, you'll appreciate this home's convenient Mid-Cape location, close to the island ferry piers, whale watching, and all sorts of other activities and attractions.

See more about this West Yarmouth waterfront rental


Pocasset (Bourne), MA


Yes, that's a lighthouse! And the out-of-this-world, 360-degree views from the lantern room will be all yours when you and your vacation companions stay at Wings Neck Light!

Sitting on the tip a bluff overlooking the ocean, this former Coast Guard light station is now privately owned.

The 3-bedroom, 1.5 bath keepers house has been tastefully renovated in a light, airy nautical style with all the modern amenities.

If you're looking for an extra-special vacation, this is a "bucket list" place to stay!

Click here to read all about vacationing at Wings Neck Lighthouse


South Chatham, MA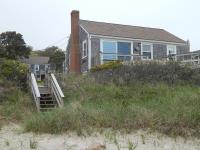 Tucked away on a quiet lane in Chatham are five adorable, vintage 1950s Cape Cod beach cottages.

Each rustic seaside cottage has 2 bedrooms, 1 bath, and a view of Nantucket Sound. Just steps away is a private tenants-only beach. Swim, sun, stroll, and stargaze the night away!

Repeat guests snap up "their weeks" at the cottages year after year. So vacancies are few in the summer months. But pre- and post-season vacationers are in luck. Reserve early for a fantastic getaway on Cape Cod!

Click here for more about these Chatham MA beach vacation cottages
   

* Back to Page Contents Menu * 
Pet-Friendly Vacation Rentals

Eastham, MA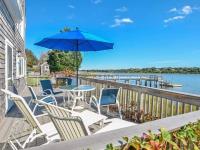 Calling all pups: Bring your humans for a great getaway at this charming waterside cottage on Nauset Cove!

Two bright, airy bedrooms can accommodate 4 people. There's also a futon in the living room - just in case you need it for an overnight guest.

Canoeing, kayaking, paddleboarding, fishing ... it's all right there for you, just a few steps away from your front door. Nearby you'll find all the restaurants, shopping, activities, attractions, and glorious beaches the Cod National Seashore area has to offer.

See more about this Eastham MA vacation rental cottage.
Provincetown, MA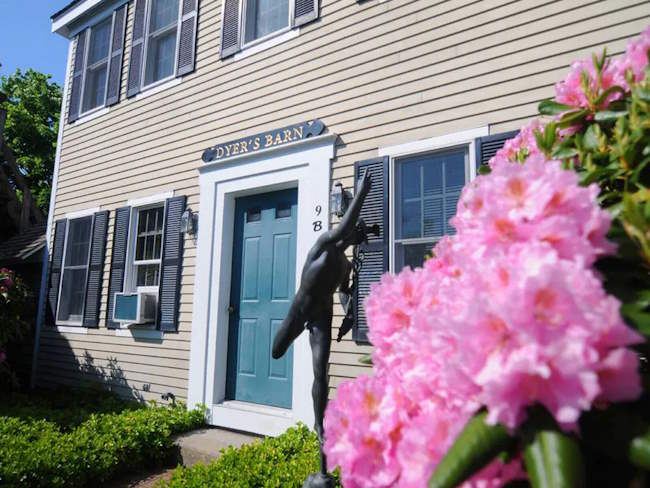 This pet-friendly, West End vacation rental has something that's not all that easy to find in Provincetown. It's spacious! And there's parking for your mid-size or smaller car, too. :-)

With 3 bedrooms and 2.5 bath, there's plenty of room in this penthouse apartment for up to 6 people to relax, dine and snooze at the end of a busy day.

For a walk-to-everything vacation rental in one of the pet-friendliest towns in the USA ...

Have a look at this Provincetown penthouse! 


* Back to Page Contents Menu * 

Centerville (Barnstable), MA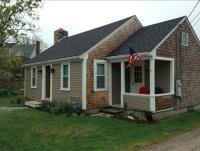 Recently renovated, this 2 bedroom home is in a great location within an easy walk or bike ride to Craigville Beach.

This is a perfect place to stay if you'd like to be close to everything the bustling village of Hyannis has to offer, but not "right in the thick of things". 

What's the included "extra" with this rental? A weekly beach pass that gives you free parking at all 6 beaches in the town of Barnstable. 

Read more about this Craigville Beach vacation rental home.

Chatham, MA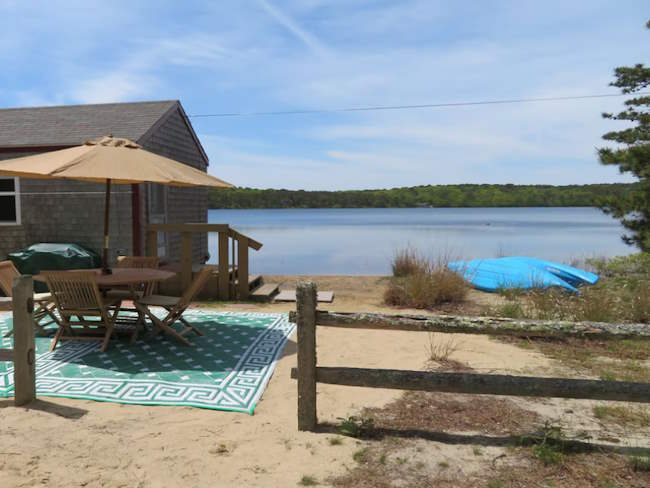 This is what it's like living on the edge ... of the water, that is! ;-)

Vacationers have described this 1-bedroom cottage on Goose Pond as private and tranquil, a rustic paradise. 

What "extras" come with this rental? A pair of kayaks for you to use on the pond. And all that fresh, crystal-clear water for you and your pup's swimming pleasure. (Yes, this cottage is pet friendly, too!)

Perhaps the most important bonus of all: that wonderful "Ahhhhh!" feeling of getting back to nature!

More about this Goose Pond cottage in Chatham 


* Back to Page Contents Menu * 
Budget-Friendly Summer Homes & Cottages
Cataumet, MA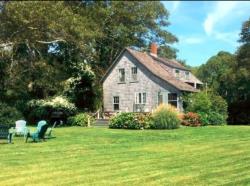 Looking for somewhere to get away from it all? This vintage 1890s cottage could be just right for you!

There's room for up to 8 people in the 3 bedroom home, and the large yard is perfect for relaxing, entertaining, and for the kids to run around and burn off excess energy.

When you're ready for your "water fix", several kayak put-in spots, great fishing, and a small private beach are just a short stroll away.

See more about this vintage Cataumet cottage 


* Back to Page Contents Menu * 
In-Town & Walk/Bike to Town Rentals

Chatham, MA

Looking for ultimate convenience in one of the prettiest towns on Cape Cod? You have to see this townhouse on Main Street in Chatham!

Walk the quaint streets of downtown, exploring the lovely shops and boutiques. Stroll to Chatham Orpheum Theater to take in a movie. Have a bit to eat at one of the many restaurants on Main Street. Walk or bike to nearby beaches, activities and attractions. It's all there good!

This 4-level townhome has 2 bedrooms, 2.5 baths, and sleeps six ... at a weekly rental rate that's very reasonable (IMHO) for one of the Cape's most upscale and popular towns!

Click here for more info about this in-town Chatham vacation rental


Dennis Port, MA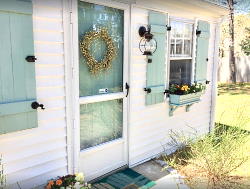 This little Cape Cod beach cottage is absolutely darling, inside and out!

Recently renovated, the bright and cheery interior features 2 bedrooms, 1 bath, a fully equipped kitchen and a cozy living room area.

Outdoors, all your entertainment and relaxation needs are there in your large, private fenced-in yard. Comfy seating, a fire pit, gas grill and picnic table, and lots of yard games and beach gear. 

Situated in a quiet, private cottage community only a few minutes walk or bike ride from beaches and downtown Dennisport, this cottage is perfect for a couple, a family of 3 or 4, or a girlfriends' getaway to the Cape!

Click here for more about this adorable Dennisport cottage


Harwich Port, MA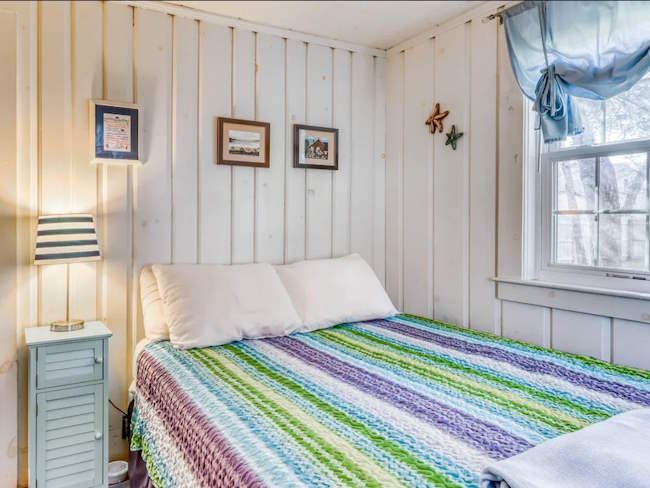 Did you know? ...

Harwich Port was voted one of the "Happiest Towns in the USA" by Coastal Living magazine.

No doubt you'll feel the happy vibes at this charming 2 bedroom, 1 bath cottage in the heart of Harwich Port. From it's quintessentially Cape Cod weathered-shingle exterior, to the distinctly beachy, kick-back-and-relax interior, you'll feel like you've found your new home away from home here!

BTW: Speaking of happy, when you're out and about exploring "The Port" (as the village of Harwich Port is known by locals), be sure to pop into Dr. Gravity's Kite Shop. If that doesn't bring a smile to your face, nothing will!

See details on this Harwich Port in-town cottage


* Back to Page Contents Menu *
Rentals for Large Groups

Orleans, MA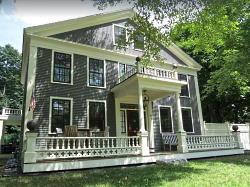 5 bedrooms, 3 bathrooms and all the modern amenities make this beautifully renovated antique home an inspired choice for a large family gathering or for multiple couples vacationing together.

Your 4-legged pal will love the large, fenced back yard, too!

Two wonderful beaches - Skaket Beach on Cape Cod Bay and Nauset Beach on the Atlantic Ocean - are only a few miles away. And all around the town of Orleans, you'll find plenty of shopping, dining, activities for all ages.

Click here for more about this spacious antique home


Eastham, MA


One gorgeous estate, two complete houses, set on 2.3 pond-front acres. Wow!!!

This property's 7,000+ square feet of living space has 8 bedrooms, 5.5 baths, and comfortably accommodates up to 18 people.

Expansive outdoor spaces offer plenty of room for everyone to relax, play lawn games, and go for a swim in the sandy-bottomed pond.  

An added bonus: pets are welcome here, too!

See all the details about this Eastham estate


Falmouth, MA


Ocean breezes, days at the beach, and less than 2 miles to Main Street for your shopping, dining and entertainment pleasure. This beachfront home has it all ... along with plenty of space for you and 22 of your closest friends!

Formerly a bed & breakfast, this property feature 13 bedrooms, 7.5 bathrooms, and comfy common areas for mingling and relaxing after a sightseeing around town or a day trip to the nearby island of Martha's Vineyard.

Click here to read all about this lovely, large-group vacation rental


* Back to Page Contents Menu * 
Pool Home Rentals on Cape Cod
 
Cotuit, MA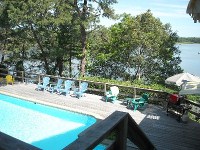 A pet-friendly, waterfront pool home overlooking a gorgeous saltwater bay in Cotuit, MA. Those are some pretty special accommodations, to be sure!
 
A large family will be right at home in this spacious Cape Cod vacation rental on Shoestring Bay. The home has 4 bedrooms, 4 baths, 2 full kitchens, and a pool house. Bikes, SUPs, kayaks and other water toys are available for guests to use, too.

When you're in the mood for nature walks, fishing, kayaking, or searching for little sea critters with the kids, it's all right there on your doorstep.

An added bonus is its out-of-the-way locale, but it's still under a half-hour drive from the Bourne and Sagamore bridges.

More about this lovely Cotuit pool home


West Barnstable, MA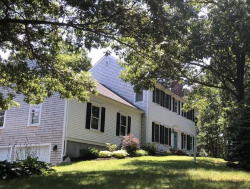 Set in a quiet neighborhood a few miles from Cape Cod Bay, this  lovely Colonial-style home's 4 bedrooms and 2.5 baths will comfortably accommodate two families vacationing together.

Stay "home" and enjoy the outdoor deck and in-ground pool. If you wake up to a rainy day, the well-stocked game room (ping pong table, puzzles and games) will keep the kids happily occupied for hours on end.

Beaches, restaurants, shops, museums, and hiking trails are nearby ... as is the whale watching cruise out of Barnstable Harbor. You'll never be at a loss for places to visit and things to do within easy reach of this home!

See more details about this lovely West Barnstable pool home


Truro, MA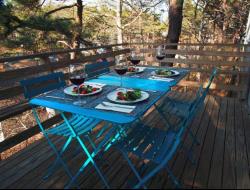 For a relaxing retreat, a stay at this 2-bedroom cottage will have you feeling like you've escaped to the woods. Yet, it's still near anything and everything you could want to do on the Outer Cape - including some of the most glorious beaches you've ever seen!    

As part of a condo cottage colony, the amenities include a pool and tennis courts.  

See more about this adorable Truro cottage


 * Back to Page Contents Menu *
---
Vacation Rentals
---
Was this page helpful for you? Please click the "Like" button to let me know. Thank you!
Note: The owners/agents of the Cape Cod vacation rentals shown above may change their rental rates, availability, amenities, etc. at any time, without my knowledge. Please be sure to verify all details with the owner/agent before you agree to rent.