---
FTC Disclosure: If you make a purchase via a link on this site, I may receive a small commission on the transaction - at no added cost to you. Thank you!


---
Cape Cod Family Vacation

Keeping It Budget Friendly
Trying to plan a Cape Cod family vacation that stays within your "summer fun" budget? You might be surprised to see how easy it is to do!


The tips and ideas on this page will help you save on lodging, dining and entertainment ... without sacrificing any comfort or fun!
Affordable Places to Stay on Cape Cod

State Parks

For a super-affordable place to stay, you can't beat camping at one of our state parks!

Take Nickerson State Park in Brewster, for example. 
Covering more than 1900 acres of woodlands, fields, and freshwater ponds,  Nickerson is (in my humble opinion) the premier state park on Cape Cod.

At Nickerson, it's all right there for you. Swimming, boating, fishing, miles of walking and bike trails, plus lots of family-oriented activities. All in one of the prettiest settings you can imagine.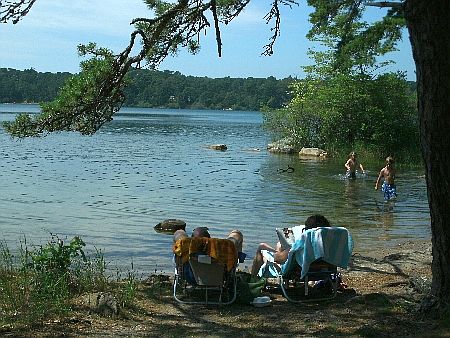 A Sunny Summer Day at Nickerson State Park

Pitch your tent or set up your camper on one of 400 wooded or pond-view sites. At $22/night for Massachusetts residents and $40/night for non-residents, it's a steal of a deal! 

Nickerson also has furnished, 4-person and 6-person yurts. At $45-$55/night for MA residents, $60-$70/night for non-residents, yurting offers more of the comforts of home than tenting. Plus, it's a really cool way to camp!  

Note: Prime campsites at Nickerson sell out quickly. You can sometimes find a vacancy at the last minute, but I wouldn't count on it.  Yurt vacancies are even tougher to get. They're often snapped up a year or more in advance.

To be sure you don't miss out, it's a good idea to make reservations as soon as you decide on your vacation dates!


No spots available at Nickerson for your vacation dates?

Try one of the other state parks on Cape Cod. They're all excellent in their own way!

Do you have a self-contained RV that's outfitted to travel over sand? Lucky you!

Have a look at my Beach Camping page for info about self-contained vehicle camping at Race Point. Only $75/week. Wow!!!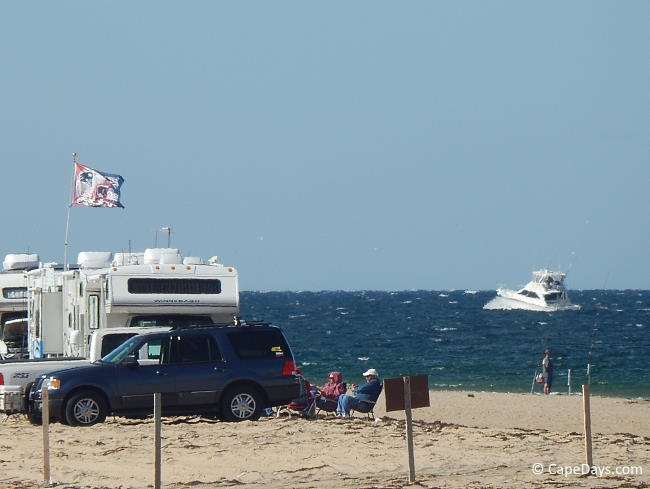 Vacation Rentals

Not into camping? Want more of the comforts of home? Vacation rentals to the rescue!
When I tell people that a rental is a cost-effective lodging option for a family, some find that hard to believe. But it's true.

Here on the Cape, you'll find very nice homes, cottages and condos that rent for less than you'd pay for a single hotel room.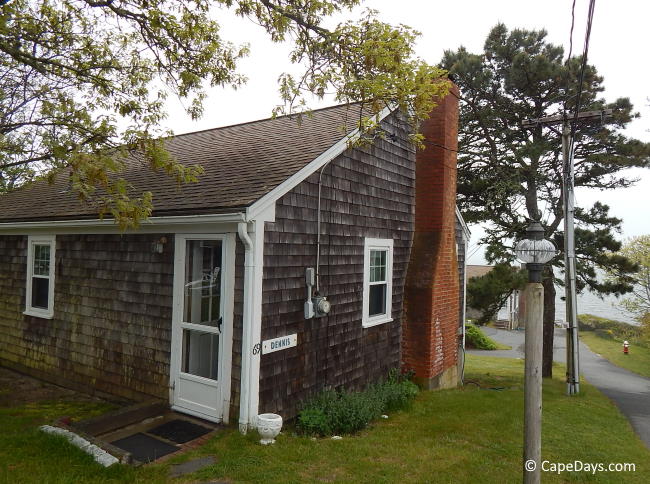 Classic Cape Cod Beach Vacation Cottage
Cape Cod Dining on a Budget

Feeding your family doesn't have to mean loading everyone into the car and heading out to a restaurant. (Although, I'll give you some tips for saving on restaurant dining, too, farther down on this page.)

For now, let's explore how to fill all those tummies by "self-catering" - as my British friends so charmingly refer to preparing your own meals. ;-)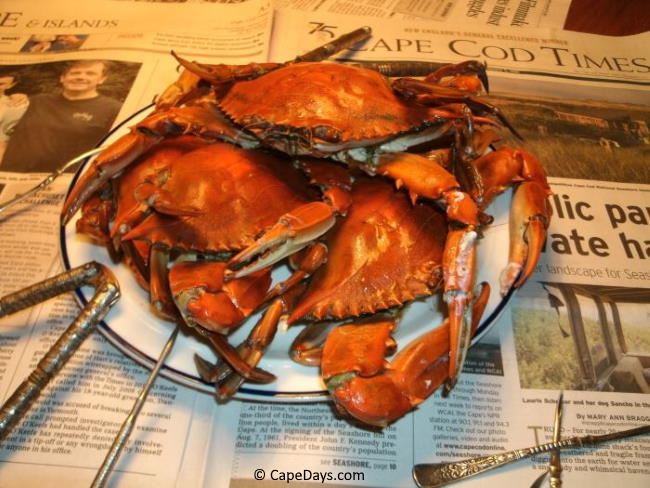 Home Cookin', Cape Cod Style!

Okay, I know what many of you are thinking: "It's my vacation, too. The last thing I want to do is shop for food, cook it, then clean up afterwards."

I get it! I feel the same way. But, when you add up the cost of just a few restaurant breakfasts for the whole family, that's enough to pay for an extra-special outing. (Whale watching, anyone?)  

So I'll urge you to keep an open mind on this. DIY-ing some of your meals might be less effort - and more fun - than you think!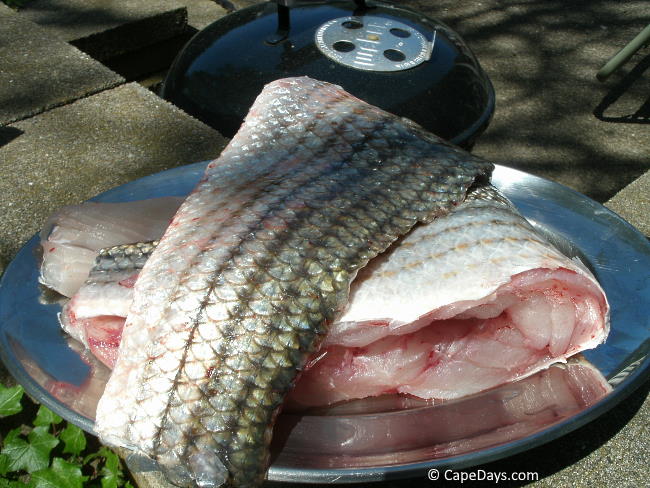 Fresh Striped Bass For The Grill
Grocery Stores, Fish Markets & More

Why spend (waste) an hour or more every morning having breakfast at a restaurant when you could turn on the coffee pot, slap some cereal in a bowl, pop some bread into the toaster, and you're good to go!
Lunch for your days at the beach? Sandwiches are simple to throw together the night before. Add some snacks and drinks to your cooler, and you're ready to head out the door! 
Take a swing through the supermarket when you get here, and pick up the "basics" for quick and easy at-home breakfasts and pack-n-go lunches.

And for dinner? No Cape Cod vacation is complete without sampling our fresh local seafood, right?! Catch your own blue crabs, fish or clams (super-fun outings for the whole family!), then cook your day's catch on the outdoor grill. No fuss, no muss!

Free & Inexpensive Family Fun
In many other popular summer vacation destinations, the cost of entertainment takes a big whack out of the family vacation budget. Not on Cape Cod!
Around here, a fantastic family vacation can easily be built around the many free and low-cost activities and attractions our area offers. And the beauty of it is, the kids will be so busy having the time of their lives, they'll never notice that you're doing things "on the cheap"! :-)

Saving Even More on Your Family Vacation
And last but certainly not least, be sure to check out these handy sources for coupons, discounts, and special deals. Why spend your hard-earned money when it's so easy to save?!

Have a wonderful Cape Cod family vacation!
---
** Important:  Lodging, food, activity, and event providers may change their rates, discounts, special offers, promotions, services,  amenities, dates of operation, availability, etc. at any time, without notice and without my knowledge. Before you make any travel plans, be sure to visit the provider's website or call the provider directly to verify all details! 


Related Pages:

Cape Cod Family Beach Vacation on a $1500 Budget

Money-Saving Deals & Discount Passes
---