Brewster Beaches
---
FTC Disclosure: If you make a purchase via a link on this site, I may receive a small commission on the transaction - at no added cost to you. Thank you!


---
Visitors Guide to


Brewster MA Beaches


Every Brewster beach has something special to offer ...

Marshlands and creeks, dunes and rock jetties. An abundance of wildlife. Osprey soaring. Fish breaking the surface just offshore. All beaches in Brewster MA are beautiful in their own way.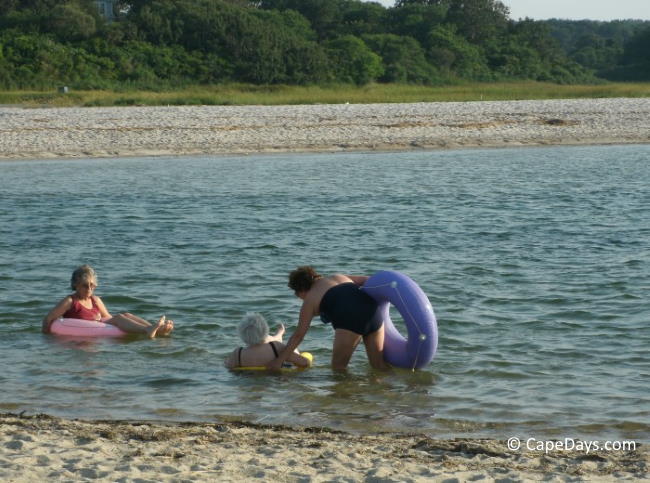 Floating the Day Away at Paine's Creek in Brewster
Brewster Beach Information
Brewster MA Beach Services and Amenities
Lifeguards, restrooms, shower facilities, and food concessions are available at several beaches in Brewster in season only. See individual beach descriptions below for details.


Brewster MA Beach Parking Fees and Passes
From mid-June to early September, non-resident parking is allowed only with a daily ($20) or seasonal ($150) Brewster beach sticker. 

Click here or call (508) 896-3701 for more information.

The Best Beaches in Brewster MA

Breakwater Beach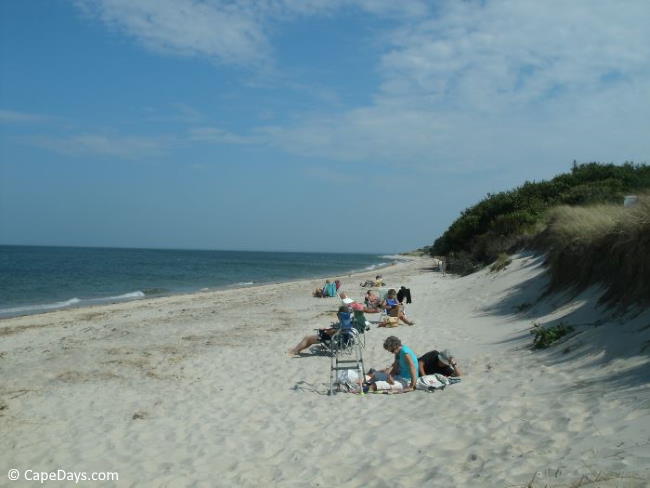 Breakwater Beach
Breakwater is a very pretty Brewster beach that's perfect for youngsters and more mature visitors alike, thanks to its gentle surf and miles of sand flats at low tide. As with most Cape Cod Bay beaches, water temps are comfortable enough for a quick dip (upper 60s to low 70s) by early summer.
At Breakwater there's a good amount of room to spread out - even at high tide. At low tide, moored boats are left high and dry on the sand. An odd sight to see!
Body of Water: Cape Cod Bay


Crowd Factor: Many visitors and locals enjoy this beach. But it's not usually too crowded.


Amenities: No lifeguards. No snack bar, but an ice cream truck does comes by. There are some porta-potties in the parking lot. (Oops. Pardon me! In Brewster they're referred to as "pretty potties", because they've been adorned with wood trim to snazz them up.)


Location: At the end of Breakwater Road (off Rt. 6A) in Brewster, MA.


Parking: Ample


Paine's Creek Beach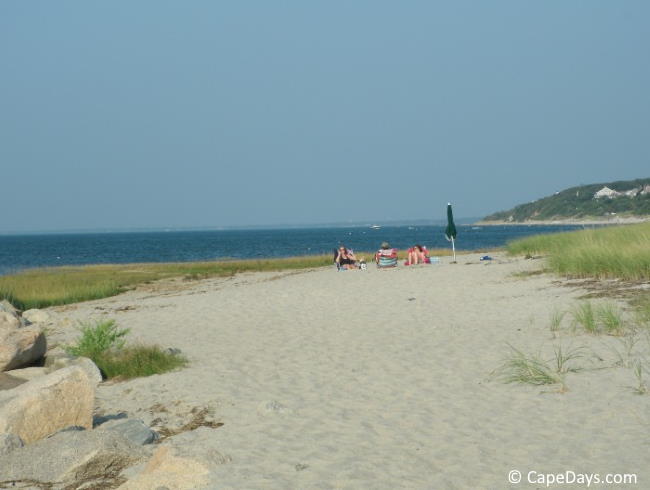 Paines Creek Beach
In my humble opinion, this is the ultimate Brewster beach.
Toddlers are totally in their element at Paine's Creek with a plastic pail and shovel. Older children skimboard and swim to their hearts content while parents relax in their folding chairs. Seniors love floating along on the calm, warm waters that flow from the creek to Cape Cod Bay.
One of the most amazing things about Paine's Creek is the dramatic change in its landscape/seascape from high tide to low.
At high tide, waves lap against the seawall and jetties. As the tide recedes, colorful marsh grasses are exposed, and "new" stretches of sparkling sand appear everywhere you look.
At the end of the day, this is one of the best places on the Cape to watch the sun set!
Body of Water: Cape Cod Bay


Crowd Factor: Not usually crowded


Amenities: None, except those lovely porta-potties. No snack bar, but the ice cream truck does stop by. Handicap access surf chairs available - call (508) 896-2737.


Location: Paine's Creek Road (off Rt. 6A) in West Brewster


Parking: Limited. Visit this Brewster beach during the early morning hours or later in the day for the best chance of finding a parking space. A better idea is to ride your bike or walk in.
Linnell Landing & Crosby Landing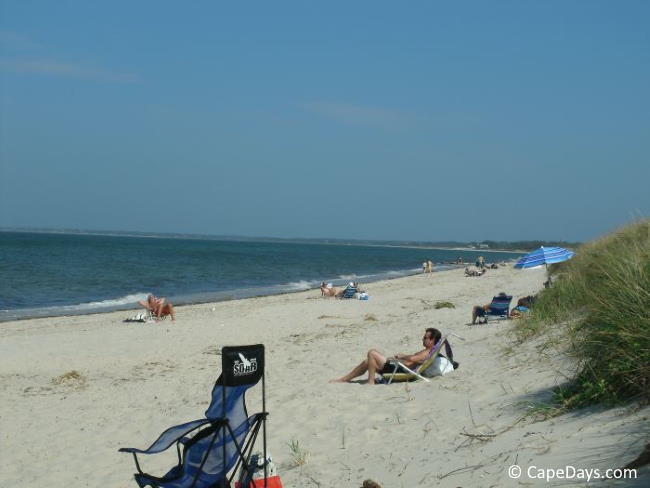 Dune-Backed Beach at Crosby Landing
Talk about the best of both worlds ...
Within a very short drive or bike ride, you can go from the crystal clear, freshwater pond beaches at Nickerson State Park, to the refreshing saltwater at Crosby Landing or Linnell Landing on Cape Cod Bay.
Watch the sun rise over Cliff Pond in the morning, then see it set over the Bay in the evening. Doesn't that sound like the best of both worlds?!
Much like the other beaches in Brewster, Crosby Landing and Linnell Landing are great for every age and swimming ability.
Body of Water: Cape Cod Bay


Crowd Factor: Crowds are not an issue, especially at low tide when there's more than enough room for everybody in town.


Amenities: No lifeguard. No food, either. But there are those nifty potties. Handicap access surf chairs available for use at Linnell Landing - call (508) 896-2737 to reserve. (Crosby Landing is not wheelchair accessible.)


Location: Crosby Landing is on Crosby Landing Road, and Linnell Landing is on Linnell Road (both off Rt. 6A) in East Brewster, MA


Parking: Small lots with a short walk to the beach.



Related Pages:

Vacationing in Brewster

---
Brewster Beaches
---