Public Transportation
---
FTC Disclosure: If you make a purchase via a link on this site, I may receive a small commission on the transaction - at no added cost to you. Thank you!


---
Cape Cod Without a Car

Getting Around by Public Transportation
Updated: June 29, 2021

Is it possible to get around Cape Cod without a car? Yes. 

Are local buses, taxis, Uber/Lyft services, trolleys, and shuttles convenient alternatives to having your own wheels? Yes and no, as I'll explain below.


Public Transportation on Cape Cod
For those of you who plan to rely on public transportation for your Cape explorations, your options include:


CCRTA Buses and Shuttles
Cape Cod Regional Transportation Authority ("CCRTA") buses are the most wide-ranging, and definitely the least expensive, way to get around.
 

Bus Stop on the Hyannis - Orleans ("H2O") Route
CCRTA buses run all year round, all over the Cape. And you sure can't beat the fares! 

One-way rides are $2. For a mere $6, you can buy a full-day pass and ride to your heart's content. Seniors and people with disabilities ride at one-half the regular fare. 

Flexible Routes and Stops

In addition to the regularly scheduled stops on CCRTA's "fixed" routes, passengers can flag the bus to board at other points along
the route.

Buses on the "Flex" route will go off-route up to 3/4 of a mile to pick up and drop off passengers who can't get to the regular bus stop. (Reservations are required for this service.)

And with the Dial-a-Ride Transportation ("DART") service, you can ride from door-to-door.

Note: Safety is key, of course. With all services, the driver will only stop in safe places to pick you up or drop you off.


Buses are ADA compliant, air conditioned in summer, and heated in the cooler months.


Drivers are friendly and helpful!

TIP: If you're going to rely on bus service for sightseeing jaunts, days at the beach, etc., you'll need to do some serious pre-planning of routes and schedules. 

Check out the CCRTA website for details and help planning your travels.
 

Taxi, Uber & Lyft
Taxis, Uber & Lyft are great options for getting from a local  airport to your hotel and for short jaunts around town.


Cab Awaits Passengers at the Airport in Hyannis
For longer journeys, their fares can take a big bite out of your wallet. So I don't recommend using them as a sightseeing vehicle. ;-)

Bourne Bridge 24 Hour Taxi
(508) 564-7500 - reviews
Falmouth Taxi
(508) 548-3100 - reviews

All Seasons Taxi
(508) 548-9990 - reviews

Central Cape Taxi
(508) 432-6800 - reviews
Town Taxi
(508) 775-5555 - reviews
Cape Cab
(508) 240-1500 for Dennis, Harwich, Brewster, Chatham, Orleans, Eastham, Wellfleet; (508) 487-2222 for Truro & Provincetown - reviews

P'town Taxi Service
(877) 712-2966 - reviews


TIP: Remember ... we're small town America here. In busy cities like Boston, you can hail a taxi cab on the street corner. On Cape Cod, be prepared to call for a cab when you need one.

Trolleys & Shuttles
During the summer months, in-town trolleys and shuttles make it easy to get around without a car.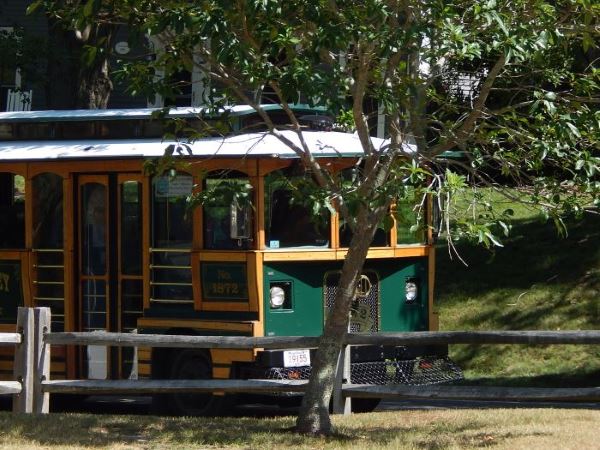 Glass Town Trolley in Historic Sandwich Village
Look for "hop on, hop off" trolley services in:

TIP: The Glass Town Trolley (Sandwich) is a free service. All others charge a small fee.

Drivers can't make change onboard. So have your exact fare ready! 

---
Public Transportation
---
Was this page helpful for you? Please click the "Like" button to let me know. Thank you!