Foul Balls, Food & Fog
---
FTC Disclosure: If you make a purchase via a link on this site, I may receive a small commission on the transaction - at no added cost to you. Thank you!


---
Cape Cod League Baseball Games

Foul Balls, Fun Food & Fog-Ins
If you go to games at a few different Cape Cod Baseball League fields, you'll notice pretty quickly that no two fields are alike.


Cape Cod Baseball League Game
They're all great places to watch a game. But each venue does have it's own little oddities!
Okay, "oddities" might not be exactly the right word to use. "Quirks", perhaps?


The "Smash" of a Pop Foul Ball
It's always fun to check out the license plates in the first few rows of the parking lot at a Yarmouth-Dennis Red Sox game!
Most ... if not all ... are out-of-staters.

I'd love to say that's because we "locals" are so incredibly thoughtful, that we leave the best parking spaces for our visitors.
Well yes, we are thoughtful. But we also know something that most visitors don't:
Cape Cod League baseball players really whack the ball!
And foul balls often land in the parking lot.


Those out-of-the-park fly balls make great sport for the throngs of kids who chase them, hoping to catch a special souvenir.
However, when they zoom out over the parking lot, they're a bit of a hazard to cars in the first 5 -10 rows. 
The "Shattered Windshield-Dented Hood" risk isn't big at all Cape Cod League baseball fields. But do be sure to park far enough away from the batters box when you go to a Cotuit or Yarmouth-Dennis game!


Fun Food at the Baseball Game
Wonder what this is?  ->

It's the gloved hand of Bob the Burger Guy, expertly creating a Cape Cod League baseball dinner delicacy ... for me.

This is not your average baseball-game cheeseburger, as you've probably noticed.

Yes. That's a jelly donut being used as a burger bun. And that's squirty can cheese going on top of the meat.

Put it all together and you have what's called "The Hurler". It's a specialty of the Y-D Red Sox food concession.
I could've gone easy on myself and tried a "Sinker", a burger on a plain or cinnamon donut. But I figured that'd be wimping out.

I also could've gone for the gusto and had the "Screamer". But even I'm not quite that adventurous.

<- See the batboy?

See the Boston Creme Filled donut on the plate? There's a burger inside that donut.

That's his Screamer!

About 30 seconds after I took this photo, the young man reached for his Screamer, dropped it on the ground, picked it up and dusted it off, and gobbled it down. Gotta love those kids :-)



Me, Burger Bob, and My "Hurler" Dinner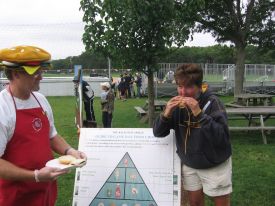 FYI: These "specialties" at the Yarmouth-Dennis Red Sox games are just for fun.
All the Cape Cod League baseball fields have REAL ballpark food. Burgers, dogs, nachos, sodas. All the good stuff, at pretty reasonable prices. So you won't go hungry!


Where's the Ball? Where's the Ballfield??

No, your eyesight isn't fuzzy. This is what it looks like when pea-soup fog rolls in on Cape Cod.
It's not a big deal, unless you're on a boat, miles away from shore. Or if you're at a Cape Cod League baseball game in Chatham!
If I hadn't seen it for myself, I wouldn't believe it. But at Chatham Anglers games, it's not at all unusual for the game to be delayed or even called because of fog.
Chatham is surrounded on 3 sides by water. When the air temperature and the water temperature are nearly the same ... which happens a lot in Chatham, in the evening, in July and August ... the fog rolls in. (The baseball field in Orleans sometimes suffers the same misty fate.)
So don't forget your jacket when you go to a Cape Cod League baseball game in Chatham or Orleans.

The fog is pretty neat to see. But it's chilly and damp, and it tends to run down your neck!

---
Foul Balls, Food & Fog
---