---
FTC Disclosure: If you make a purchase via a link on this site, I may receive a small commission on the transaction - at no added cost to you. Thank you!


---
Christmas Strolls, Etc.
Cape Cod Christmas Strolls,
Caroling & Tree Lightings
2023

Updated: August 27, 2023

Welcome to Holiday season on Cape Cod! It's time for Christmas strolls, village tree lighting ceremonies and caroling events in towns across the Cape!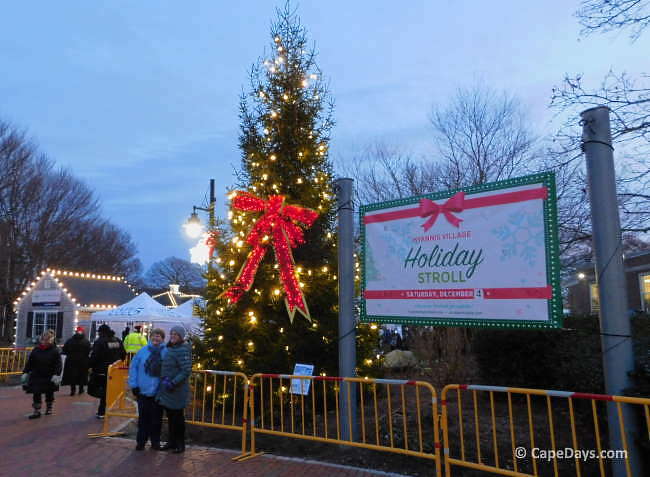 And let's not forget ... shopping, visits with Santa, horse-and-carriage rides, and tasty treats offered up by local businesses and eateries.
Want to join the festivities?

Here's this year's schedule:

Cape Cod Holiday Celebrations

*FYI: As you'll see below, the date for many of these events has not yet been announced. I'll update this page as I learn the details, so please bookmark this page and check back!


Tree Lighting at Mashpee Commons

2023 date - TBA
3:30 - 5:00 p.m.
On the plaza outside Siena at Mashpee Commons.
Holiday caroling


Appearance by Santa


Mashpee Commons Tree Lighting


Complimentary mini donuts & hot chocolate from Duke's Donut Worx (while supplies last)


Face painting for the kids


More information here.

Candlelight Stroll & Tree Lighting in Orleans

November 25, 2023
Begins at 4:45 p.m.
Candlelight stroll with Mrs. Claus from Post Office Square to Depot Square


 Tree lighting


Children's festivities at the Artist Cottages, live music, cookies and hot chocolate


More information here.

"Littlest Christmas Tree" Lighting in Sandwich

2023 date - TBA
4:00 - 6:00 p.m.
Shawme Pond in Sandwich

Lighting of the tree and reading of Thornton Burgess' beloved story The Littlest Christmas Tree


Face painting, dance performances, songs of the season


Pizza, hot chocolate and homemade cookies


And a perfectly decorated spot for Holiday photos!


More information here.

Community Carol Sing in Sandwich

2023 date - TBA
7:00 p.m.
First Church of Christ, Main Street in Sandwich

Join the annual community Carol Sing on the steps of the church. Santa Claus will make a brief appearance.


After the caroling, Dan'l Webster Inn will host everyone to cider and cookies. Don't forget to check out the Giants that are lighted up for all to see!

Caroling in Woods Hole Village
2023 date - TBA
5:30 to 6:30 p.m.
Woods Hole Waterfront Park
Christmas caroling 


Hot cocoa and cookies provided by Falmouth Chamber of Commerce


Christmas Tree & Windmill Lighting in Brewster

December 1, 2023, 3 p.m. to 6 p.m.
Drummer Boy Park in Brewster

Illumination of the Christmas tree and windmill


Caroling and hot cocoa 

Harwichport Holiday Stroll & Tree Lighting

2023 date - TBA
Begins at 5:30 p.m.
Doane Park & Harwich Chamber of Commerce

Caroling and tree lighting


Santa arrives by fire truck


All weekend, stroll through Harwich Port businesses and organizations for dining, holiday cheer and shopping.

Christmas trees in all seven Harwich villages will be illuminated from dark to 10 p.m. beginning this weekend through the end of December.


Caroling & Cocoa at Chatham Bars
2023 dates - TBA
Chatham Bars Inn, Chatham

Join carolers at the Bayview Terrace under the twinkle lights for a bonfire, hot cocoa, pre-packaged holiday snack, and family photo-op.


Open to guests, members and the local community (complimentary).

Falmouth Village Stroll & Lighting of the Green

December 3, 2022
All day
Multiple locations in Falmouth

Welcome seafaring Santa as he sails into Falmouth Harbor.


Enjoy live music, dancing, shopping, and dining on Main Street.


Share in the magic moment when the Village Green transforms into Santa's wonderland.


Sing carols with the Falmouth Brass Choir followed by a special visit from Santa.

That's just some of the many special events taking place this weekend for "Falmouth Holidays by the Sea & Christmas Parade".


Hyannis Village Holiday Stroll & Boat Parade
2023 date - TBA
All day
Main Street, Harbor Overlook and Hyannis Harbor

Live music, food, a petting zoo, pony rides, visits from Santa, crafts, and sooooo much more. 


Stroll to the harbor at dusk for Santa's Boat Parade, with refreshments, music, and a boat arrival from Santa.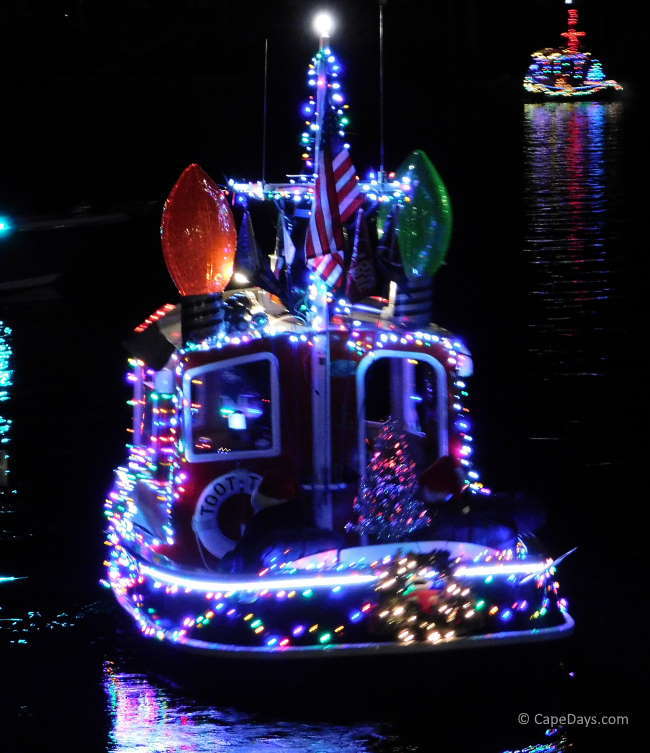 Hyannis Boat Parade

Christmas in Cotuit

2023 date - TBA
10 a.m. to 4 p.m.
Multiple venues around the village of Cotuit
Ornament painting, marshmallow roasting and s'mores at the Historical Society


Artisan Craft Show at Freedom Hall


Free admission and family friendly activities at Cahoon Museum of American Art


Cookie decorating at Cotuit Library


Fire Station open house and Toys for Tots drive


Santa's arrival by boat at the town dock, followed by the tree lighting, caroling and cookies at  Cotuit Village Green


And lots more!


Caroling at Eastham's Windmill Green

December 2, 2023
4 p.m. to 5 p.m.
Windmill Green in Eastham
Join the talented Nauset Honors Chorus in a sing-along of favorite Christmas songs.


Free light refreshments


More information here.

Yarmouth Christmas Stroll & Tree Lighting

December 3, 2023
1 - 4 p.m.
Yarmouth Port Village Green

Walk along Route 6A in Yarmouth Port, see the sights and grab a bite to eat.


Enjoy trolley rides, live music and holiday treats.


Entertainment includes face painting, a balloon artist, magic shows, the Cape Cod Carolers, and letters to Santa with Mrs. Claus.


At 4 p.m. there'll be a tree lighting ceremony and caroling on the Village Green.


More info here.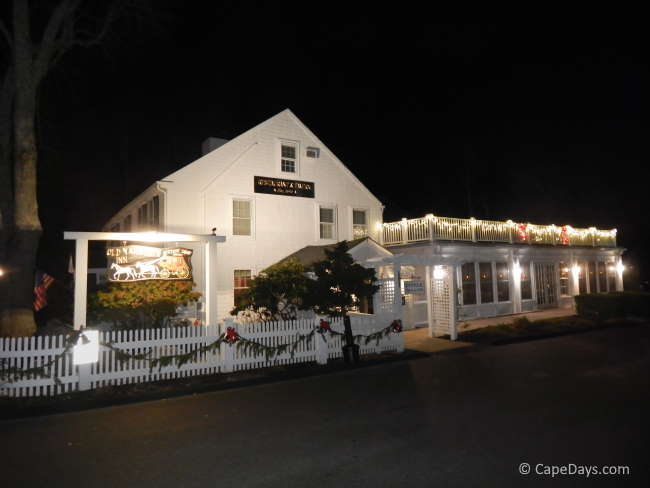 Old Yarmouth Inn at the Holidays

West Barnstable Tree Lighting & Caroling

December 3, 2023
Begins at 5:00pm
West Barnstable Village Green & 1717 Meeting House

Tree lighting and caroling


Santa arrives on the West Barnstable fire engine


The Christmas Story and Carol Sing featuring a living nativity scene, the West Parish Hand Bell Choir, and Donna Murphy on the Mander Organ, followed by an informal gathering in Jenkins Hall with lots of good food and friendly people.


More information here.

Barnstable Village Winter Stroll

2023 date - TBA
Along Main Street, Barnstable Village
Holiday stroll on Main Street (Rt. 6A) in Barnstable village


More information here.

Chatham Christmas Stroll

December 8 - 10, 2023 (full schedule - TBA)
5:45 p.m. to 9:00 p.m.
Kate Gould Park and Main Street in Chatham

Lighting of the town Christmas tree and caroling at Kate Gould Park.


Musicians, street performers and shopping on Main Street.


Santa will be in the bandstand at Kate Gould Park to visit with children of all ages.


And returning this year, the horse and carriage ride (located outside Town Hall).


More info here.
These events are part of Chatham's annual "Christmas By The Sea" celebration.

Osterville Christmas Open House & Stroll

2023 date - TBA
Multiple locations in the Village of Osterville

"Festival of Trees" at Osterville Historic Boat Shops


Decorated golf cart parade on Main Street


Ecumenical creche services in the village center


Doggie parade and food drive at Osterville Library


Children's activities, shopping, refreshments, caroling, and more.

West Dennis Holiday Stroll
2023 date - TBA
11 a.m. to 4 p.m.
Rt. 28 in West Dennis
Food, fun, raffles and more from area merchants.

Centerville Christmas Stroll

2023 date - TBA
Starting at 3 p.m.
Main Street in Centerville

Shopping, goodies, and live music up and down Main Street.


Santa and his elves return to their village location at Fernbrook.


And the ever popular "flash mob" will be making an appearance.


Dennis Village Stroll
2023 date - TBA
Noon to 3:00 p.m.
Dennis Village Green and Rt. 6A in Dennis

Visits with Santa, giveaways, children's activities, and live music.


Special Pop-Up Holiday Gift Show at Cape Cod Museum of Art with cider, cookies and crafts for the kids.


Caroling at Thacher Hall
When: 2023 date - TBA
Where: Thacher Hall, 266 Main Street (Rt. 6A), Yarmouth Port
Admission: Free
More Info: Thacher Hall

Join in the annual Holiday Caroling and sing along to the music played on Thacher Hall's treasured Steinway piano.
There'll also be a special recitation of the classic Christmas tale, T'was the Night Before Christmas.
*FYI: This is a perfect opportunity to experience the breathtaking architecture - and the phenomenal acoustics - of this historic former church (built circa 1870)!

Happy Holidays to One and All!
 
>>See: Lots more fun on Cape Cod in December ...


---
Christmas Strolls, Etc.
---